Scuba Diving Perth WA
Shore Diving
POINT PERON

Point Peron - Cape Peron - Rockingham

Shore Dive: Limestone Reef Dive.



Depth: Max +/- 10 meters.



Dive Conditions: Preferably a maximum of a 1.5 meter swell, 11 second swell period, low easterly winds. Can be dived in 1.8m with a low swell period less than 11 seconds and gentle easterly wind but this is not going to be a very nice dive.


Perfect day would always be a low swell around 1 meter, low swell period of 11 seconds and gentle easterly wind for a few days prior. If you have a small swell with a large swell period you can dive this site but try not to get too shallow as it will break over the reef and move you about a bit, however once you have descend you will generally not be affected by the swell period.

Dive Area: The dive area around Point Peron/Cape Peron is massive and giving specific details here is a little pointless because it all depends on where you dive. Simply put Point Peron has something for everyone, from snorkeling in the shallow areas, to some decent depth at the outer reefs and lovely vis. I have to say this has become one of my favourite shore dive site.
For those who know me know I have dived Point Peron several times now (75 as I write) but no matter how many successful dives I have here, I will always have my 0.25 dive ? "How the hell can you dive a site 0.25 of a time" I hear you say, well let me tell you.



This was the very first shore dive I went to in Perth, on our very first Sunday morning dive with Dolphin Scuba. We rented the kit, got down to Point Peron, got kitted up in the car park and made our way to the shore. Made our way into the water and about 100 meters out started having trouble with the clasp on my weight belt.



I struggled for about 15 minutes, I got so hot and bothered that I made the Indian Oceans' temperature raise by numerous amounts of degrees, I lost my cool and lost my weight belt. Humorously my dive buddy had drifted off down the beach and obviously I could not descend to retrieve my weight belt....... end of dive.



I guess you could argue that I didn't even complete 0.25 of a dive as I didn't actually descend, more like an over-dressed snorkel, kind of going to McDonald's in a Tuxedo. At the time this had only been my fifth dive ever and I was quickly falling out of love with shore dives, as the first two we did during our training were not the best, boat dives seemed the only smart way to dive, I am so glad I persevered as shore diving, if you so desire lets you get in the water everyday, and not forgetting to mention Point Peron is by no stretch of the imagination the greatest little dive site anywhere along the Perth shoreline, funny my worse shore dive to my best.



So if you ever dive Point Peron and find a green weight belt please return it to Dolphin Scuba, tell them that its the belt Howie lost in June 2009, you never know I may get a refund. I can hear Callum now saying "no chance" and grinning to himself like the Cheshire Cat.



Like I said I have dived Point Peron a couple times over the years and it has some absolutely beautiful dive spots for a shore dive, as long as you don't mind surface swims.



On a great day you can get vis over 20 meters, and some of the reef formations are quite beautiful, with tall pinnacles, and archways, overhangs and ledges to explore, there is sandy spots and you will find lots of hidden gems in the sea grass and kelp covered areas.


This site is massive and I mean HUUUUUGE, so you need to just get in there and explore and explore, and once you think you have covered it all...... it will pop up with so many surprises you would think that it was a totally different dive spot.


There are varying degrees of risk for Point Peron, from getting tangled up in the lines of the shoreline fisherman (especially during the Salmon running season), to local sight seeing boat traffic. there are some cray and crab pots/lines on the outskirts of the reef which obviously are managed by people on small boats. The reef itself is limestone so sharp and crumbly (see the signs on dry land for falls risk areas). The limestone makes for some beautiful caves, chambers and large overhangs, so plenty of overhead environments to consider.


Last but not least on the wrong day it is possible to get stranded on the reef as in some spots its not deep enough to snorkel across mainly due to low tides and if there are waves breaking over the reef you can be rolled and rolled and as much as I shouldn't laugh this did happen to one of my buddies, but I will say no more as it can be dangerous.

You need to find your way to Point Peron Rd, make sure you put in Point Peron Rd in Google maps, it may not be 100% sure otherwise, or if you have one, page 444 of the UBD Perth St Directory. Driving time is about 55 minutes from Perth CBD, 30 minutes from Fremantle and it is about 10 minutes just outside Rockingham Town Centre.


Follow Point Peron Rd to the end you will have two options, left or right, go left, follow the road around ignore the little car park on the left and follow the road around to the right, this will take you to views overlooking the dive site, which is basically looking out to sea. Try and park as close to the end as possible, just to make it easier on yourself.


Kit up in the car-park, there are no toilet facilities. Secure your possessions and lock your car. There are two main entry points from this car park and one entry point if you go back to the next car park.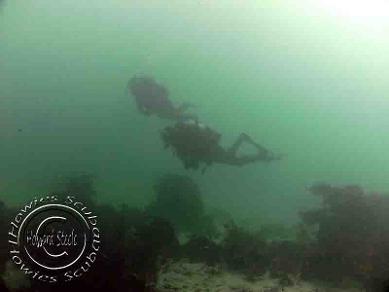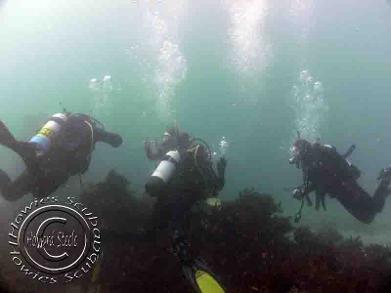 Like any site visibility is dependent on many variables (well actually just one really, how many particles are floating in the water), but the point I am making is you need to watch what the weather is doing to maximize the vis at any site because lots of things affect the particles in the water. I have had vis as low as 2 meters and beautiful days over 20 meters and lots in between.

Due to the limestone make up of the reef, a lot of the particles are quite big, unlike say the Wreck Trail which is fine and silty, this gives the advantage of even on poor vis days you can make more out around the dive site as the water is less milky, if that makes sense.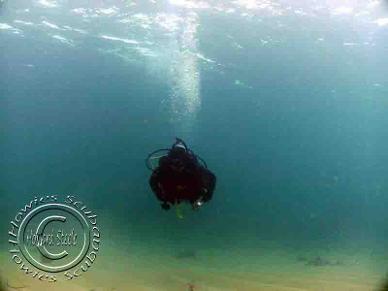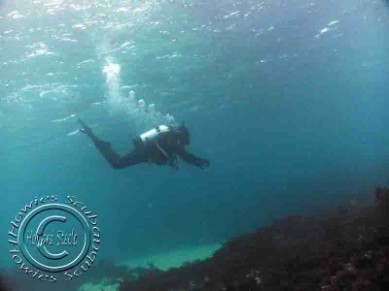 At Point Peron you will have the opportunity to see a lot of marine flora that is not so abundant at other shore dives. The marine flora is quite stunning and the whole area has a deep red hue to it, in part due to the Coralline Algaes that are common around and encrusting on the reef.

At Point Peron there is also an abundance of other Red Algas and Weeds, plus Brown and Green Algas and Green Plants for you to see.


See the

Creature Feature

section of this website for additional details on the Algas and Weeds around the local dive sites of the Perth shoreline.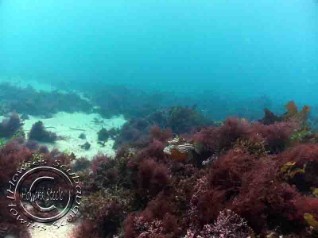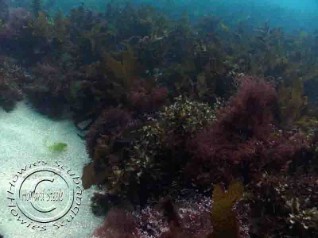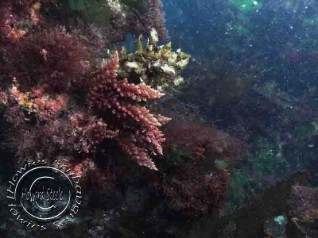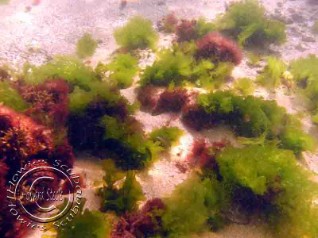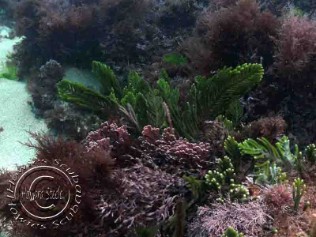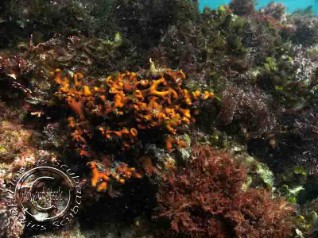 Throughout Point Peron there are lots of little nooks & crannies, ledges & holes to look into.



At first the marine life may be a little shy but take your time and reduce your movement and hopefully they will become a little bit more curious of you.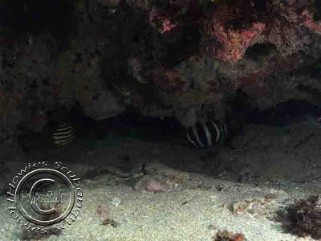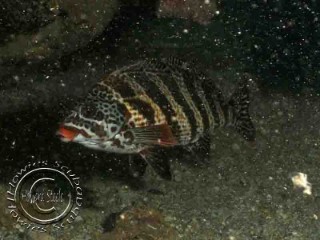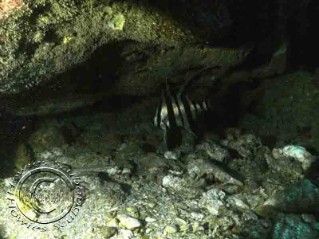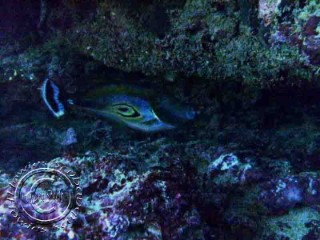 Don't forget to take a torch with you as some of the areas under the ledges can be quite gloomy.
There isn't a mass or variety of life that lives, feeds and breeds around Point Peron, but its not totally baron, some of it easily seen due to either its size or distinct colouring, and others that you will have to take a little bit of time to find. Some you will observe easily as they make their way around the reef and again some that will hide in the small little nooks and crannies.


Out towards the reef just before Goss's Groto (these names will become familiar later on) there is a massive breeding area for lots of Buff Bream.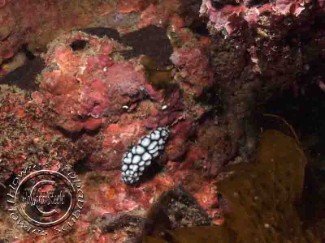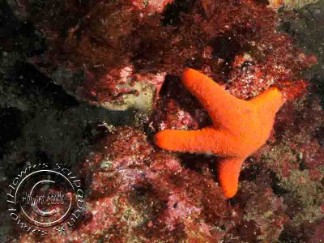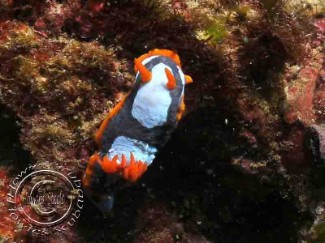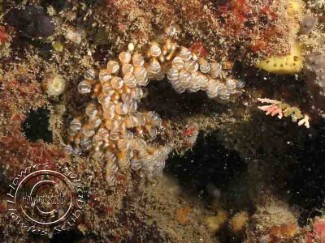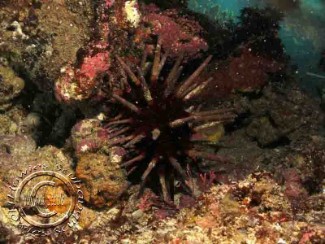 At Point Peron and especially within the shallow areas you will find a large aggregation of Sea Urchins. The Sea Urchin can burrow in quite ferociously, destroying large quantities of the limestone reef as it forages for food.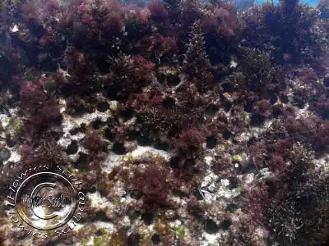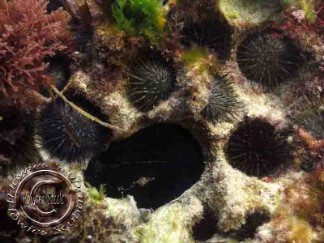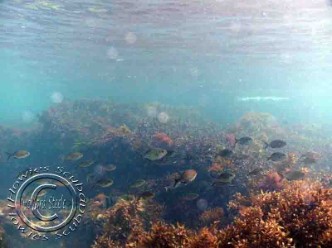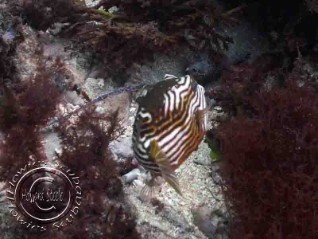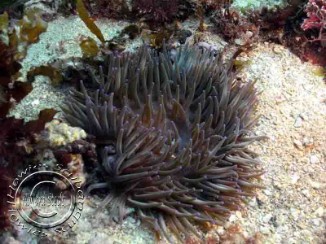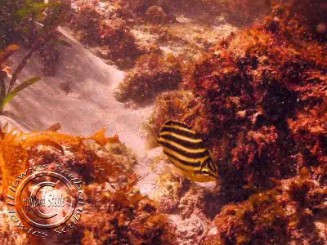 Top: Just at the break of the sea-grasses in the sand patch between the sea grass and Goss's Groto, stumbled across this Eleven Armed Sea Star wrestling with a Sea Hare.


Apparently the Sea Star will wrestle with the Sea Hare and would eventually tire out the Hare and then dine upon it.


Kinda gutted that I didn't hang about longer, but at the time I hadn't explored much of PP and just went about my dive like this was a common sight..... 5 years on I am still waiting to see it again..... ha



Bottom: On the same day hiding in the sea-grass area was this huge Southern Baler, absolutely stunning.





These are quite common around the Perth area but still great when you see one, especially one fully stretched out, see the creature feature section for more photos.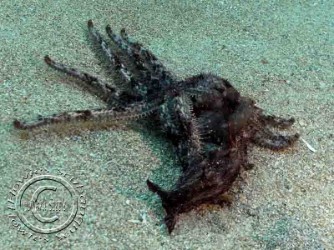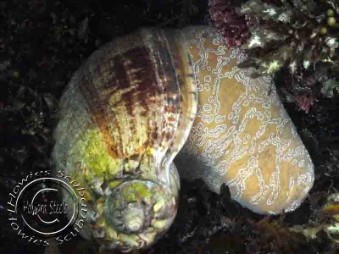 During a dive I had the opportunity to photograph this beautiful but quite rare (sightings anyway) Weedy Sea-dragon. It blended in so well with the surrounding algae I had to wait until it moved across the sand and rocks to get a photograph.




A couple of special moments: if you are really really lucky you will encounter two of the most cute but extremely graceful marine animals that grace Point Peron.
The Dolphin and Sea Lion.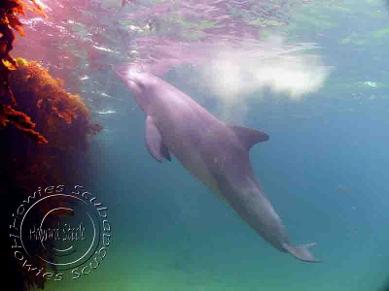 Love this moment at Point Peron, after a very very average dive at PP just about to head back in and at about 50 meters from the shore this beauty comes and says hello.
It briefly popped in then gone, I thought that was it but it came back 3 times and each time getting closer and closer...... Lovely.
This photo taken just as the Dolphin was to scratch its belly along the shore based reef, showing off to a young child just waiting on the beach.... brilliant.
The moment that never happened:
This is actually a stolen picture from my mate and owner of Indi Dive Pete Dawson. The group of us descended and he had a problem with his gear, him and his buddy were going to catch us up, as we swam off a raft of Sea Lions swam in and they spent the whole dive playing with these beautiful creatures (big bloody teeth though).
You will get the occasional single Sea Lion popping in and popping out during dives at PP. There is as I write in 2015 a very big male (it's friggin huge) that's hanging about checking out the divers.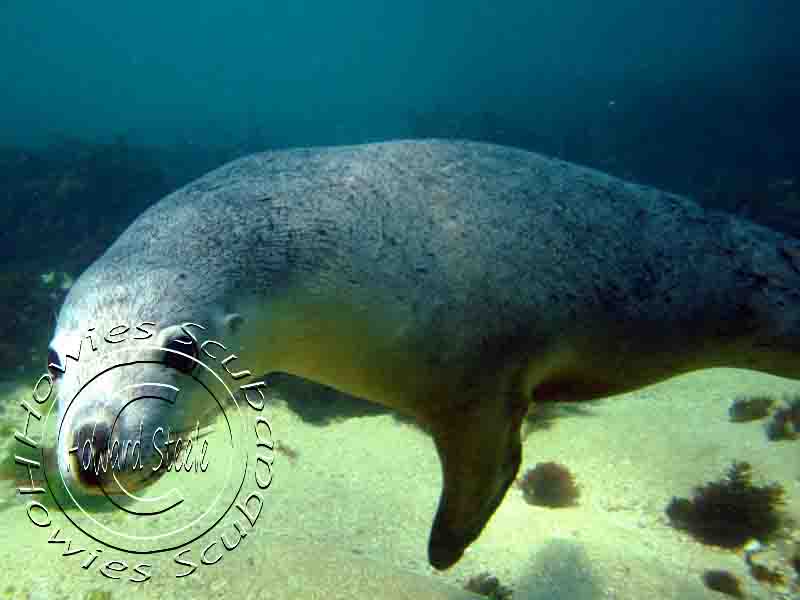 And that's about it really..........
Ok I am only joking.............I know you want information, photos and videos on the caves, arches, swim thrus....... But I have purposely not included them here, this websites main dedication is to the novice diver and as much as you are responsible for where you stick your body, I do not want to be seen as advocating diving in areas that the novice diver may not have the training, skills or experience to do without those things.
But we do love to play don't we, so here is a link to those pages that describe some of the caves, swim thrus and all the in betweens.... for future reference you will find these in the
"Dive Too"
section of the website.
Remember you are responsible for your diving....... ok
PLEASE REFRESH THIS PAGE IF FACEBOOK LIKE BUTTON DOES NOT WORK
IF YOU'RE NOT GOING DOWN: THEN WHERE THE HELL ARE YOU GOING