Scuba Diving Perth WA
Shore Diving
Rocky Bay
Swan River - Fremantle.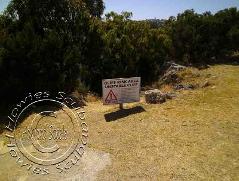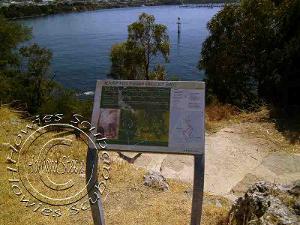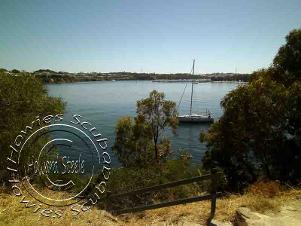 SITE INFO:
Shore Dive: River Dive


Depth: Max 8.5 meters.


No# of dives at site: 1


Dive Conditions: Generally only dive in the river when the ocean is being hammered and even the sheltered spots are going to be a wash out (not Boat Ramps @ Jervoise Bay). It makes a change from the norm but does not compare to ocean sites. At this site we noticed a slight current in the middle of the channel between the shore and the sand bar creating a nicely unexpected but slow drift dive. The tide was coming in during this dive.


Dive flag at Site: No.
WARNING: The Swan River is a working river, ferrying people up and down from Perth To Fremantle and vice versa, it also has a massive recreational use, with divers, swimmers, skiers, other boating and jet ski users. You must dive within your limits, always use a flag and try not to ascend quickly or unless close to the the bank or within the shallow areas as not all boat traffic will be obvious, keep your eyes and ears open for potential risks throughout the dive. Watch for currents, when we dived there wasn't much but the river is a dynamic place and varying parts react differently to the moving body of water. Any object you come into contact with has the potential, cut, scratch and scrape, take caution around the dive site, wear gloves.
Getting here is not too difficult, get on to Stirling HWY and turn on to Harvest Rd. then left on to Rule St. pull in at the car park on the right above the dive site. Kit up here, you can see a set of steps leading down to the river which you will take once you are ready.

As always do all your final checks (BWRAF), in the car park, the last thing you need is a walk to the dive entrance and then have to come back because you have forgotten something or an O' ring blows, not that it is far but the steps will definitely tire you out a bit.



Once you have geared up walk down to the steps to the small beach, that's the dive site.




All you have to do is decide which direction you want to swim in.


NOTE: I have read after we had completed this dive, but have not checked it out, that there is another easier entrance to this area next to the River Police at the bottom of Harvest Rd. Apparently there is a shore entry, with 2 x small sets of steps and wall with a small jetty on it. Your dive direction is towards Rocky Bay, however whether you dive up this far I am not sure, but due to the shallow nature of this site I am sure it wouldn't be too much of a stretch.

OK, if you know me or, you have read my other pages about the Swan River, then you will know I am not really a huge fan of the river sites. And I have to say this little site has in no way changed my opinion of this.


I had looked at this as a potential site a few times but never had the opportunity to just pop out and do it. However that all changed when my good buddy Owen and I dived this site for the first time in December 2013.


We parked up and followed the winding steps down to the beach, checking the quality of the steps and potential problems with the entry and exit and the walk itself. I have to say I thought the climb up and down the steps would cause a little bit of a problem as they weren't the steadiest of steps or evenly spaced, but in reality as long as you took your time it really wasn't a problem.


We made our way to the waters edge and decided to head in a southerly direction heading towards the main boating channel, not that we where going to swim down that far.


We entered the water and moved out approx. 2 meters to don our fins on the rocky riverbed, we where in about 1 meter of water at this point but literally a couple of steps further out and the waters edge sloped off quite sharply, finally reaching a maximum depth around 5- 6 meters (tide), so just be a little careful and make sure you have a little bit of air in your BCD so as not to sink before yo are ready with the rest of your gear.
We decided to descend immediately and swam south easterly direction towards the main channel.


It is almost inevitable the moment you descend to be greeted by a school of Toadfish.


As we progressed along the shoreline coming out of the gloom was a rather sizeable dark object which initially I thought was going to be a fair sized vessel, but unfortunately only turned out to be a large rock and not that long.


The rest of the dive along this side of the bank was unremarkable, some little spots, with metal debris including a push bike, some little nooks and crannies along the rock line but that was very shallow. And with it being the river you have to have the obligatory tyre...... couldn't find the shopping trolley though.


Our total depth travelling in this direction didn't get beyond 5 meters

I have to say the marine life in the river is pretty much predictable. If you like your star fish then you will be treated to lots, crabs loads, and lots of seahorses. The was some nice nudis and some nice horseshoe worms.

After approx 150meters or so we decided to cut across the river towards the sand bar. I noticed that around here there was a lot tube worms scattered across the river bed.

The river dipped to about 6.5 meters as we crossed and like I said earlier on there is a little drift evident as the current moves through the channel.

The sand bar is very shallow and it was just under the water line when we dived, how deep or shallow the bar gets at the respective high and low tides I am not sure.

After a few minutes playing along the shallow area of the bar we nipped back across and headed back to the entry point.

At this point we just swam past the entry point for about 100 meters (maybe not even that) and then again nipped across to the sand bar. At this point we managed approx. 8.5 meters in the middle of the river.


Overall not a lot of difference in the diving area or marine life compared to what we had previously seen further up the river.

I do have some video of this site but it is just murky and filled with seaweed and sea grass clogging up the picture.

What am I going to say about this site......... its the river so not much, it is an easier enough site to dive, but just be careful whilst on the steps either descending or climbing. And as you can see from the top pictures there is boat traffic along this section of the water.

Overall if you have to dive the river, then maybe consider the Coombes or Blackwall Reach.

PLEASE REFRESH THIS PAGE IF FACEBOOK LIKE BUTTON DOES NOT WORK

IF YOU'RE NOT GOING DOWN: THEN WHERE THE HELL ARE YOU GOING