Scuba Diving Perth WA
Shore Diving
Shore Dive: Wreck Dive.



This is a small 4 Wreck - 1 Tyre Reef - 1 Chicken Coop site . Area approx. 100 x 50 meters.



Max Depth: 18 meters.



Dive Conditions: Can be dived during poor weather, northerlies will create some current but can also help clear the silty sand from the site.





Dive Flag at site: Yes.


This is overall a nice easy site were you can get some depth to your shore diving. However the visibility is generally quite poor averaging around 3 meters.


This is used a lot during poor weather days and also as training for student divers so can become very over crowded especially on weekends when the swell and wind is up bit.


You are able to penetrate some of the wrecks, but be careful as you may snag yourself or gear on rusty protruding metal.
This site is about 30 minutes away from the City of Fremantle and, about 50 minutes from Perth CBD, depending on what route you take and the traffic at the time.


In short you need to get onto Flinders Lane which is off Patterson Rd or Rockingham Beach Rd. Page 445 UBD Street Directory of Perth.
Follow Flinders Lane down to the foreshore from Patterson, you will cross Rockingham Beach Rd, if you are already on Rockingham Beach Rd then all you have to do is turn into the car park.
This is the main car park that the majority of divers will use. That said if the car park is busy or you require some shade park on Rockingham Beach Rd on the right hand side as if facing the shoreline, there is shade provided by the trees and if you need a tank or gear then Bell Scuba is situated right there.
Kit up, if you are a bit shy there are toilets on site. Make sure all your possessions are not on view and your car is secure, no car park is safe regardless of reputation.

Regardless of where you parked and kitted up all you need to do is head to the beach. There are steps that will lead you down to the beach.

Whilst on the beach do all your final checks: B (BCD): W (WEIGHTS): R (RELEASES): A (AIR): F (FINAL). We all have our own way of remembering this little check but I use this simple saying "Before Water Review A Friend". make your way into the water.
Pretty much straight ahead of you will be a small buoy with a dive flag on it, make your way to the flag and descend to approximately 15 meters. The wreck site is linked by ropes so simply put, stick to the ropes and you shouldn't go wrong as the vis can get pretty poor at times.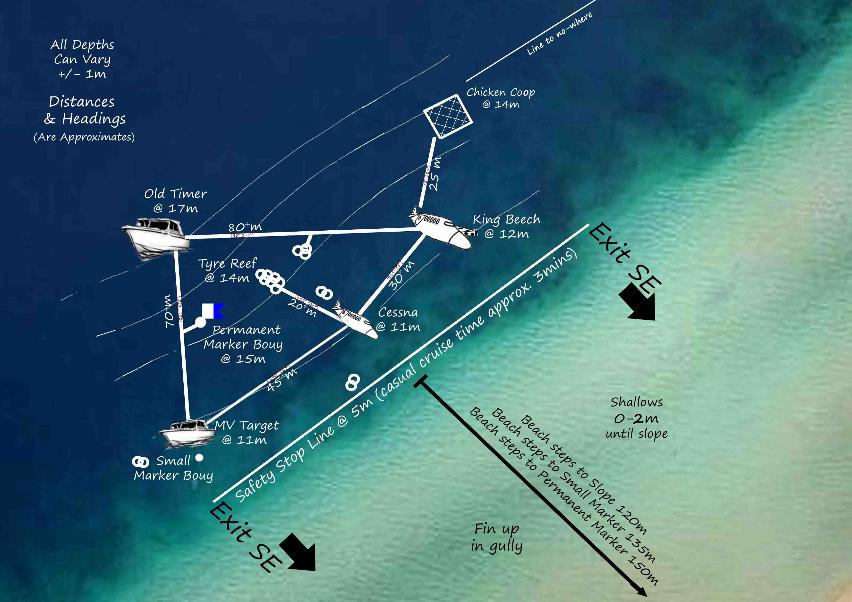 PLEASE REFRESH THIS PAGE IF FACEBOOK LIKE BUTTON DOES NOT WORK
IF YOU'RE NOT GOING DOWN: THEN WHERE THE HELL ARE YOU GOING