Scuba Diving Perth WA
Shore Diving
POINT PERON
Reef Systems

Point Peron - Cape Peron - Rockingham

General Information

For Point Peron



Shore Dive: Limestone Reef Dive.



Depth: Max +/- 10 meters.



Dive Conditions: Preferably a maximum of a 1.5 meter swell, 11 second swell period, low easterly winds. Can be dived in 1.8m with a low swell period less than 11 seconds and gentle easterly wind but this is not going to be a very nice dive.


Perfect day would always be a low swell around 1 meter, low swell period of 11 seconds and gentle easterly wind for a few days prior.


If you have a small swell with a large swell period you can dive this site but try not to get too shallow as it will break over the reef and move you about a bit, however once you have descend you will generally not be affected by the swell period.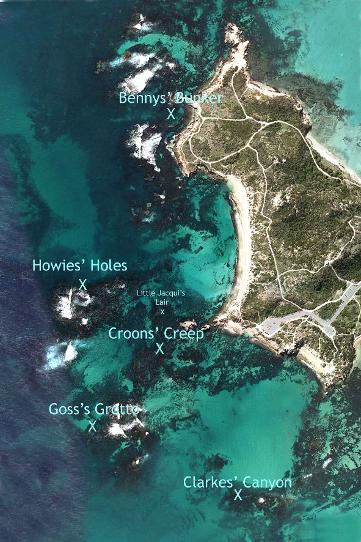 This beautiful spot was discovered by myself and my great dive buddy Stevie G' in the Autumn of 2015. We had actually dived this area of Point Peron a couple of times but never really ventured further than the far edge of the reef. That's because the area around the breaking reef is quite shallow, and if you didn't have great conditions it was very rough and silty and exploring felt a bit futile as you could barely see a thing.

The other problem with this site is that it is a really big swim out to the other side of the reef, over 400 meters. From the shore it didnt look too bad, but once you are doing a surface swim it feels like you have dragged a hippo for the whole distance.

And I guess the final problem is that once you have found a really nice spot to dive which we had in "Howie's Holes" you became reluctant to waste a dive were you could find absolutely nothing, and as Stevie G' only had the opportunity to dive once a month we didn't want to let him down.

But we had had enough of "Howie's Holes" .....I know sacrilege, right..... but we had, it was becoming boring and the dives were also becoming stale. So we decided on a really nice day to re-introduce ourselves to this reef, re-invigorate that sense of adventure and that little buzz you get when you find a great little spot......and I am soooooooo glad we did.

What can I say about Goss's Grotto apart from how beautiful this spot is, it really is. It's kinda weird as the reef surrounding this area although really nice, with lots of little avenues in the broken reef and tiny little swim thrus to explore, it is really shallow, only a few meters and then all of a sudden as you see the arch appear it just drops down to about 7 or 8 meters into this basin and this great little area of reef which is littered with ledges, archways, gulleys and trenches to explore.


My only wish was that this spot was a bit closer to the shore.


Ok before we get down to the directions, "Goss's Grotto", has been so named after my coolest of dive buddies Stevie Goss, or Stevie G' as he is referred to through out this website. It wasnt named after him because he reckons he found it, which we know is a lie because I found it, but because we love him so much and this was actually the only way we could get him to stop crying in his wetsuit when it was going to be named something really cool and dynamic after me.... what a fanny.... "love you mate"

Ok enough of my rambling, lets get our backsides over there.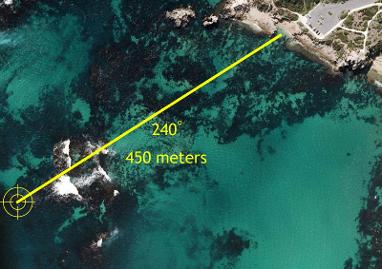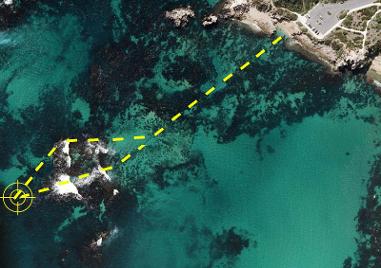 Basically the image on the left shows you the direct heading and distance required to get to Goss's Grotto, walk down the steps at the corner of the car park and on to the small sandy beach, and swim out for 450 meters on a heading of 240 degrees, easy enough....... the reality is far from that simple.


I have dived here a few times now and I have to say that in all my dives at Point Peron, I cannot ever recall not seeing some type of wave breaking across this reef. And as I have previously mentioned its very shallow across this area maybe 0.5 of a meter across the flat top reef and the likelihood that you can swim straight across it is pretty much close to zero.


In the video below you can see how shallow it is, and on a really good day with minimal wave action you could and I have surfed across the reef, however I have also tried it on a day with a moderate break and nearly had my head spun off as I was tumbled over the reef.... not the smartest of moves.

.........So you have two options if the break is too much.


1)
If the break isn't too bad but you don't feel like taking the chance of reef surfing, the reef does have some passage ways through from the inner to the outer side of the reef. They remain shallow but obviously not as shallow as going over the reef. You will feel some surge drag you back and forth and you get the occasional wave break over you, but that shouldn't hinder your passage through the reef.


2)
Make your way around the reef, it's a longer swim but may save you a broken head (which is always good in my book).


So generally, what we usually do is use the break over the reef as a marker and then see how we feel about the break as we get closer. The difficulty some times is that from the car park looking over from a distance and down on to the reef the break can appear small, but when you get out there they become quite daunting in size as they rise and loom over you (that sounds a bit dramatic doesn't it).


Anyhow, once you are over the reef you have to swim out about 50 meter to the "Archway" that's basically the start of Goss's Grotto. Now we used to have two entangled marker buoys and a cray pot about 15 meters from the entrance and was really easy to find, however someone untangled the line and moved the whole pot to the entrance of the archway, which seemed like a good idea, unfortunately the last time I checked the cray fisher-persons have come along and reclaimed this gear, so no marker.

From the surface you may be able to see a gentle swell rise over the flat top reef that makes up the archway entrance on a calm day, and on a moderate day there should be a minor but clear break over the entrance, obviously tide height will play some part on how significant this break or swell will appear.


But its not far from the break behind you, really no more than 50 meters away, so position yourself in the middle of the reef that sits behind you and just explore in a westerly to south-westerly direction and hopefully you wont go to far wrong. There is a decent sized sand patch to the north of this reef, so maybe if you see this consider heading south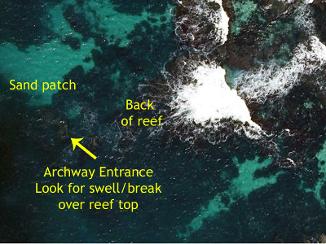 Just a few photographs to show off the main archways and swim thru at this site.
PLEASE REFRESH THIS PAGE IF FACEBOOK LIKE BUTTON DOES NOT WORK
IF YOU'RE NOT GOING DOWN: THEN WHERE THE HELL ARE YOU GOING