Scuba Diving Perth WA
Shore Diving
POINT PERON
Reef Systems

Point Peron - Cape Peron - Rockingham

General Information
For Point Peron
Shore Dive: Limestone Reef Dive.

Depth: Max +/- 10 meters.

Dive Conditions: Preferably a maximum of a 1.5 meter swell, 11 second swell period, low easterly winds. Can be dived in 1.8m with a low swell period less than 11 seconds and gentle easterly wind but this is not going to be a very nice dive.

Perfect day would always be a low swell around 1 meter, low swell period of 11 seconds and gentle easterly wind for a few days prior.


If you have a small swell with a large swell period you can dive this site but try not to get too shallow as it will break over the reef and move you about a bit, however once you have descend you will generally not be affected by the swell period.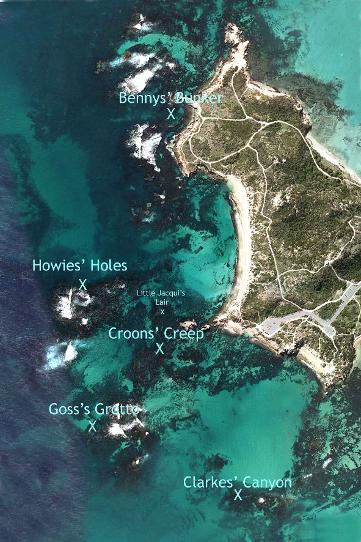 The adventure continued once we had found Goss's Grotto, and we were determined to further explore what Point Peron had to offer. So on a very nice day during May we decided to explore one of the more shallower areas around here.


We had dived here previously on a couple of occasions but I have to say in all honesty we didn't feel like this area had much to offer, very shallow and due to that it could get quite surgey, quite easily, but we hadn't really done any serious exploring, we had played in the very shallows, really close to shore, so we had to give it another go.


I love it when a plan comes together, or to put it another way, I love it when you fluke it and find a really nice little spot to play in.
The first thing you need to decide about this site is where are you going to exit from, and I would strongly suggest exiting on the next beach down, the beach at the bottom of the steps in the main car park .
A giant stride entry isn't too difficult to master even though you do have to walk over some slippery and uneven reef, so its vitally important that you watch your step, and there some easy little paths over this bit of reef.


The main issue is getting out at the end of your dive, and carrying or lifting all that gear up even the smallest of steps is a pain in the backside, especially on uneven reef.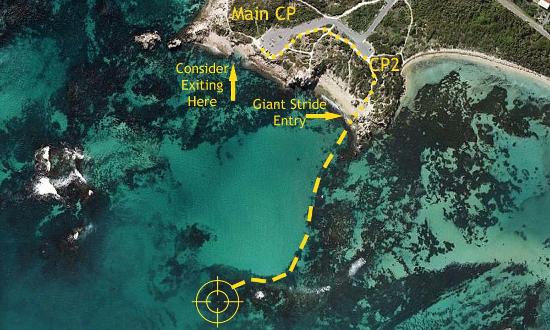 If you lose your footing its near damn impossible to get back up, I promise you as it happened to me, in a dry suit, with lead, upon lead, upon lead, upon... well you get the idea.


So, park in the main car park, kit up in the main car park, do all your buddy checks in the main car park and then walk around to car park 2, down the dune and into the water. And on your return either make your way back to the entrance point then swim in a north westerly direction along the beach/reef edge and exit at the beach or just cut across the large sand patch at the end of the site in a northerly direction and exit at the same place.



Its up to you but I know what I'd prefer.



Anyway you are in the water and there is reef immediately as you get in just on the left, its really shallow, starts off at a couple of meters and doesn't change much for the next 2 - 3 hundred meters. Soon as you step in there is a plaque describing some of the fauna and flora of Point Peron, just n case you are interested.


Immediately as you get in there are tiny little swim thrus, ledges and overhangs to explore, there are tonnes of little reef bommies scattered around the place and the reef cuts, weaves and winds like mini mazes, with spots allowing you to nip over and thru the main stretch of reef and back again.



Its not until you get approx 4/5ths of the way out that it gets a little deeper, on high tide you may push 6 meters (wishful thinking maybe) but average is around 5 meters. When we first discovered these archways and swim thrus I thought they were a lot closer to the beach, just prior to were the reef bends or turns westerly from its south westerly direction, but in fact the nicest spot is on the far side or the furthest part of the reef, which is approx 300 meters from the beach, not the furthest swim around here but further than my initial estimates.

As you swim down along this reef you will eventually come to a "Seagrass Coralline Reef Garden". This is a very shallow part of the reef just before you reach Clarke's Canyon. For the nerds (including myself) its like a scene from "trouble with Tribbles"..... you know who you are.......


Once you hit this area, you are only about 50'ish meters from Clarke's, just head west and dip a little left (south for the uninitiated) and explore just around this area and you should find some lovely spots.


There still remains a few spots to explore here, and I have to say overall this is a very easy site as long as the surge is down. I call these places, "One for the kids" they are that easy and simple (consider entry.exits), there is some minor confined spaces but you are through these within seconds as there really isn't a lot of breadth to these areas, and as I write I haven't found any holes as such that envelope you like say Howie's Holes or Goss's Grotto, I certainly haven't come across any area that you cant see and reach through to the other side within a few firm fin kicks, but then again I just said there are still places to explore.


One word of caution, you do get stand up boarders and kayakers playing in this area, especially when there are waves breaking over the reef, so eyes up when ascending.


If I had to give you one suggestion about diving here that would be....... don't..... hahaha....... no what I would do is swim out to the end and check out the nicer swim thrus and arches, then ascend and do another surface swim over towards Goss's and then about turn and pop back through Croons Creep. You will need time to complete this, so no rushing, and you will clearly need the legs for the surface swim (unless you have a scooter) as you don't want to waste your air swimming underwater over a sand patch.


I have completed a similar dive to this one described in the last paragraph and I have to say it wasn't too bad, I think it would be more enjoyable than just concentrating on the one area. But make sure you don't push yourself, this is a massive swim out and back if you do decide to hit 3 separate areas, so don't leave yourself too tired and struggle to get back in, there is no fun in that.


But anyway I digress, this about diving this little run of reef and exploring a small fun part we have named after our American cousin Mitchell Clarke, who unfortunately wasn't handsome enough to get a visa and stay and had to toodle off back to the States, we miss you mate and look forward to your next visit..... so here is some video.
PLEASE REFRESH THIS PAGE IF FACEBOOK LIKE BUTTON DOES NOT WORK
IF YOU'RE NOT GOING DOWN: THEN WHERE THE HELL ARE YOU GOING