Scuba Diving Perth WA
Shore Diving
North Mole
Fremantle
Gareenup Wreck

Shore Dive: Groin Dive: Wreck Dive.
Dive Conditions: North Mole and the Gareenup Wreck are really the only spots north of the river that you will get some protection from the SW swell. I have dived here in 1.8 meter swell and 12 second swell period with a gentle to moderate wind, and the dive was really nice. Consider something less if the wind direction is coming from the west.

North Mole is at the end of North Mole Drive

(how convenient)

, however getting in here is a little bit of a maze due to it being part of the dockland and ferry terminal areas. Main suggestion is to get a map or a sat-nav, if you haven't got one of these then Rockingham DT is lovely this time of year. Seriously it is lots of little turns and twists, you need to get into North Fremantle docks and head towards the beach eventually you will be able to turn left heading towards the docks, look for signs for ferry terminal or Rouse Head and stay on the main road until you see signs for North Mole Drive.

There is loads of parking at the Mole, but you want to park up as close to the disabled bays as possible but, don't be an ass and park in the disabled bays unless you have a permit. These are situated immediately to your right on entering the Mole, you will see a break in the wall and the fishing ramp designated for the disabled is here and so is your entry point.



Kit up wherever you park

(keep valuables out of sight)

and make your way down to the ramp. Don't forget your rope you will need approx. 10 - 15 meters of rope, I kid you not.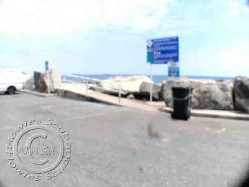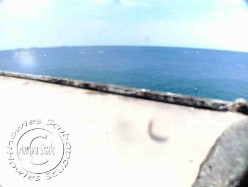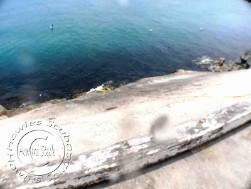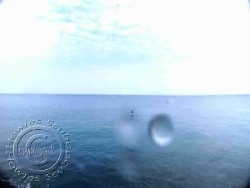 These photographs above, taken just after the dive may not be perfect but they clearly show the steepness and the height of the ramp.


Like I said earlier, getting down to the waters edge is not too difficult, the tricky part is just watching your footing and your balance, especially with all your gear on, shifting your usual balance and centre of gravity. Simply place one foot in front of the other and make sure you are steady before your next step, don't rush in and end up with a cracked head.


As you can see from photograph 4 below there are some steps that take you half-way down the slope, then rocks that are easier enough to walk over, but they do get slippery. We found the best place to enter the water was in the middle of the slope as this had a rock that was low enough to sit on, place some air in your BCD and manoeuvre yourself into the water

(photo 3)

.


NOTE: you maybe able to do a giant stride entry if the tide is higher but from this dive I wouldn't reccommend this as there are submerged rocks.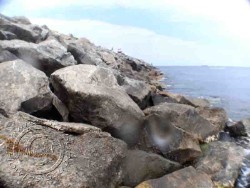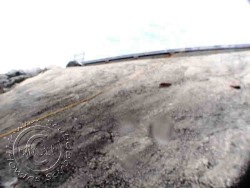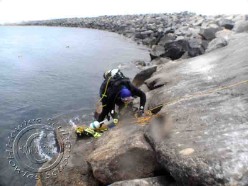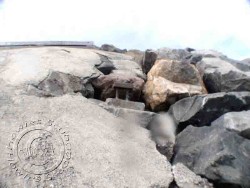 The most difficult part is getting back on to dry land, this is when the rope comes in extremely handy, you can struggle and get onto the bottom rocks without one but we found the rope cut down on 90% of the effort required to do it unassisted.


Just don't get tangled up like the boy Owen did here, quite amusing. Once we had made our way back to the top we just pulled the rope up with dive flag and Owen had tied his fins to the rope giving him more freedom when getting back to the top

(smart man)

.


Simply put, if the

'old farts'

can do it, so can pretty much anyone.

Ok, well you are now in the water and hopefully you didn't slip, trip or fall, and all your precious bits and pieces are all still precious and still in one piece.


After all this effort I am guessing you want to get over to the wreck.


I gave an average heading before of 355 degrees and this still stands however the actual heading has a little bit of leeway with it, roughly 1 - 2 degrees either side of 355 depending from which part of the slope you start your swim.


The swim took us 8 minutes in some very mild surge.


We did see some people completing surface swims to the wreck, but I am unsure if it is visible from the surface or whether there is some kind of visual marker that lets you know you have reached the wreck, and certainly nothing obvious from other dives I have done here.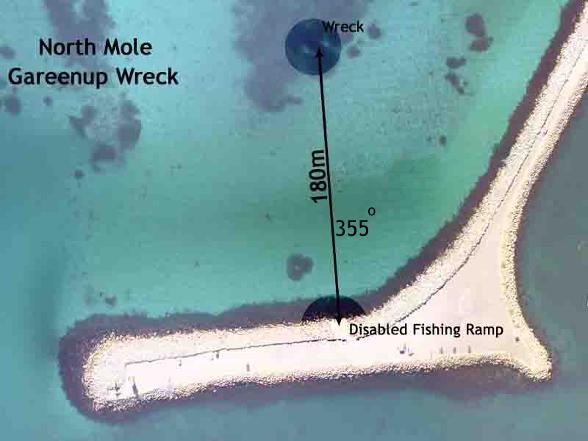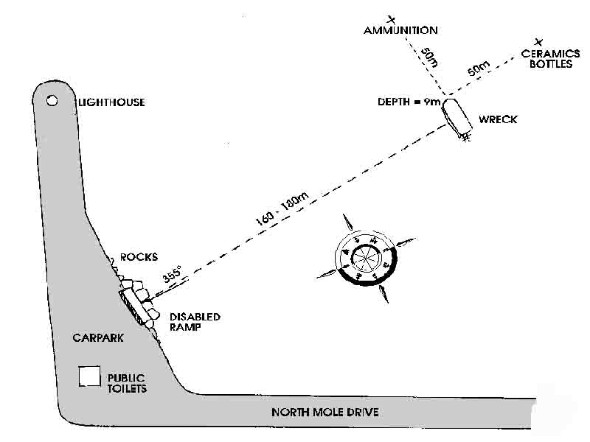 This diagram to the left is not mine and I am not sure where it came from, however as you can see this map shows additional wreckage just off the main site.


I am unsure if these additional parts are worth a 50m swim. I have not dive these areas so I am unable confirm their existence at this point.


There is some varying sea grass surrounding the wreck and what little gems of marine life reside in here maybe worth taking a look. We concentrated purely on the wreck on the first dive but on other dives we have explored some of the sea grass, but only in minor fashion.


Also there is the Mole itself, my only advice would be to dive here when the area is clear of people fishing, we dived on a Sunday and there was plenty of people on the Mole doing just that.

Lets quickly clear something up

, those who know anything about this site will know that this wreck is not actually the Gareenup, and they will gleefully tell you this when you ask about it. The Gareenup was a wooden hulled boat and the wreck at this site is an iron hull, that said if you ask anybody about the wreck at North Mole they will call it the Gareenup, then gleefully tell you that it's not actually the Gareenup...... you get the picture, however for all intent and purposes, it is the Gareenup, until someone finds out the actual name of this wreck.

Anyway, completed my first dive at North Mole and the Gareenup Wreck end of Spring 2011, the week another boat actually sank, landed on the Gareenup and crushed/flattened one of the sides. The annoying thing was I was going to try and dive it the week before but due to other commitments this didn't happen, this would of given me an opportunity to compare the site pre and post crushing. Anyway the boat was lifted and moved off the wreck and it is once again accessible. Just a quick note, we hope the gentleman that lost his house boat was fortunate enough to salvage enough to start again, ok lets get back to the review.



The most difficult part of this dive has to be the entrance and exit, other than that this is a simple enough dive, with a straight swim out, a look around the wreck and a straight swim back in. Getting down to the water is a matter of taking your time and watching your step and balance, sitting on the rocks (at low tide) and waiting for the next wave to carry you into the water. The real difficulty comes from getting out and this is when a rope (suggested by loads of websites) would and does come in handy, the use of a rope is in my eyes essential equipment for this site

(more details about this later)

.

Getting to the wreck is easy enough 355 degrees from the centre of the ramp for 180 meters, approx 5 - 8 minutes swim depending on conditions. The wreck is only about 20 meters long, it is basically just iron ribs/shell, the vessel is penetrable.



The vis on this day wasn't brilliant, maybe 4 meters, we had approx 1.5 meter SW swell, the shelter provided by North Mole was very evident, I am unsure if this is a constant when diving here, as most swell come from a SW direction it may just do that. The swim out is nothing harsh, just over sand then you hit some very thinned out sea-grass bed until you reach the wreck. Now there is some small marker buoys sunken into the sand, unfortunately these are not so obvious when you start your swim. We came across a series of about 4 of these half way to the wreck, which is nice actually, as it gives you some confidence you are going in the right direction.



Some risks to consider: Obviously after the recent landing of another craft on top of it may have made the vessel less sturdy but how this has impacted on the overall structural integrity I wouldn't have clue. The vessel is penetrable and distances between entry and exit is approx 10+ meters with a open section in the middle. This ship is iron by design and sharp rusty edges are evident so be careful not to snag yourself on the jagged edges. Make sure you take a flag with you as this area will and does get boat traffic, kayaks and fishermen. Entry and exits.


Disclaimer: Whilst North Mole may appear an easy dive, the entry and exit points are open to additional risk which may be alien to your usual dive routine and, such risks may have the potential to cause severe injury. By diving here you agree to take all appropriate precautions and actions to maintain you and your buddys' safety and well being regardless of the information contained here. Always dive within your own personal limits.
There was an abundance of marine life around the wreck and for such a small site I was quite impressed with the diversity of this life.


A couple of main creatures to note was, the Scalyfin at the end of the boat was quite aggressive, quite amusing and overall quite annoying, but this is what they do to protect/defend their little spot.


There where approx. 4 rays at the site, 2 Bight Stingaree's and a couple of Sparsely Spotted Stingaree's, the latter have apparently attacked divers with little provocation. I had seen 3 of these in a couple of days and fortunately I was left alone. Apparently this is quite rare to see these out during the day and, usually bury themselves in the sand until night-time when they come out to feed.



And last but not least one of my favourite little fish, the Fingered Dragonet, beautifully weird little fish this.



Overall, for such a small site I don't think many people would be disappointed about the amount of marine life you get here. I have dived some reefs far larger than this wreck and have been dumbfounded by how little life there is around it. And if you compare say this wreck to the wrecks at Rockingham DT you definitely get more marine life for your effort.

I would like to try this site on a slightly rougher day, with a larger SW swell to see it is somewhere you can get into when other sites maybe weathered out, as my gut feeling is that it is a lot of effort and has the potential risk of injury compared to other sites

you could dive when the weather isn't too bad

, especially if you are easily distracted and a bit clumsy.


A definite consideration the novice diver should be aware of is the potential to be distracted from the risks the entry and exit have. When diving at any site the novice diver will have a mass of thoughts as part of the preparation and excitement of getting into the water. They will be wearing gear that may be potentially unfamiliar to them and will definitely be affecting their balance and centre of gravity.


But in all honesty a nice little site if you want something a little different than the usual dive sites. One to definitely break the monotony of your regular dive spots. Plus there is still the Mole itself to explore, which I have kinda done once and I have to say it wasn't that great, typical man made groin.


Take your time and don't forget your 15 - 20 meters of rope.

PLEASE REFRESH THIS PAGE IF FACEBOOK LIKE BUTTON DOES NOT WORK
IF YOU'RE NOT GOING DOWN: THEN WHERE THE HELL ARE YOU GOING