Blue Bay & Roberts Point
Halls Head : Mandurah WA
I did wonder whether to include these dive sites in the general dive section of this website for the Perth area, I certainly think you could dive these sites on a regular basis as these sites are only an hour away from Perth. However, I am not sure how often I would dive them with the abundance of other reefs closer to Perth. Anyway I have included a map, its pretty easy to get here, just get on Freeway No 2 and follow the signs for Mandurah and then into Halls Head.

Certainly suitable for the novice diver so if you are considering it, then I think you will be ok.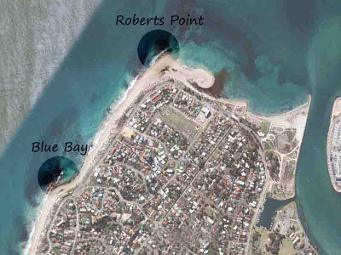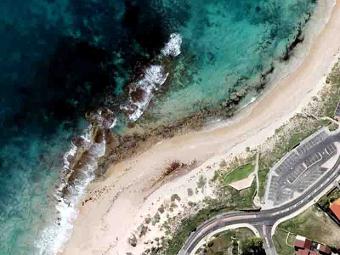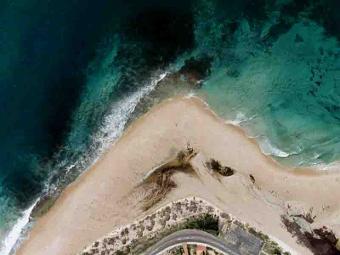 Halls Head
Blue Bay & Roberts Point

Marine Life Gallery
Dived these two sites in Autumn 2012. The weather conditions on paper were pretty good, low swell, and a low swell period, wind could have done being a bit more easterly but it looked good.

Unfortunately the wind and 1.2 meter swell was enough to generate a surge and waves on these shallow (4 - 8m) and close to shore reefs. The effect of which was to lift the sand up, which had a major impact on the vis, in parts reducing down to a couple of meters at best.

I imagine due to the unprotected location and, the closeness to the shore the dive conditions need to be absolutely perfect to dive here, like the conditions you need to dive North of the River reefs close to Perth.

Entry and exit is easy enough, you have a good sized car park to kit up over-looking the dive site.

The only thing you need to be careful of is the steps you have to take up and down from the beach
as these can be quite steep especially with all your gear on.

Once you have made your way on to the beach the reef is right there in front of you.


To be honest we really didn't get the opportunity to thoroughly explore the reef here simply because of the water conditions. Trying to find smoother water we pushed slightly north of the reef and further out west in to more of the sea grass than the limestone reef.

Apart from a few nice surprises there was nothing outstanding to this dive, some nice and unusual sponges, a lovely Valvulate Star and also my first glimpse of the mollusc Sagaminopterum ornatum which is beautifully coloured, look for these on the grey finger sponges if you dive here, tiny but very distinct violet and red colouring.

Second dive was at Roberts Point which is north of Blue Bay and is in next to a channel for boat traffic so, be careful not to go beyond the channel marker situated at the end of the reef and, as with all your diving make sure you display a dive flag.

Once again you have a nice big car park to gear up in and then just a little bit of a walk across the sand to the reef.

You can just walk over the reef and do a stride into one of the gulleys but just be careful of your footing as the reef will be sharp and slippery and you could potentially cut yourself if you slip, trip or fall.

If you need to you can do a sand entry but you will need to walk down the beach a bit. I am obviously getting to lazy in my old age.

Roberts Point is a straight reef, with little troughs that seem to run in part along the length of the reef. The site is shallow and not a huge abundance of marine life presented itself to us.

I have to say the surge was a lot more noticeable compared to Blue Bay, but I think that was because we stuck a lot closer to reef on this dive due to the potential for boat traffic.

Again most probably more to do with the vis I really don't have anything fantastic to describe or rave on about. We had some nice Leatherjackets and we did see a Weedy Sea Dragon but again overall very similar to Blue Bays' marine life.

I do not know what to say about these two reefs, nice and shallow, easy entrances and exits, you need to be a little careful with Roberts Point walking over the reef and of course boat traffic.

In a nutshell, if you have your dive gear on you and you are passing and, the waters look flat definitely give one of these sites a go, but I don't think I would make a special trip down to here unless I knew I was going to have flat, calm waters and even then there are sites closer to Perth that I would consider first.


Video Note: After reviewing the video for these dive sites I realised I had 15 minutes of sea grass and kelp and about 30 seconds of a Sea Dragon and a Leatherjacket combined, so no video has been produced for these sites.
PLEASE REFRESH THIS PAGE IF FACEBOOK LIKE BUTTON DOES NOT WORK
IF YOU'RE NOT GOING DOWN: THEN WHERE THE HELL ARE YOU GOING