Marine Life Identification Perth WA
Shore Diving
A nudibranch is a member of what is now a taxonomic clade, and what was previously a suborder, of soft-bodied, marine gastropod mollusks which shed their shell after their larval stage. They are noted for their often extraordinary colors and striking forms. The clade Nudibranchia is the largest clade within the heterobranchs, with more than 3,000 described species... (Wikipedia)
---------------------------------------------------------------------------------------------------------------------------------------------------------------------------
Nodulose Hoplodoris
(Hoplodoris nodulosa)
There are loads of Nudibranch at the dives sites around Perth with some beautiful colouring, however my favourites are the warty type.
The warty Nudibranchs just have a great look that gives them loads of character.
Photographs taken at Ammo Jetty.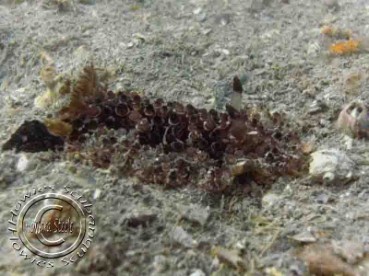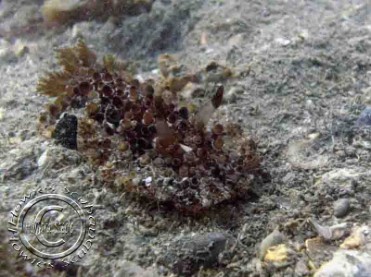 Large Gilled Hoplodoris
(Hoplodoris grandiflora)

I try not to usually include such poor quality photographs, however I wanted to include this photograph as I was amazed when I saw it.
This Nudi was flat and the approximate width of CD is the best way to try and explain its size and obviously a lot longer than a CD, it was huge.
My only regret is that I did not have the time to get a decent photograph... may the hunt continue...
About week after these original photographs were taken again saw a similar looking Nudi, not as big as the previous two but just as flat. Not perfect but certainly better pictures this time.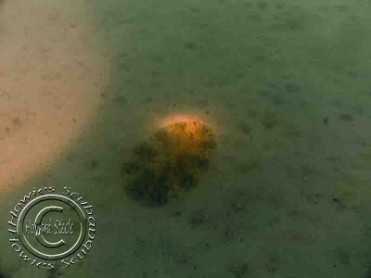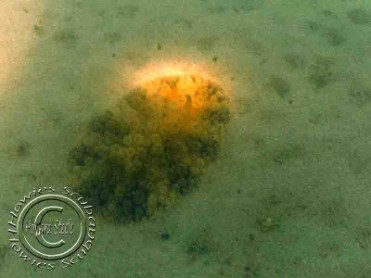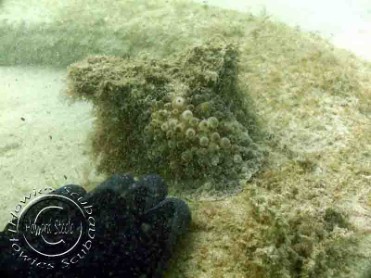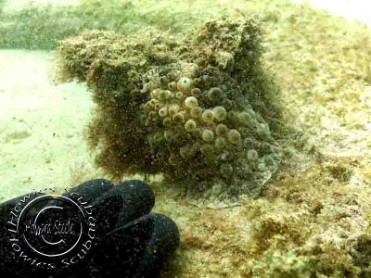 Denisons Dendrodoris
(Dendrodoris denisoni)
More warty Nudi's these where photographed at Bulk Jetty, Ammo Jetty and Rockingham DT.
These can grow to a fair sized Nudibranch which is clearly indicated by the use of scale with my hand in the photographs.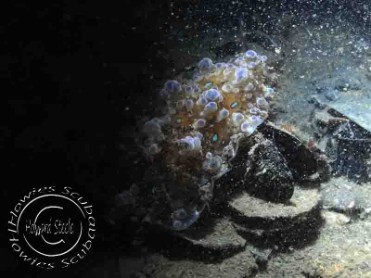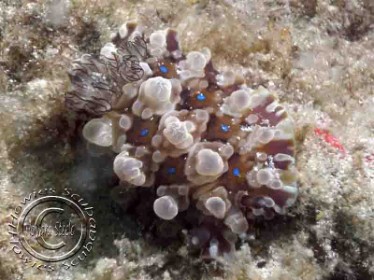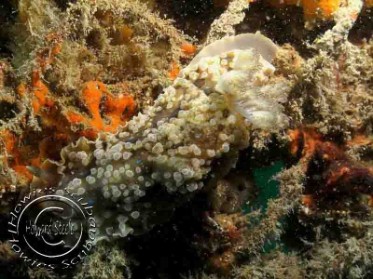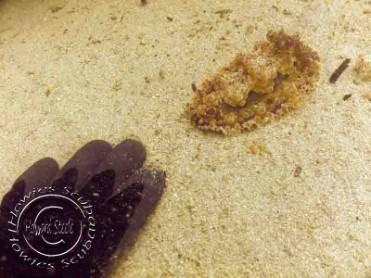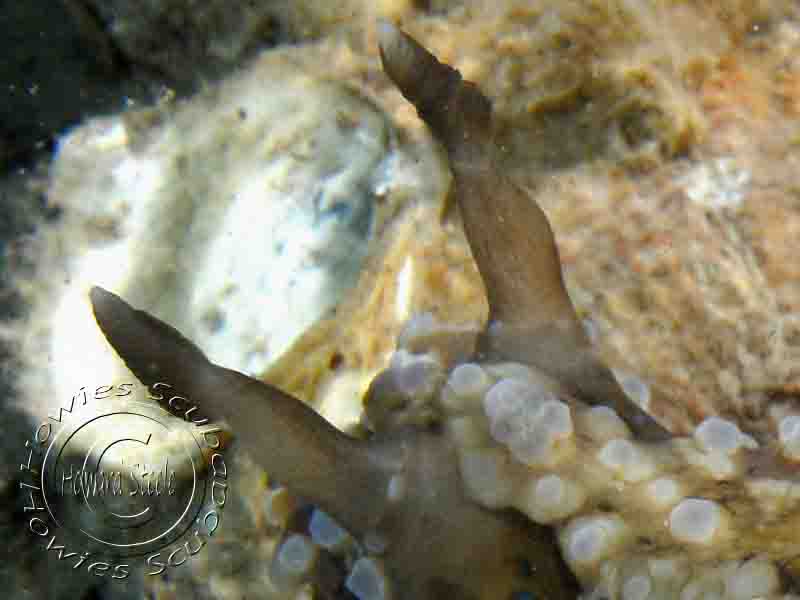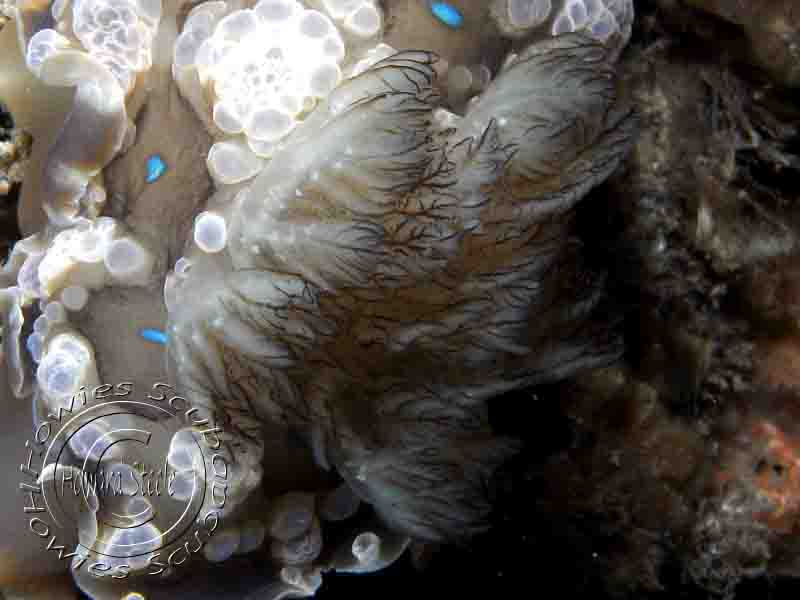 The final photograph in this group was taken in mid-flight, I just saw this pair of entangled Nudi's floating right past me heading to seabed.
I have no idea what had happened, had they been knocked off by a passing diver, was it a dual to the death, a farewell cruel world moment or was it a lovers leap.
Like I said I have no idea, however I did film them all the way down to the seabed and after a few seconds they appeared no worse for wear and began to untangle.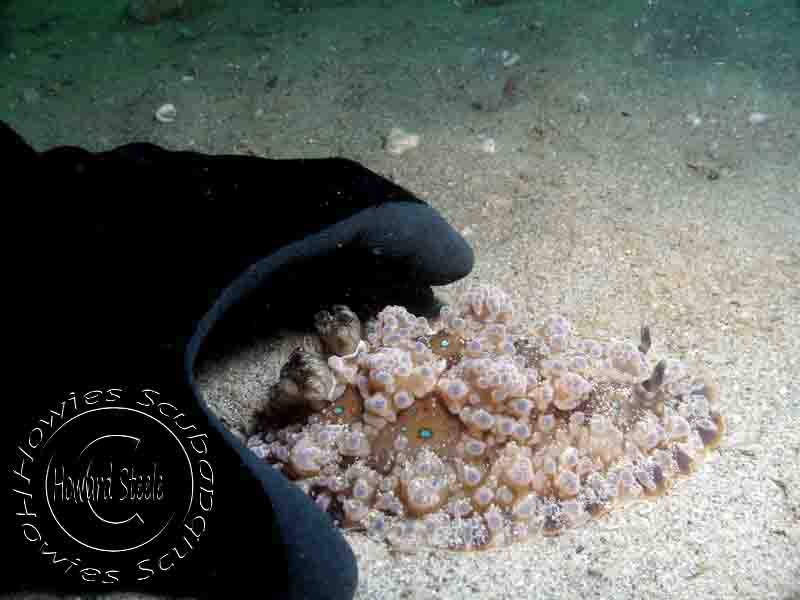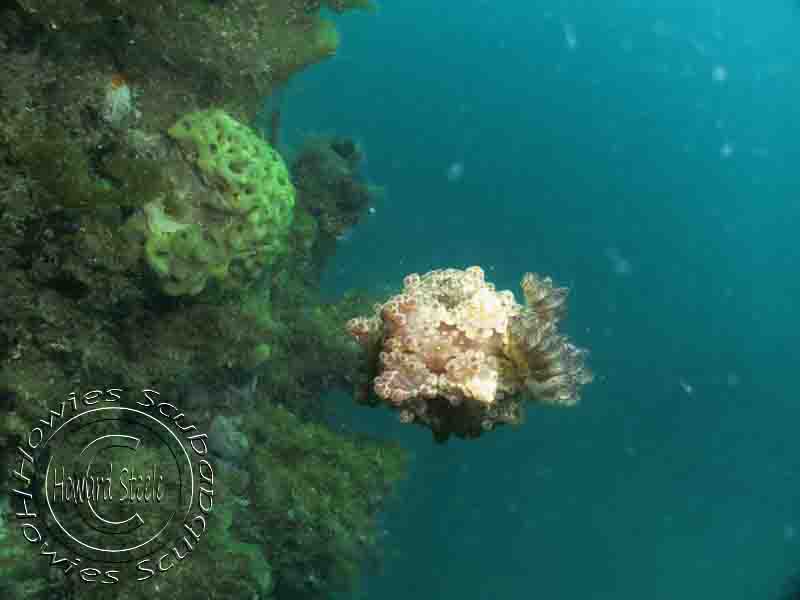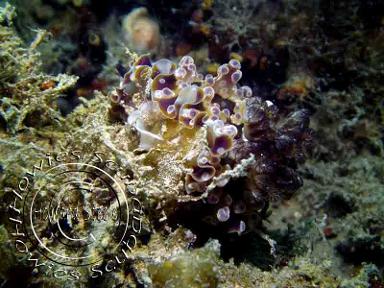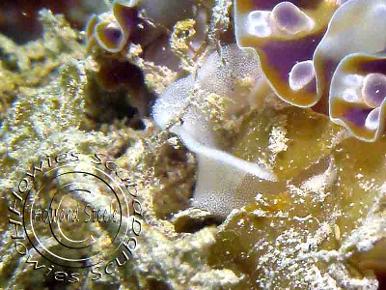 Short Tail Nudibranch
(Ceratosoma brevicaudatum)
The Short Tail Nudibranch is visually the most common occuring Nudibranch you will see during your diving around Perth.

Photographs taken at Ammo Jetty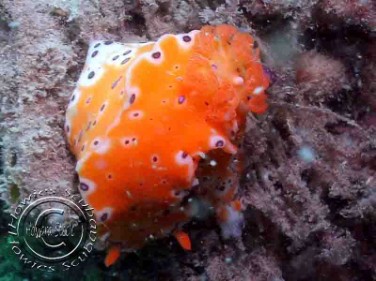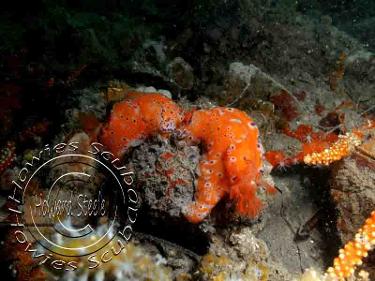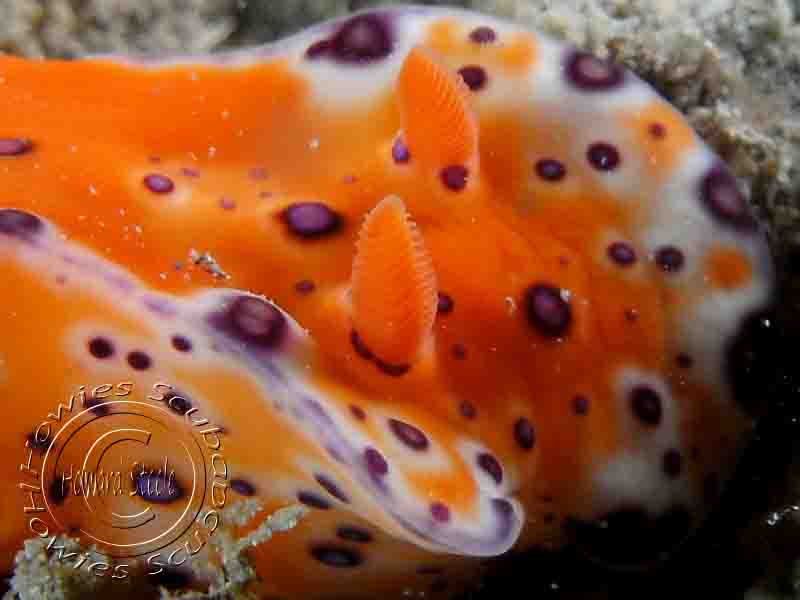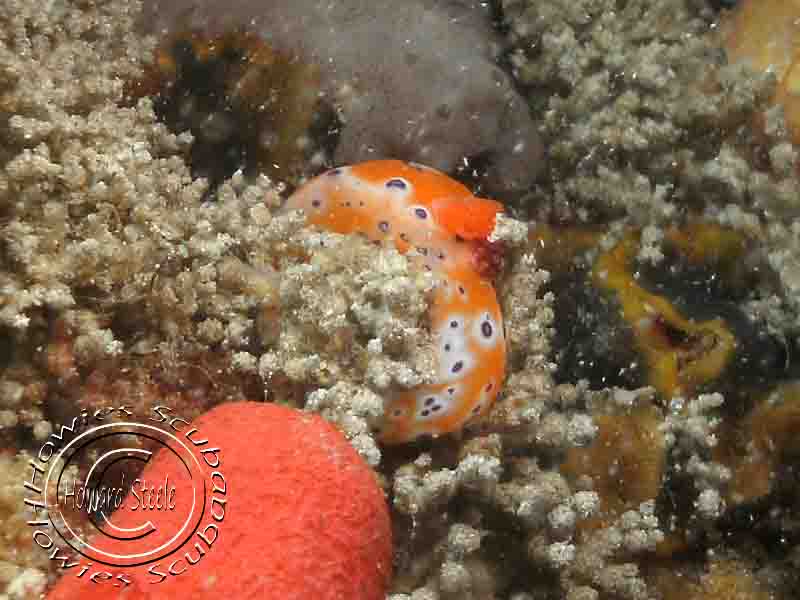 At first I wasn't sure if this was a Short Tail Nudibranch, just due to the colour variation. However that's exactly what we are thing, that is just a colour variation. Looking at its size definitely a juvenile.

Thanks again to Mel T' for the 4th photograph showing a slightly larger version of the same Nudi, also on the is one you can see the orange starting to take prominence.
Photographed at Bulk Jetty.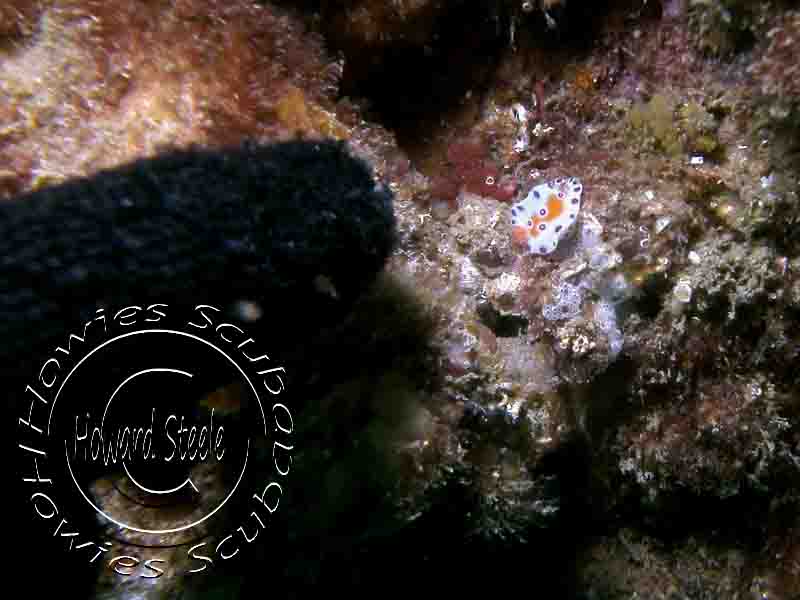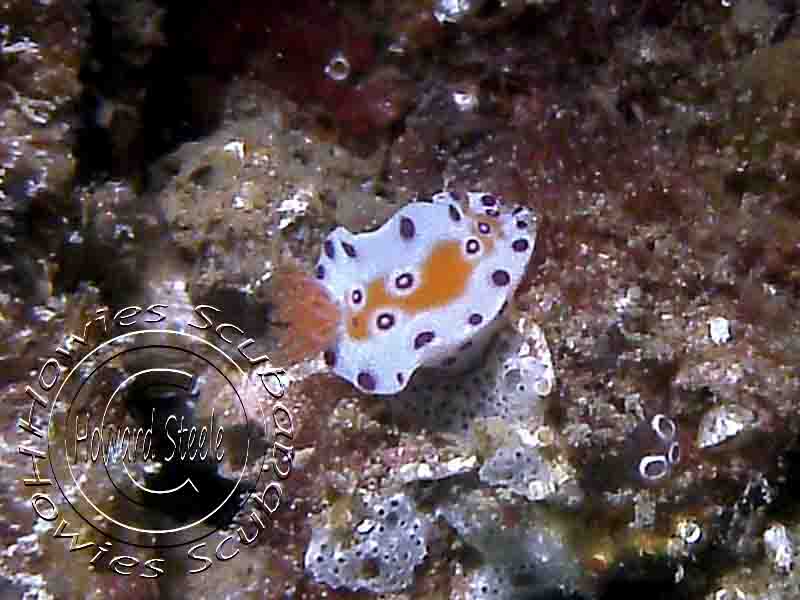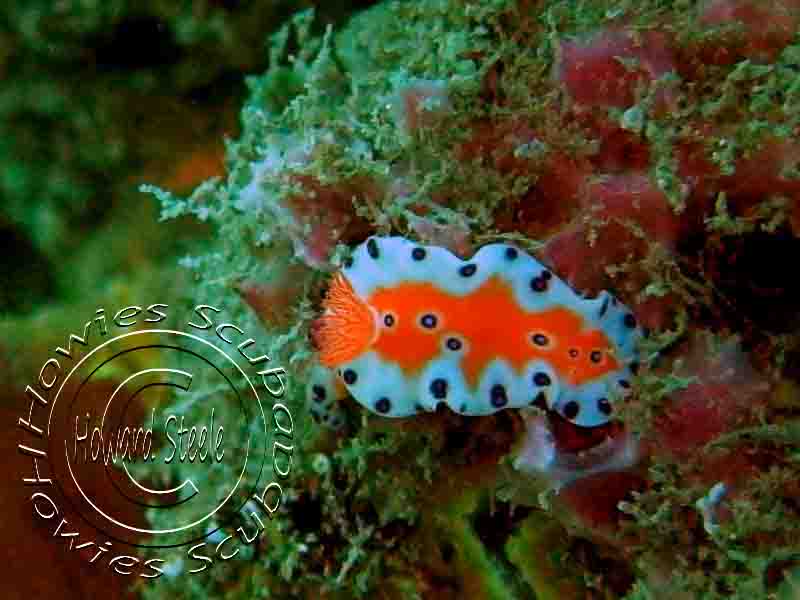 Chromodoris reticulata aka Doris reticulata

Interchangeable with Red Netted Nudibranch (Chromodoris tinctoria) (next)
There has been some confusion about this Nudibranch and the next one the Red Netted Nudibranch, I am now under the impression they are one of the same and there for can be interchangeable. However when I first started researching these, this is how they where presented to me and thus I will keep them like this, as it shows the varying colour patterns.

Another common Nudi is the Doris reticulata.
Photographs taken at Ammo and Robbs Jetty.
I am only 95% certain that the photograph (second row) is a Doris reticulata, I have seen similar looking Nudibranch with a different name.

The colours are remarkably similar however, there is a slight variation in the pattern. Whether or not that constitutes a different Nudi I am unsure.

Shape, colour and pattern has striking resemblance to the Glossodoris Nudibranchs, but I have been unable to match this sufficiently for me to change it at present.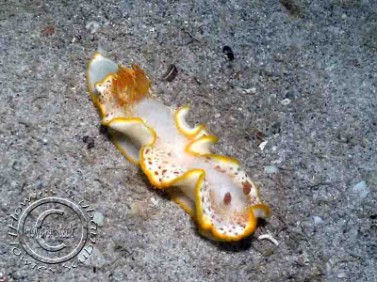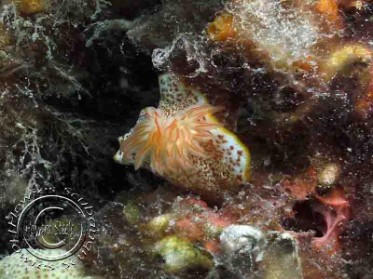 Red Netted Nudibranch (Chromodoris tinctoria)
Interchangeable with Chromodoris reticulata aka Doris reticulata (previous)
There has been some confusion about this Nudibranch and the previous one the Chromodoris reticulata, I am now under the impression they are one of the same and there for can be interchangeable. However when I first started researching these, this is how they where presented to me and thus I will keep them like this, as it shows the varying colour patterns.
Photographed at Ammo Jetty.
The red Netted Nudibranch of this patterning is quite stunning.
I love the variation in pattern in photographs 5 & 6, not sure of the reason for this, even if there is a reason.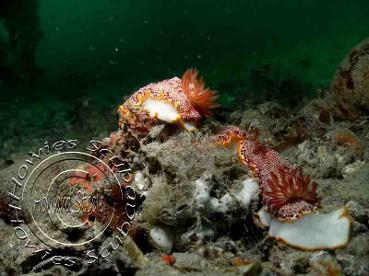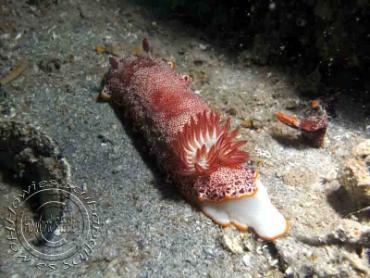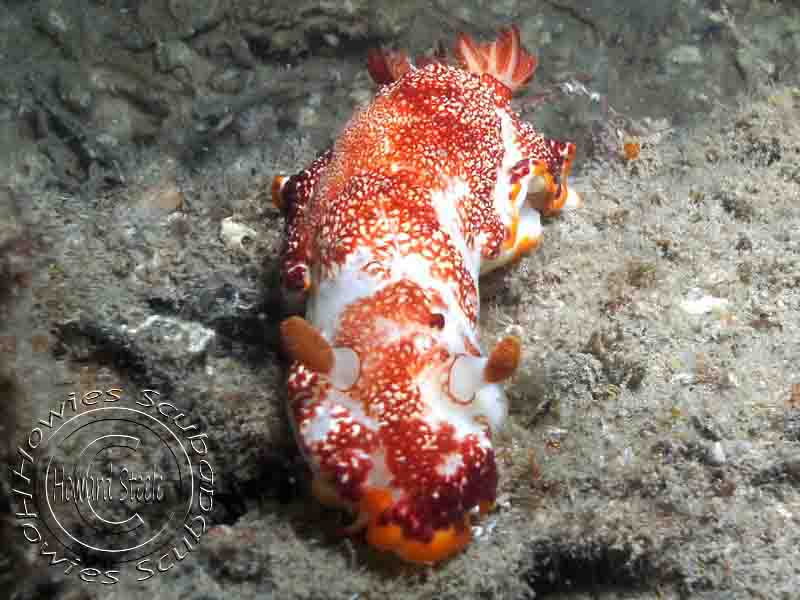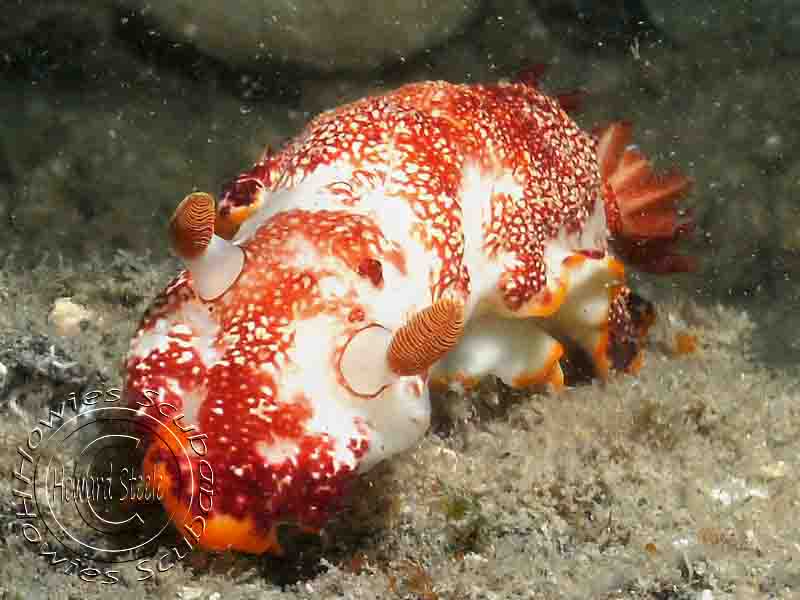 What's going on here then...?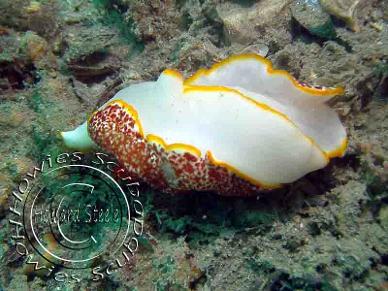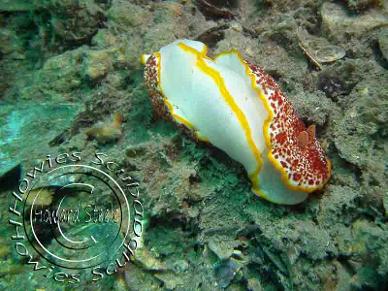 Verco's Chromodorid

(Verconia verconis)
With Red Netted Nudibranch (Chromodoris tinctoria)
This dink of a Nudibranch, Verco's Chromodorid as you can see is tiny. I did not see it at the time of taking this photograph, it was when I was at home reviewing the pictures I noticed it when I blew it up, hence the poor quality.

Well after a couple of more years diving at Ammo Jetty, I have finally found myself a clutch of Vercos' Chromodorid both Pink and Yellow varieties. I was absolutely over the moon the day I found these.

Look for these dining on Rose Sponge.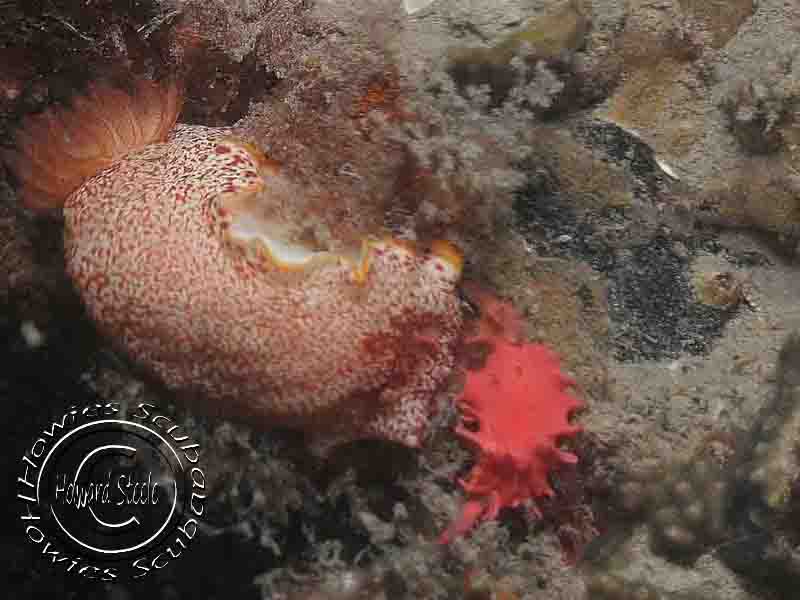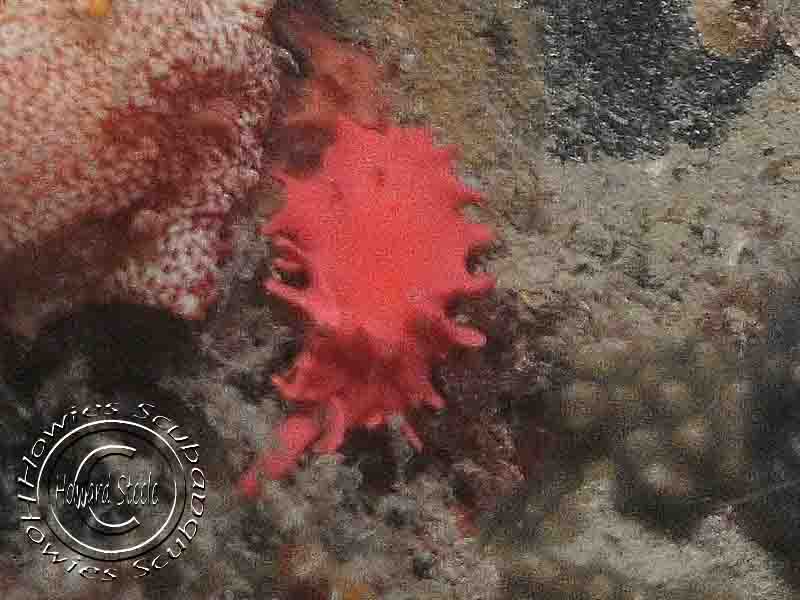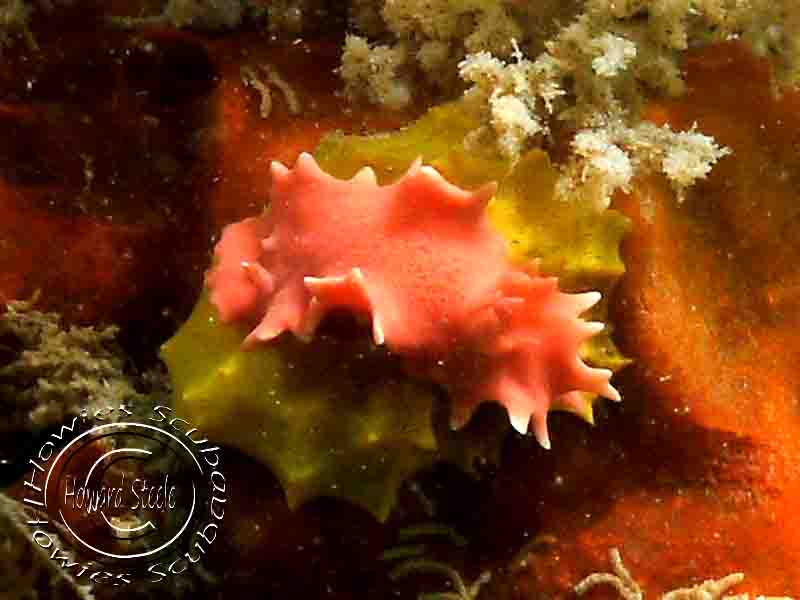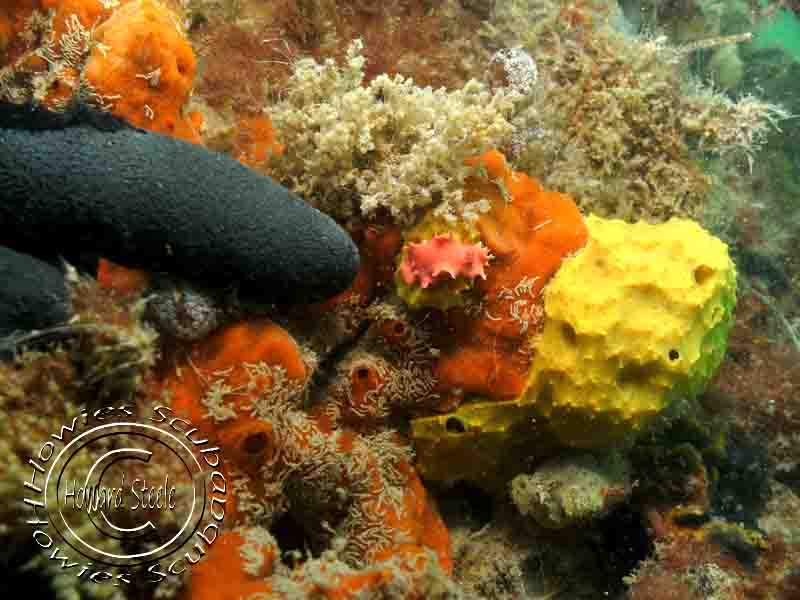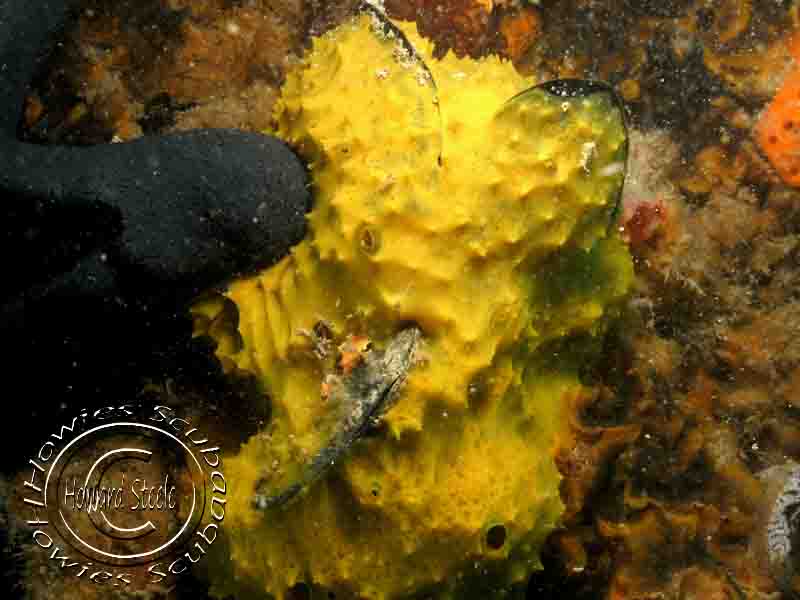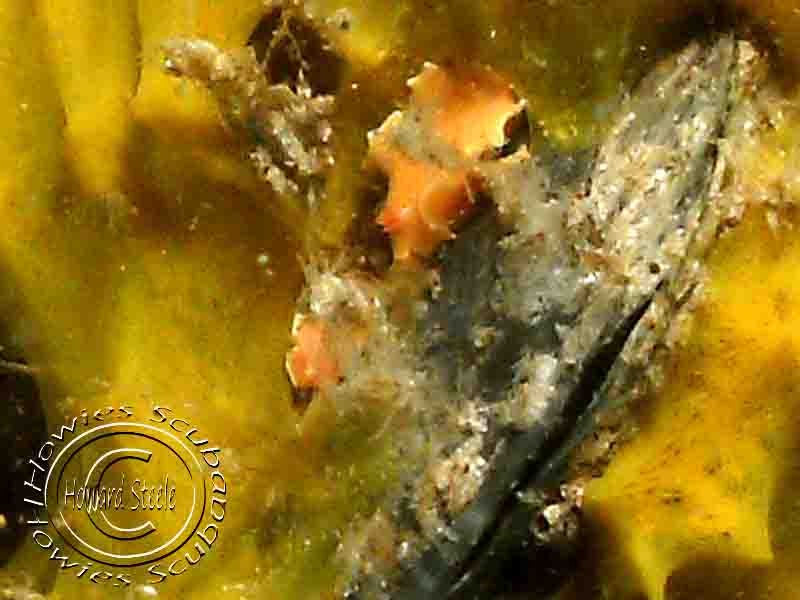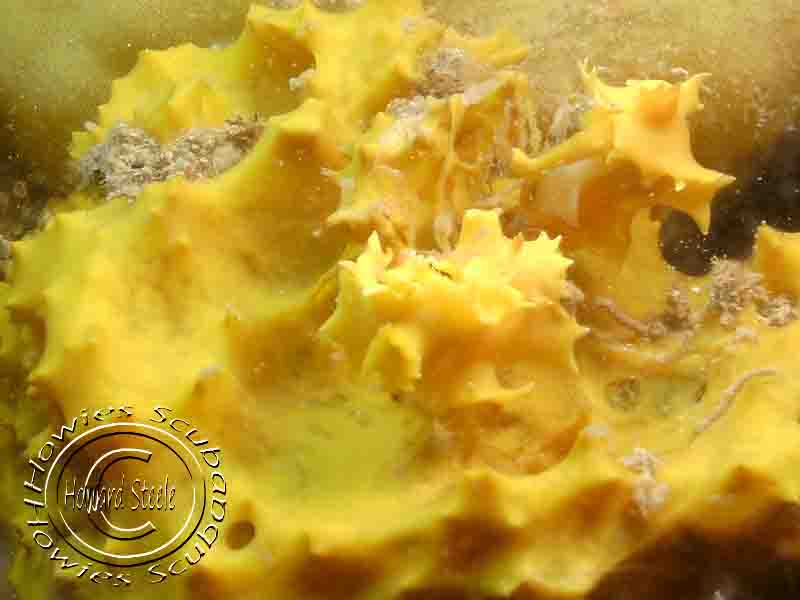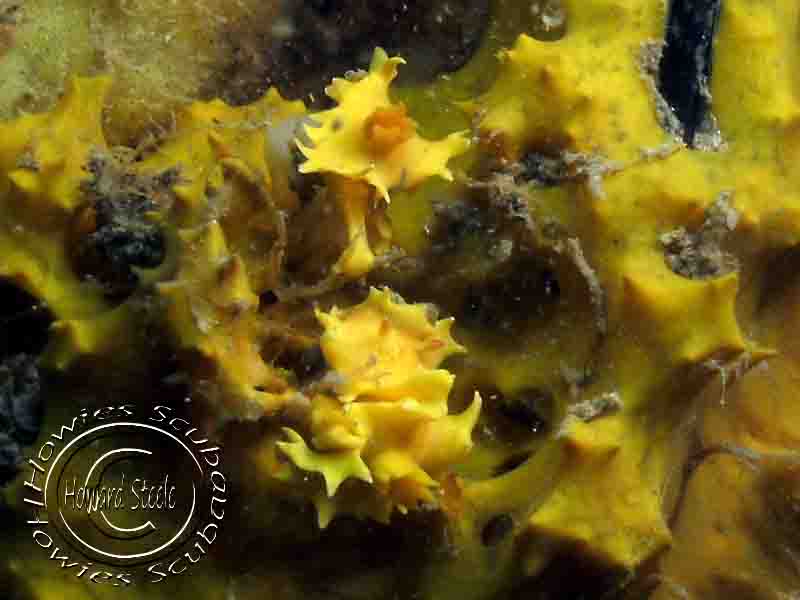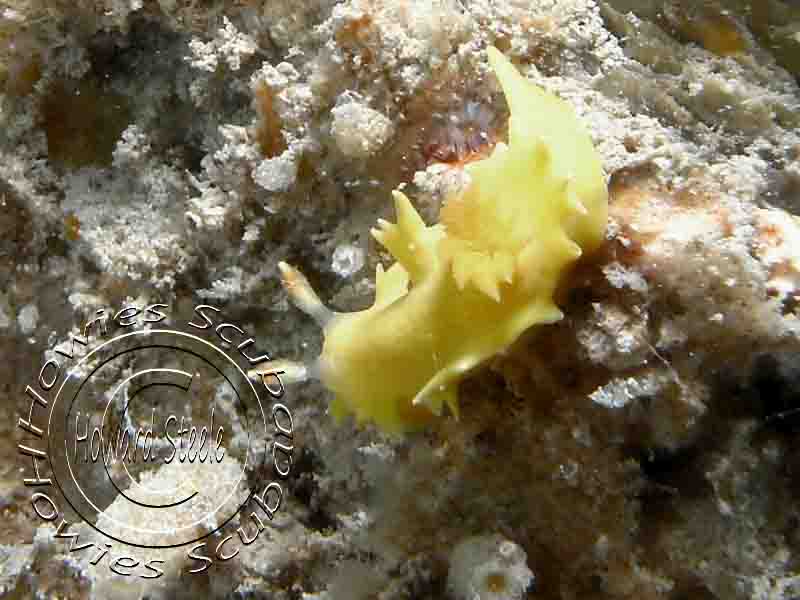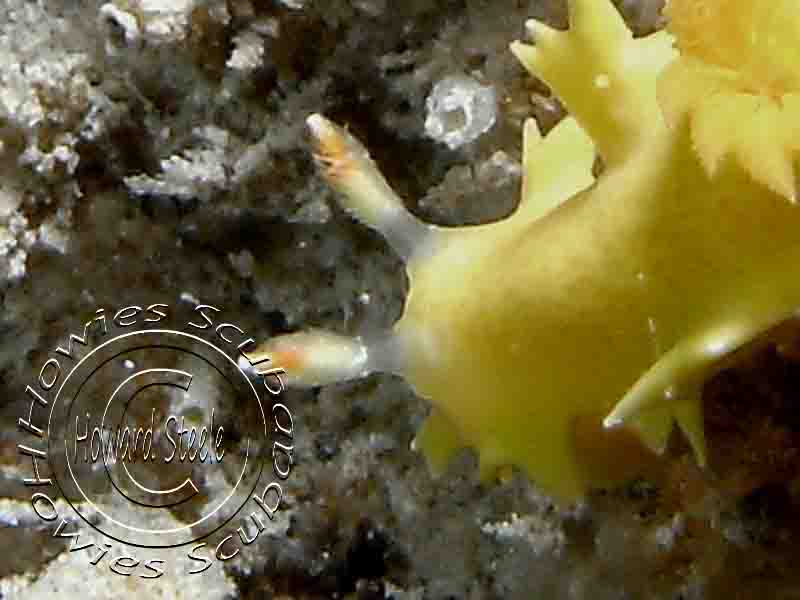 Orange-Barred Mexichromis
(Mexichromis macropus)
GUEST DIVER SUBMISSION
This little beauty was photographed at North Mole Fremantle by our guest diver photographer: Evan Leipold.

If you wish to contribute to this site just follow the simple directions on the SUBMISSIONS page.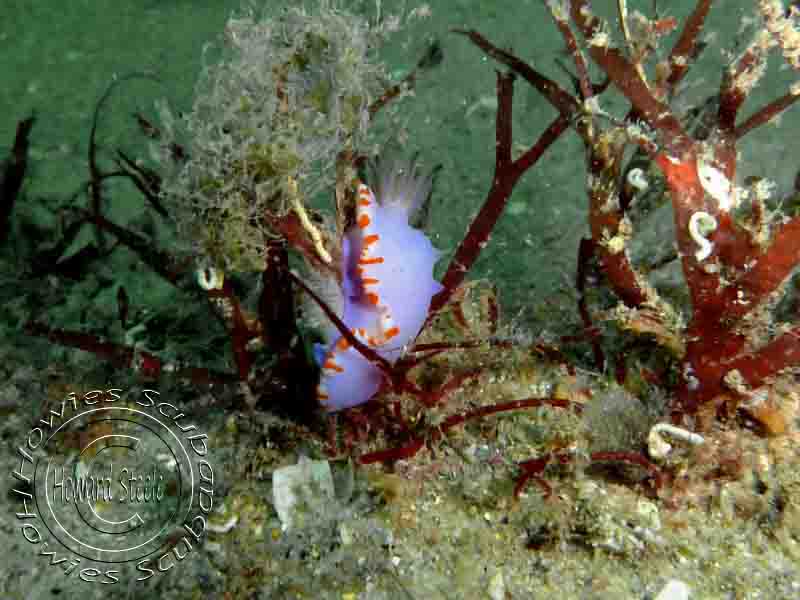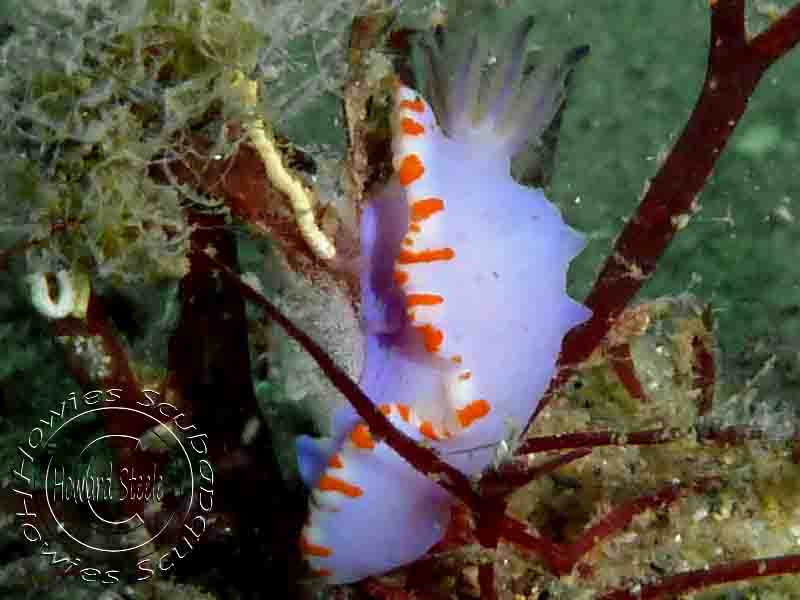 Finally have found my own personal Orange-Barred Mexichromis down at the Kwinana Grain Terminal.

Bottom photographs: This little thing was tiny, at least half the size of the previous specimen, colours appear a lot deeper and richer. Also photographed at the Kwinana GT.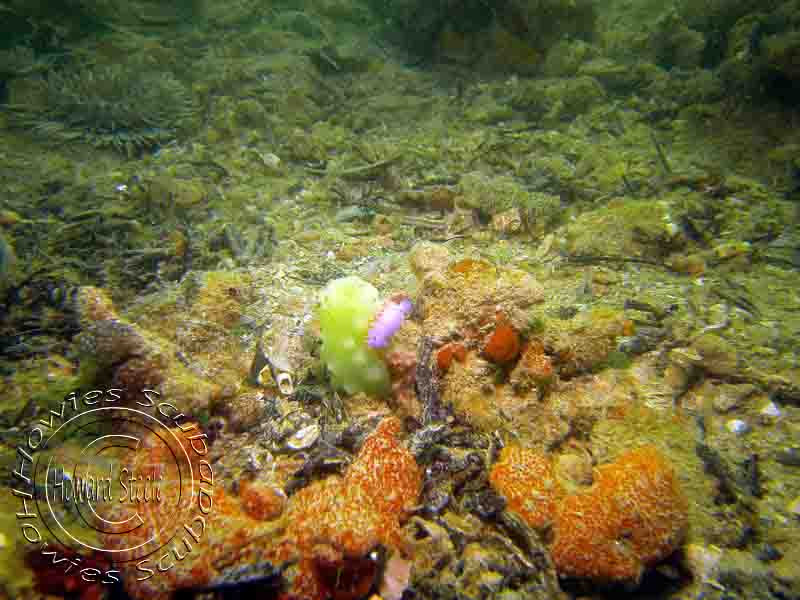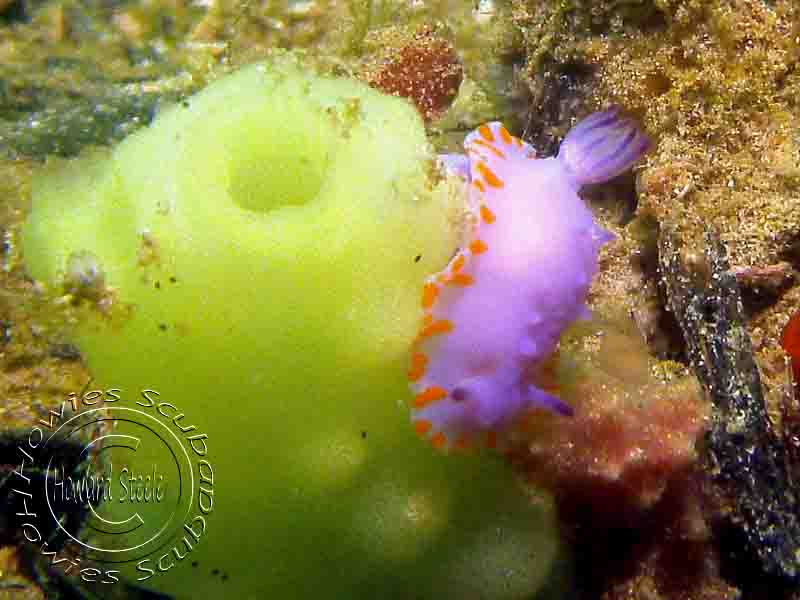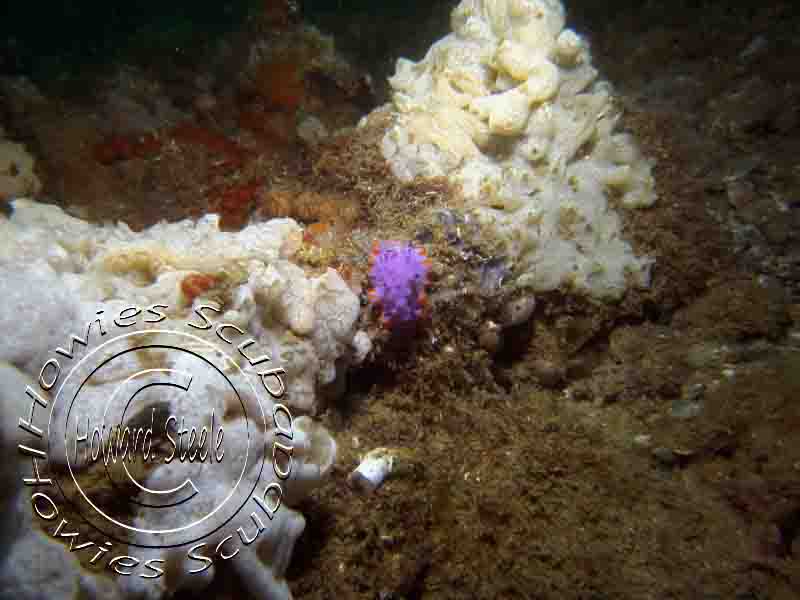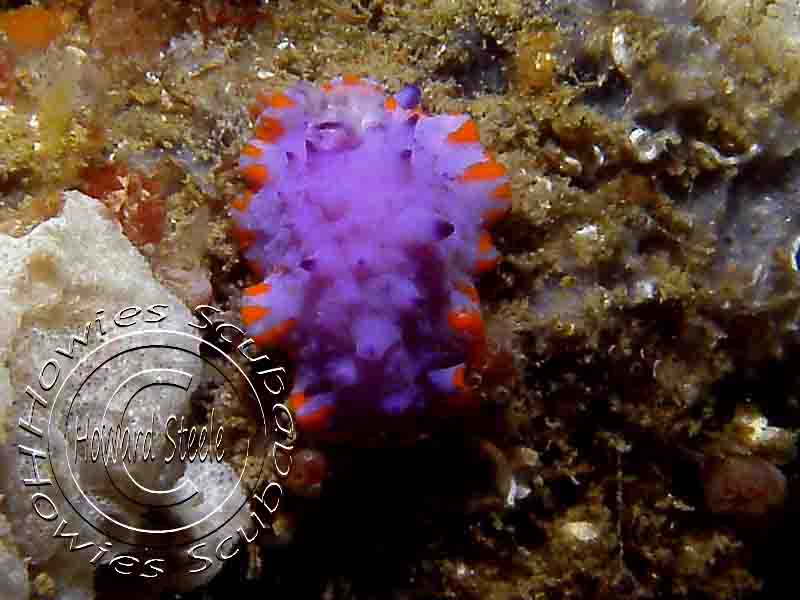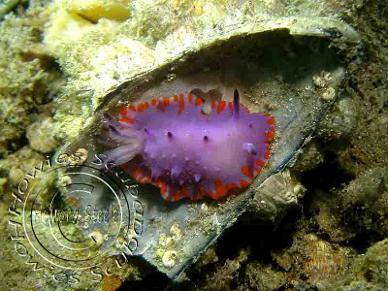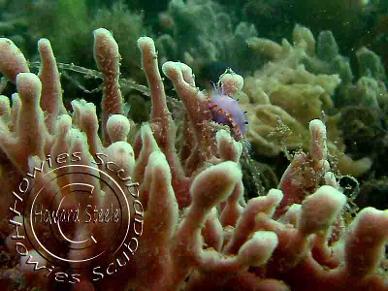 Marie's Mexichromis
(Mexichromis mariei)
Photographed at Robbs Jetty.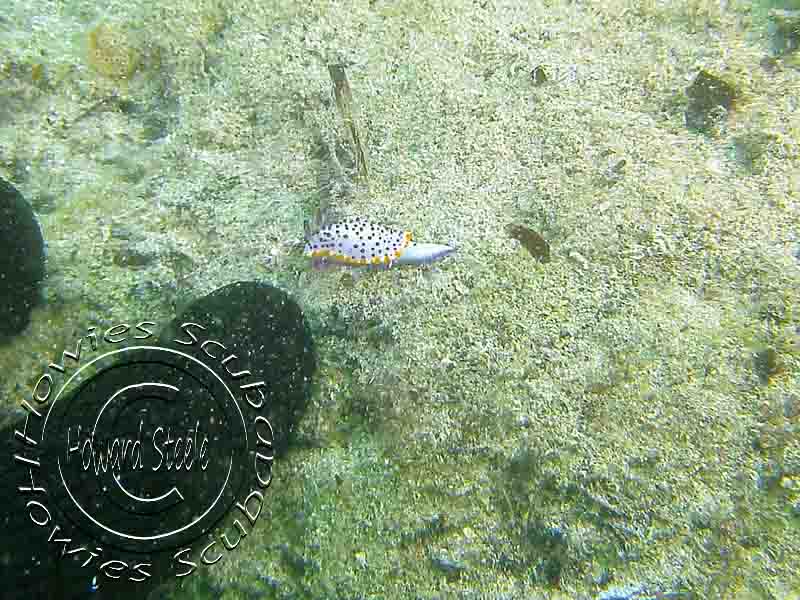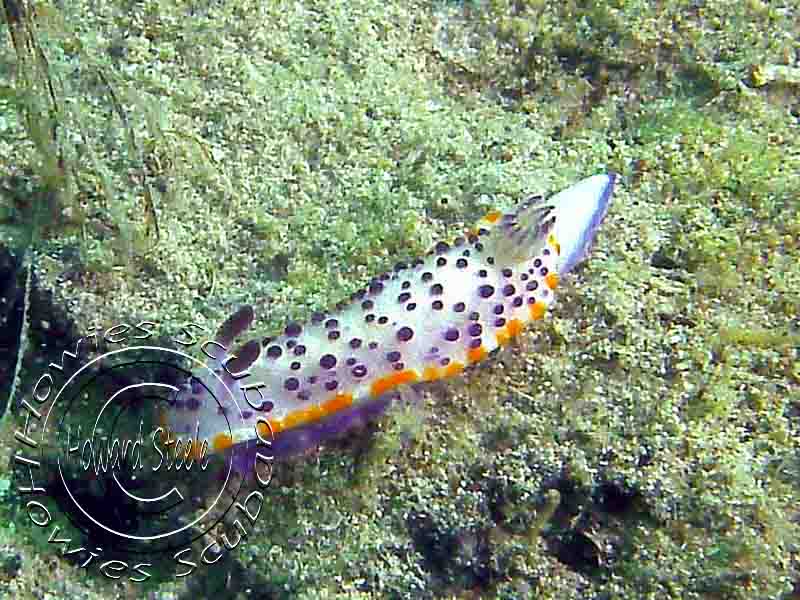 Wondrous Nudibranch
(Melibe mirifica)
On any other dive this would of made my dive, unfortunately for this brilliantly weird looking Nudi its day was over-shadowed by a beautiful display from my very first interactive dive with a dolphin, and I cant imagine many things would top that for a novice diver.... sorry not so little Nudi.
That all said I was delighted to see this rather elusive Nudi that generally only comes out at night, and it did come at the end of a rather dull dive, marine life wise, however like I said it was just pipped at the post by a nose, a bottle nose.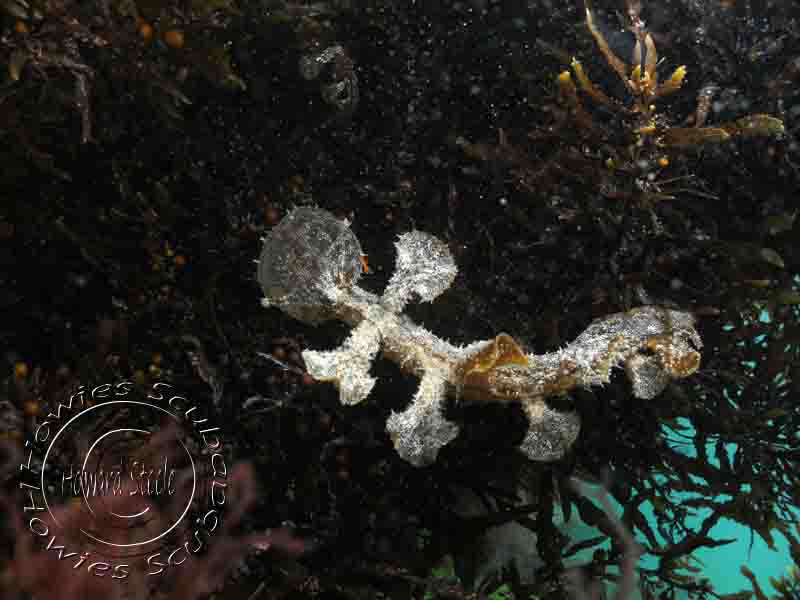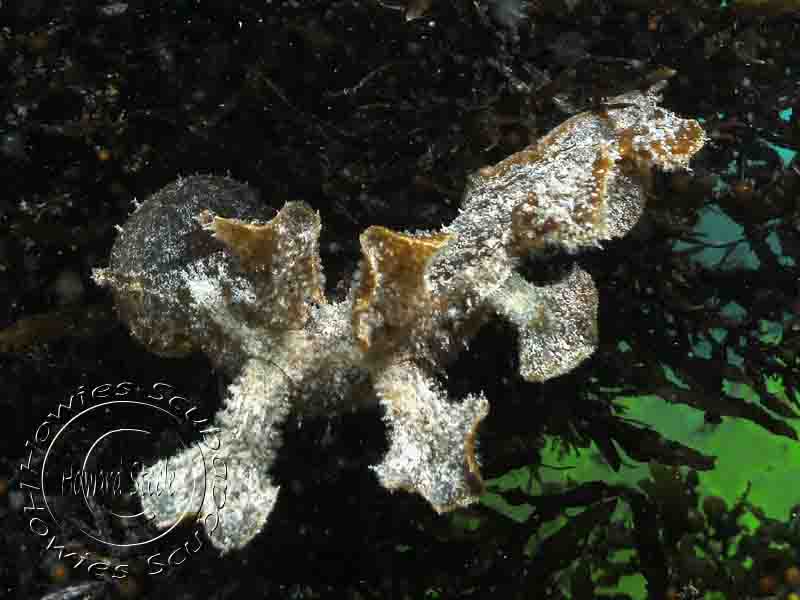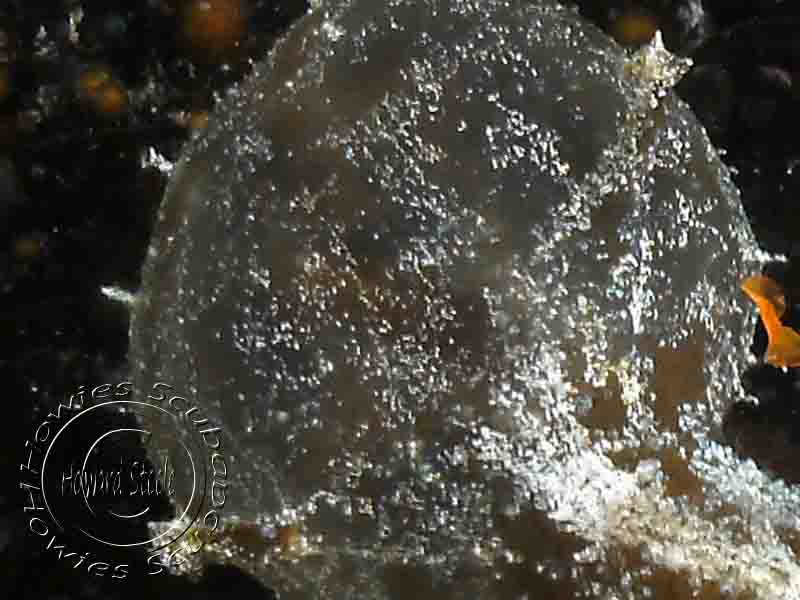 Black Dendrodoris
(Dendrodoris nigra)
I have only seen this Nudi a couple of times whilst at Ammo Jetty with such dark colouring I imagine they blend quite well into the dark corners.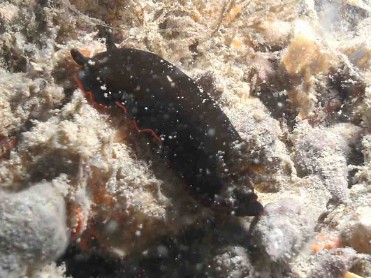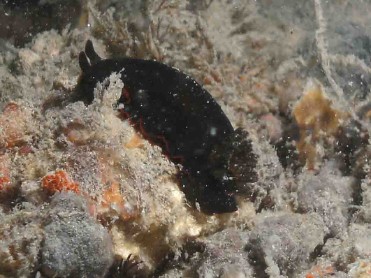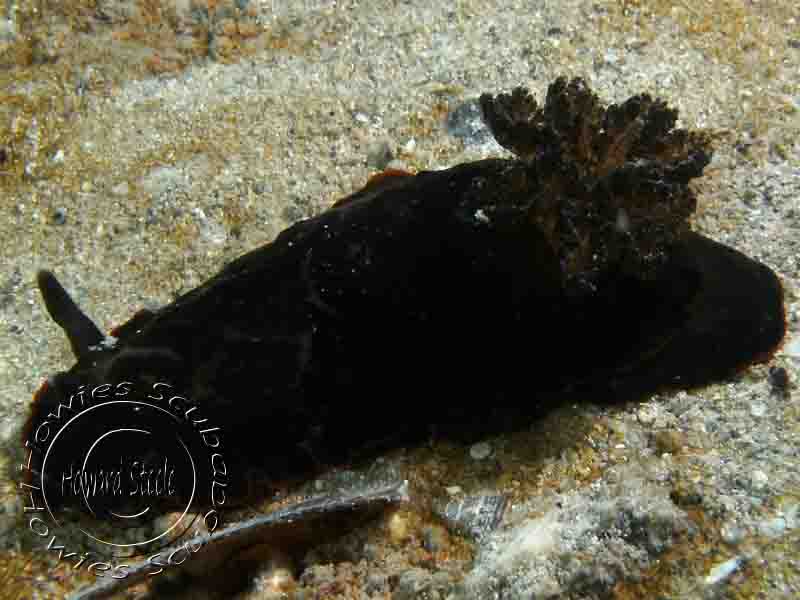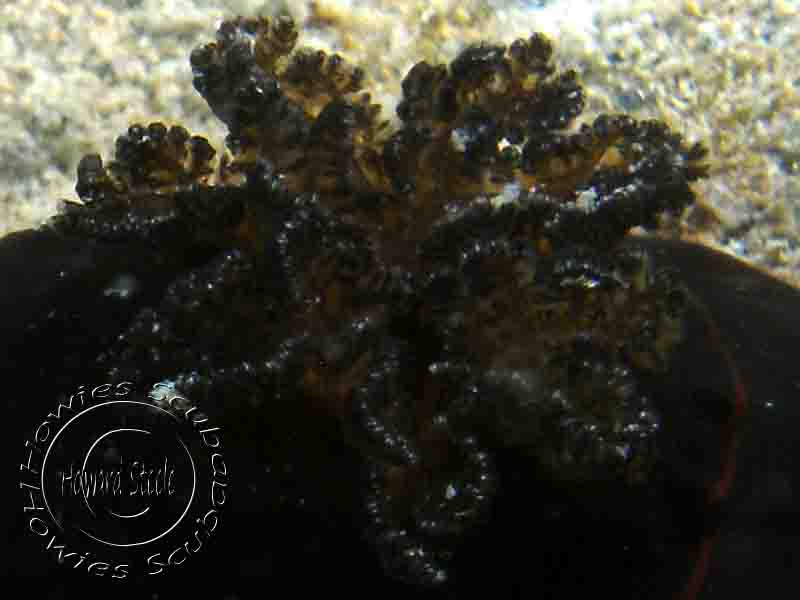 For a long time only seen on one dive, this was at Ammo Jetty just as the pylons broaden at the beginning.


Dived the Kwinana Grain Jetty in June 2012 and there were masses upon masses of these things all over the seabed.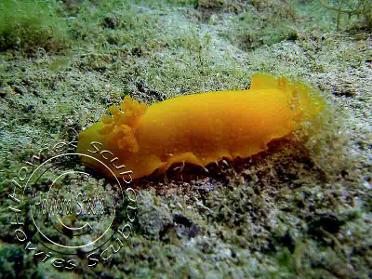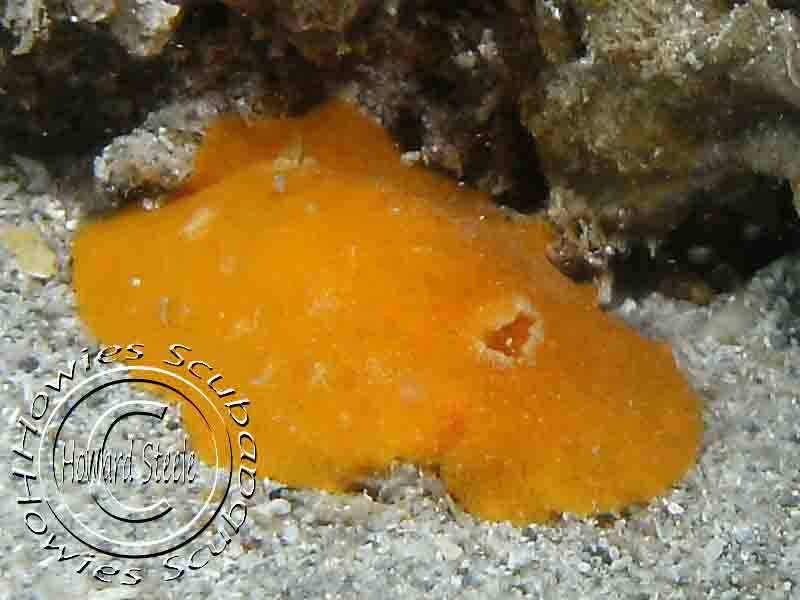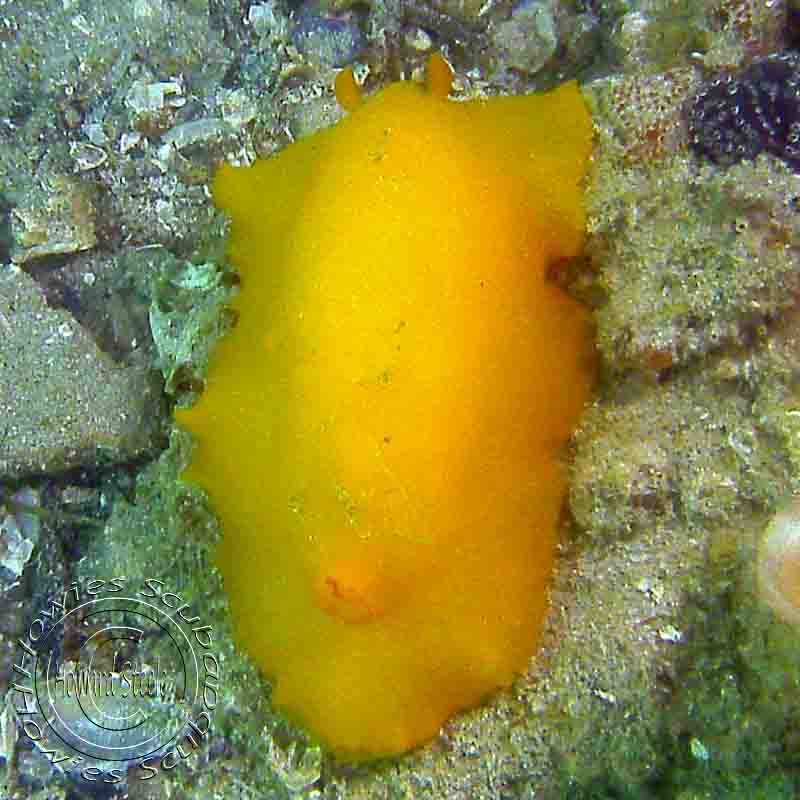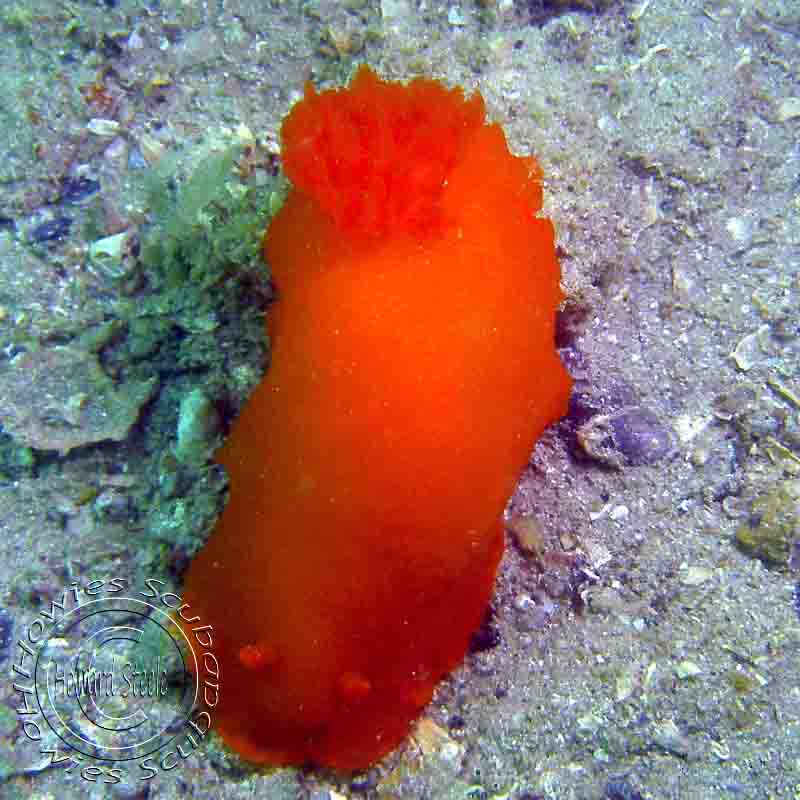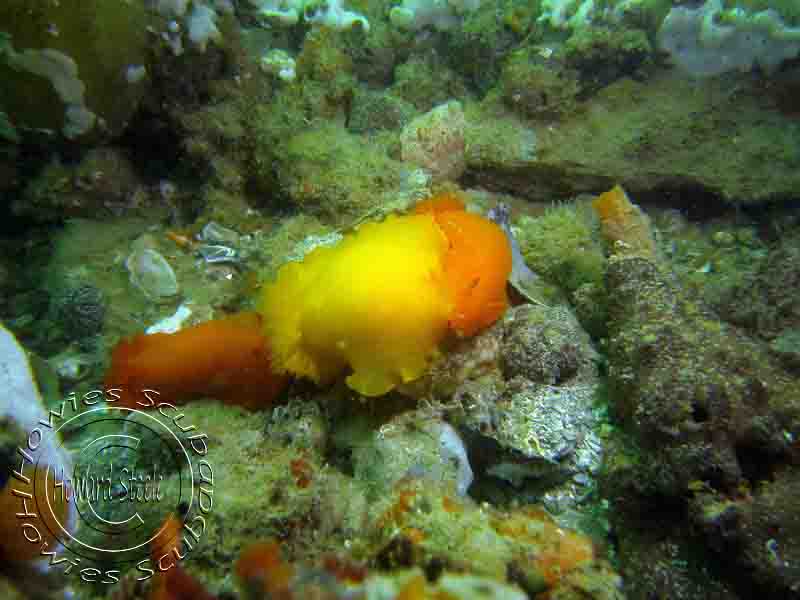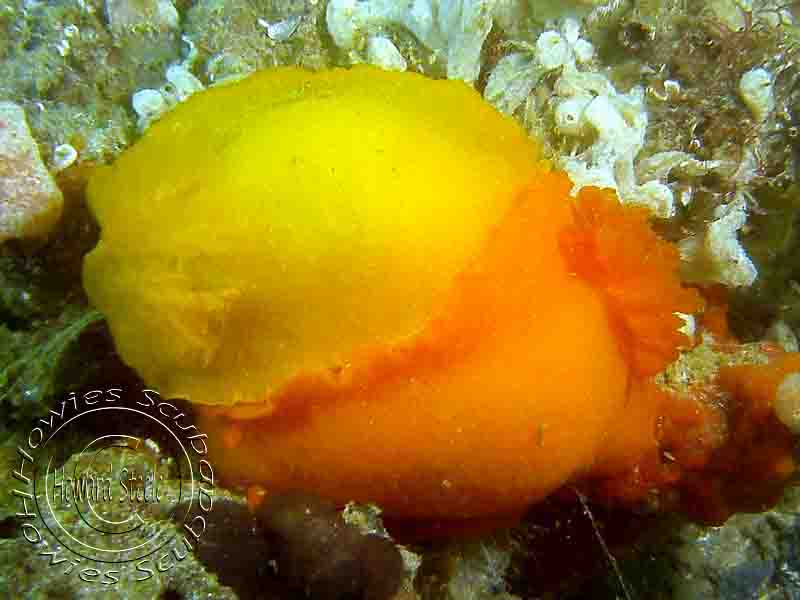 Dendrodoris carneola laying eggs
A lovely moment when I noticed this Carneola laying its egg mass. This was the first time I had seen this happen.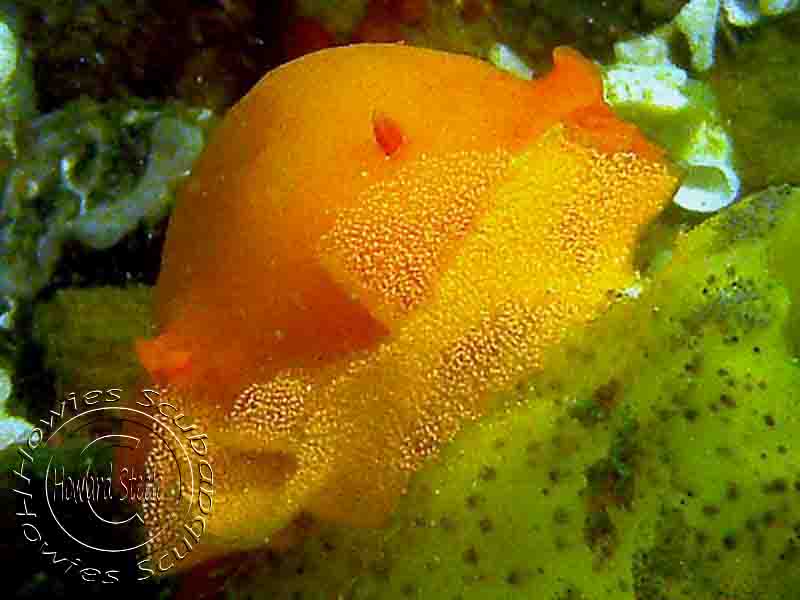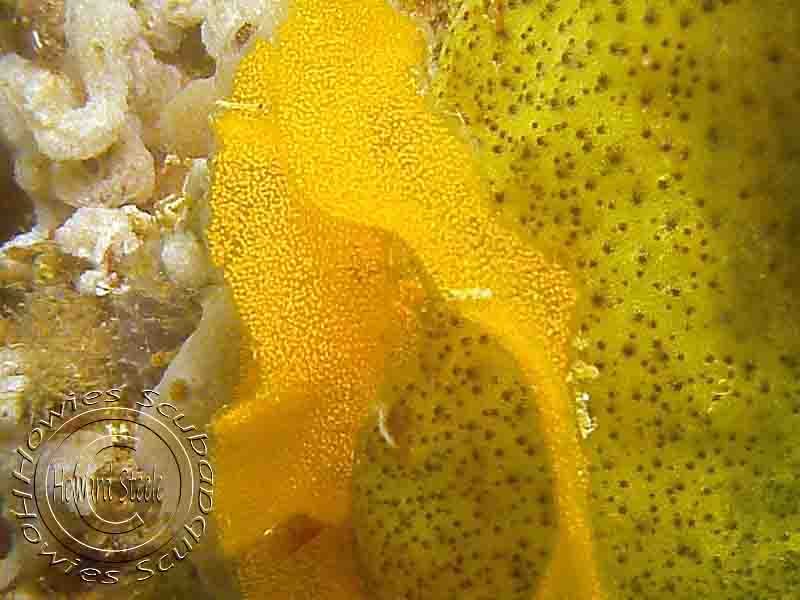 Chromodoris westraliensis
Photographed at Point Peron.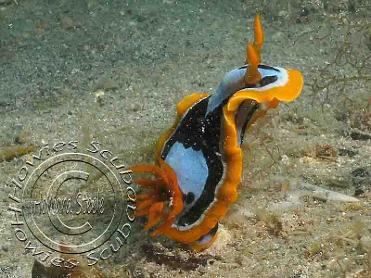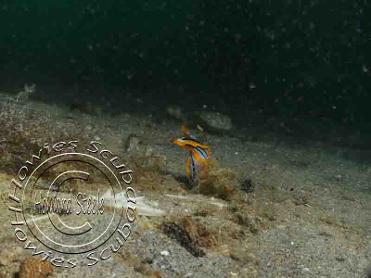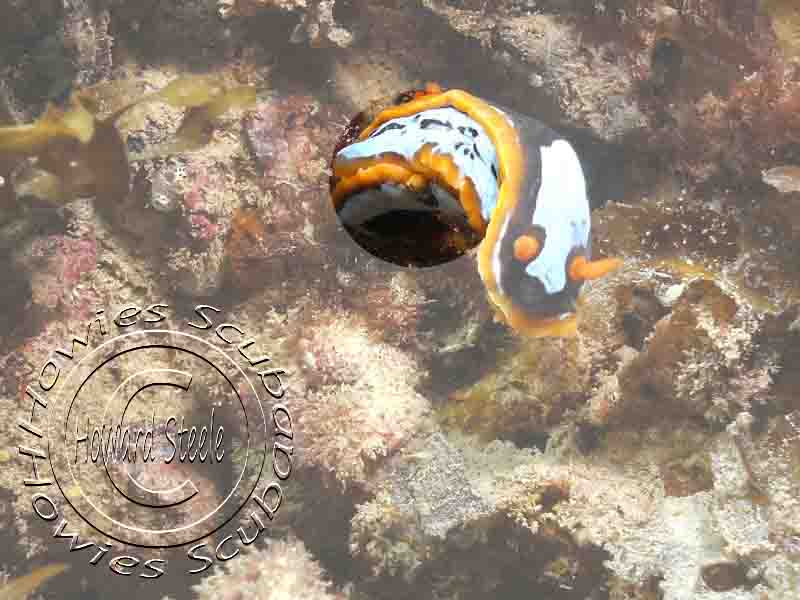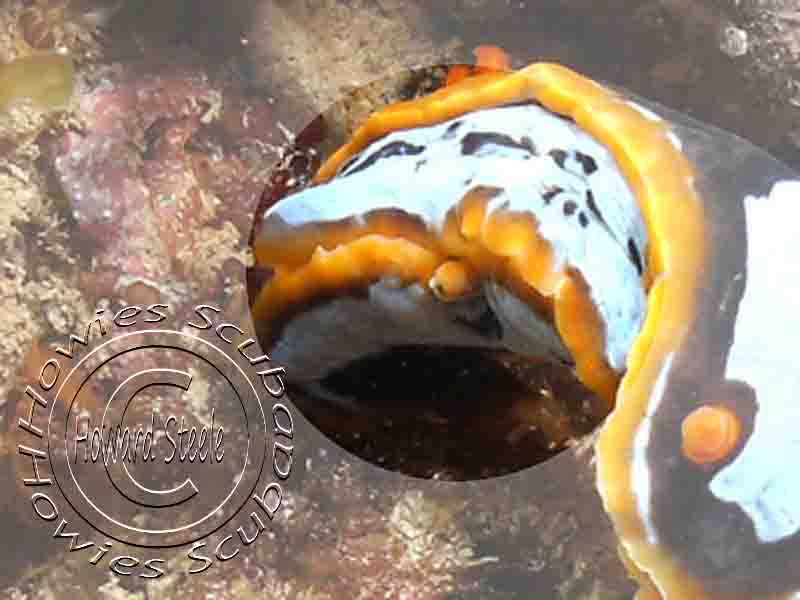 Carijoa Tritonia aka Tolesto Nudibranch

(Tritonia sp.)
Carijoa Tritonia is the Nudi that mimics Jetty Octocoral, look for this dining on this Octocoral at the jetties.
Photographs taken at Ammo Jetty.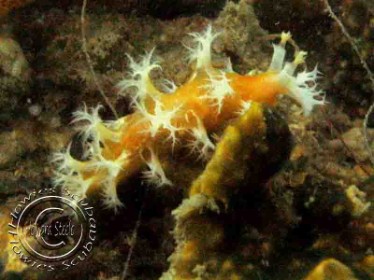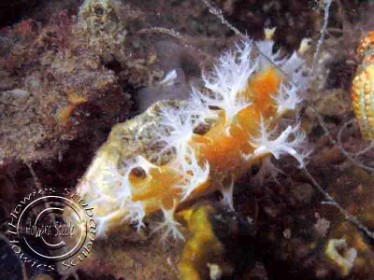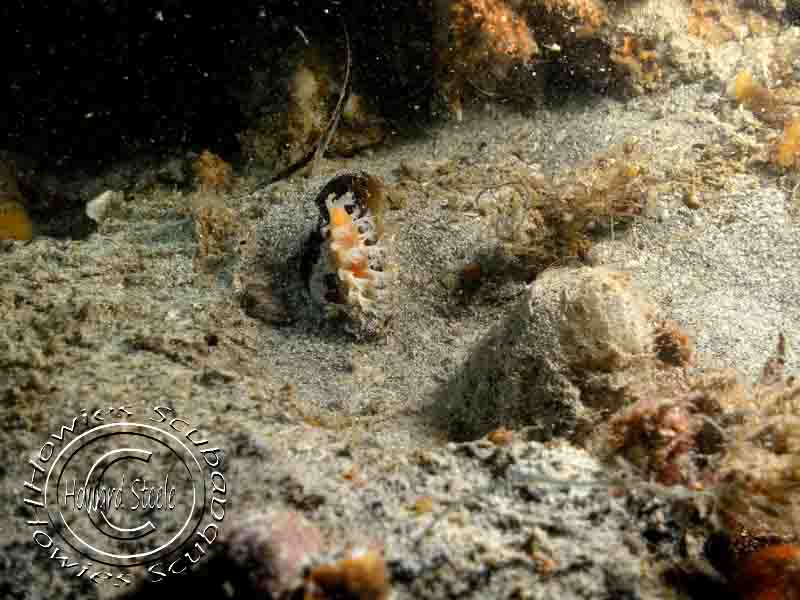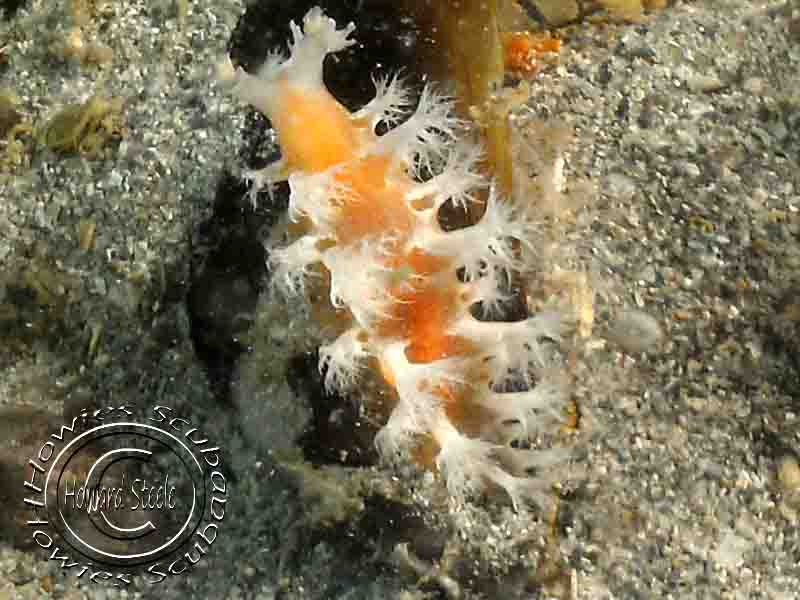 Completed a night in January 2014 and just as we descended Ammo Jetty you could see loads of these tiny Carijoa Nudi's covering the octocoral.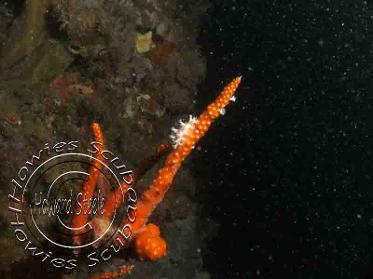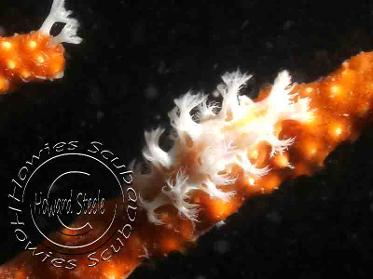 The photographs taken at Rockingham DT.

It took me a while to identify this Nudi as I had only been able to take two photographs, which weren't the clearest.

However in June 2011 there was a heard (I don't know what the correct word for a group of Nudi's is) of these at Rockingham DT giving me a more clearer image to identify these.

These Aphelodoris where photographed at the Chicken Coup, they blended in quite superbly with the flora covering the coup.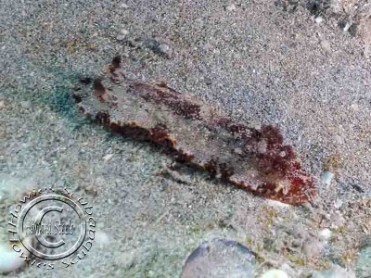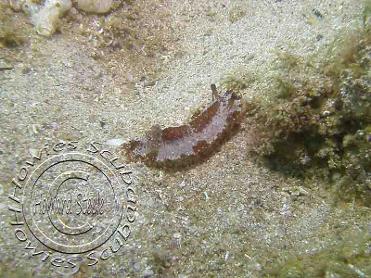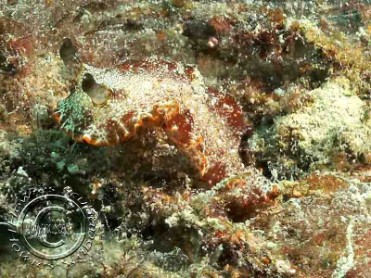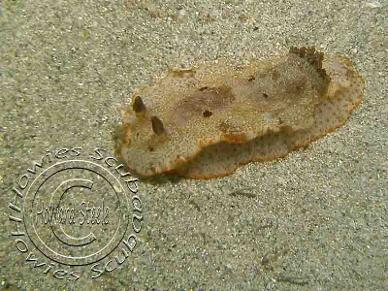 This curled up bundle colour taken by Alex Farney at the RWT.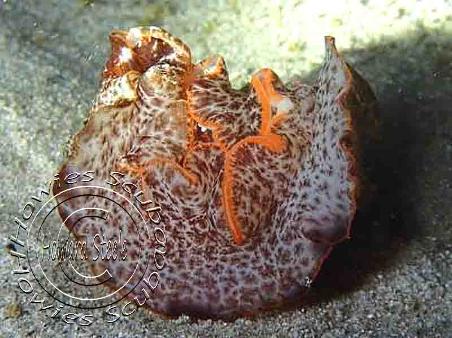 St Vincent Nudibranch (Hypselodoris saintvincentius)
Or

Flame-Tipped Chromodoris (hypselodoris infuctata)

Photographed at Rockingham DT and at Ammo Jetty, seen at Robbs Jetty, quite common, quite small can go unnoticed.

My biggest problem with this Nudi is its actual identification, they are the double of the described types and I personally cannot tell them apart.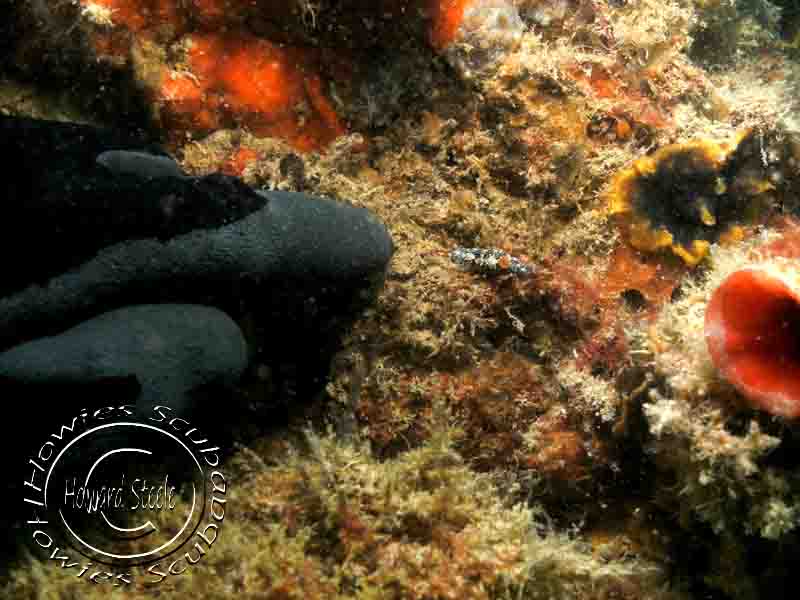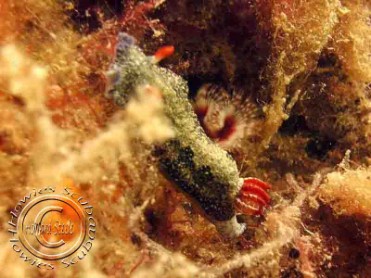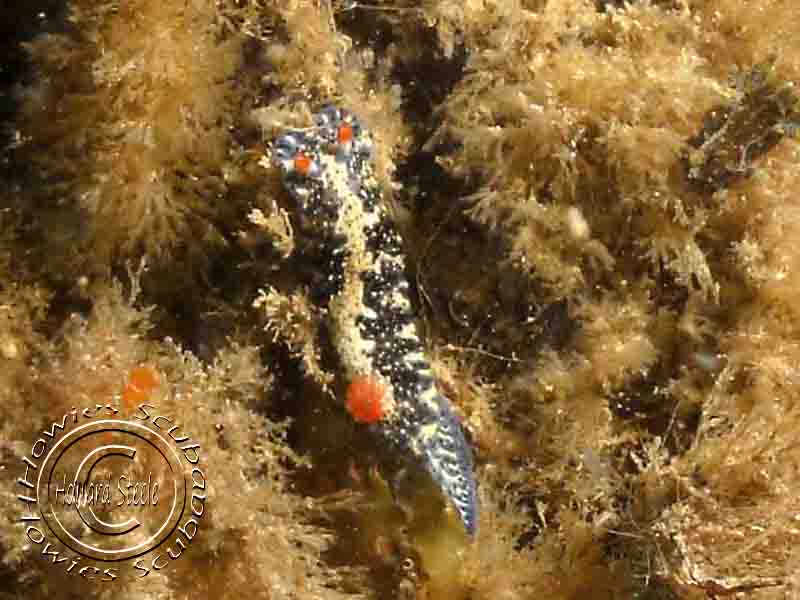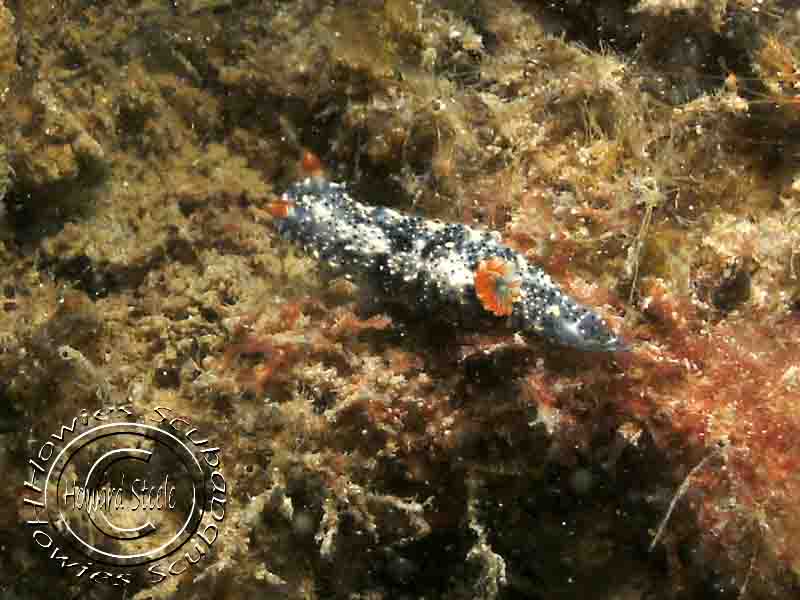 Donated by Mel Turner & Alex Farny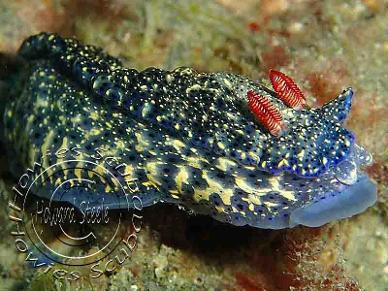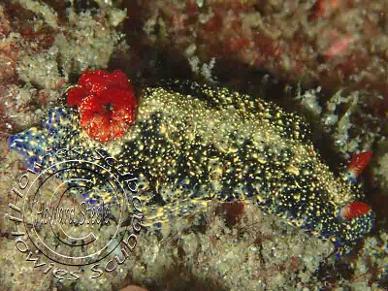 Magpie Phyllidid

(Phyllidiella pustulosa)
This little rare bird was photographed at Point Peron, this is the only one of these I have ever seen.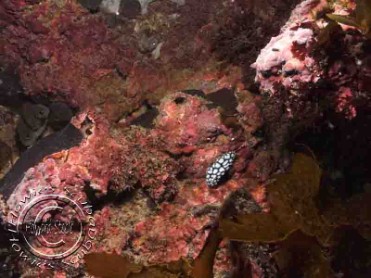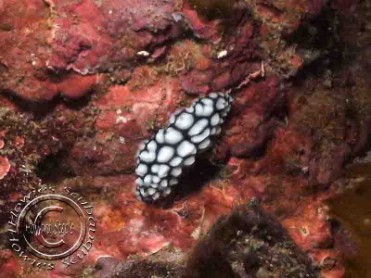 Photographs 3 & 4 generously donated to the cause by my good dive buddy and awesome Nudi spotter Mel Turner.

See more of Mels Nudi's below.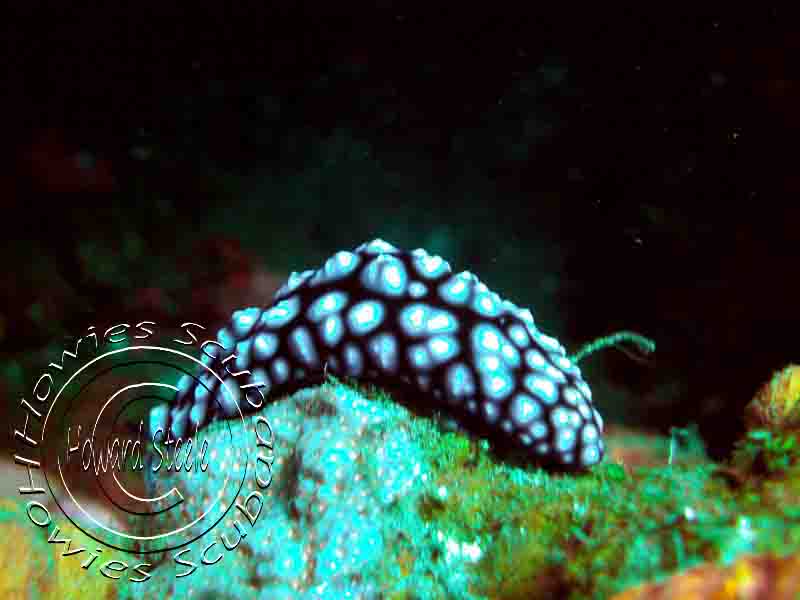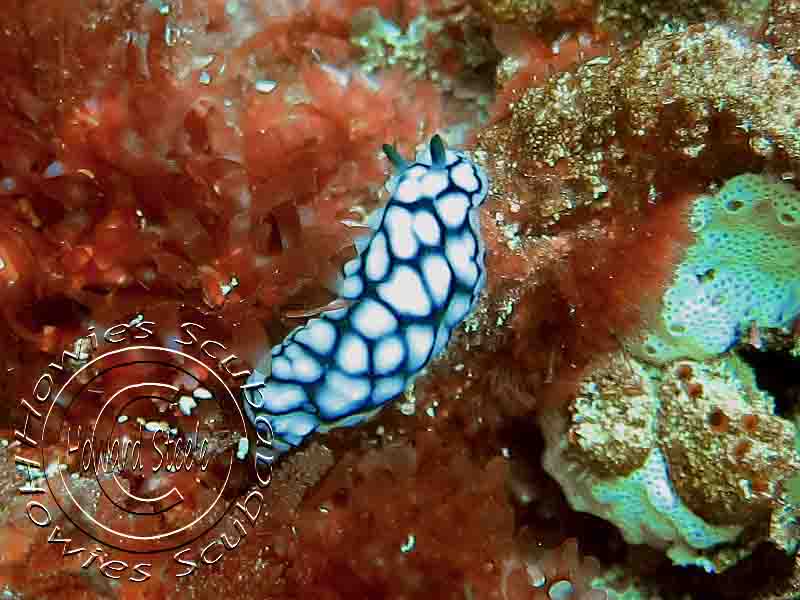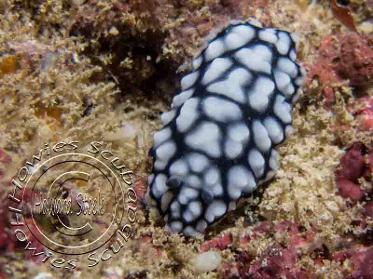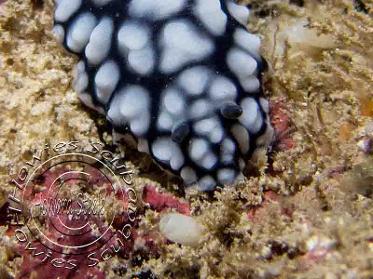 Red Platydoris
(Platydoris Sanguinea)
Photographed on a night dive @ Woodmans Point Groin.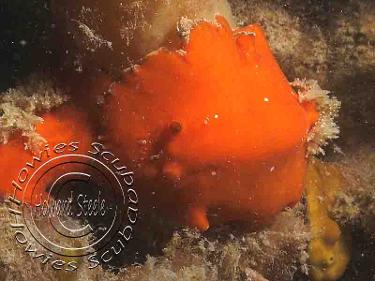 Undulated Glossodoris
(Ardeadoris unduara)

Photographed at MAAC.

So clean and bright this beautiful nudibranch, looks like its been on a hot wash with a scoop full of vanish in the wash.....

Love the lemon/lime trim to the frill, unfortunately not massively obvious in these photos.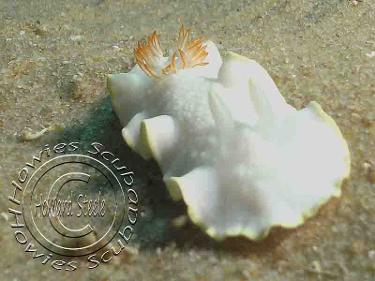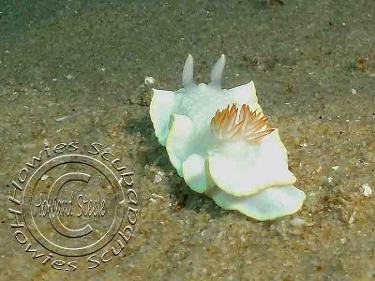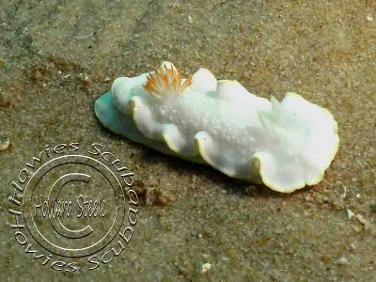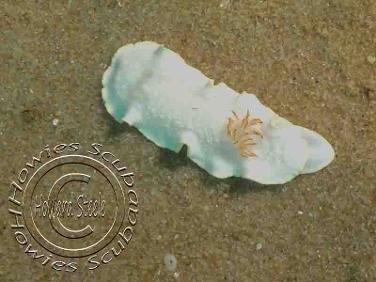 Photographs taken at Ammo Jetty.

I don't know how common these are but in two years I had never seen this nudibranch before.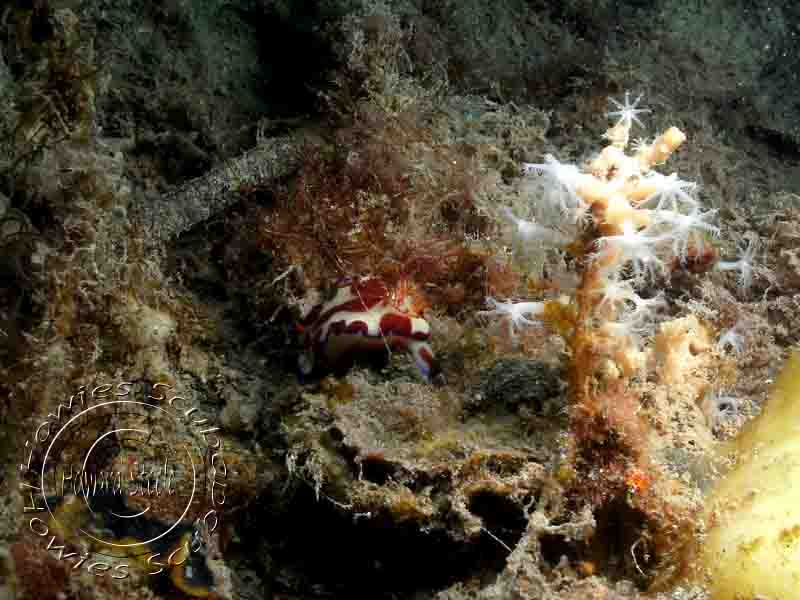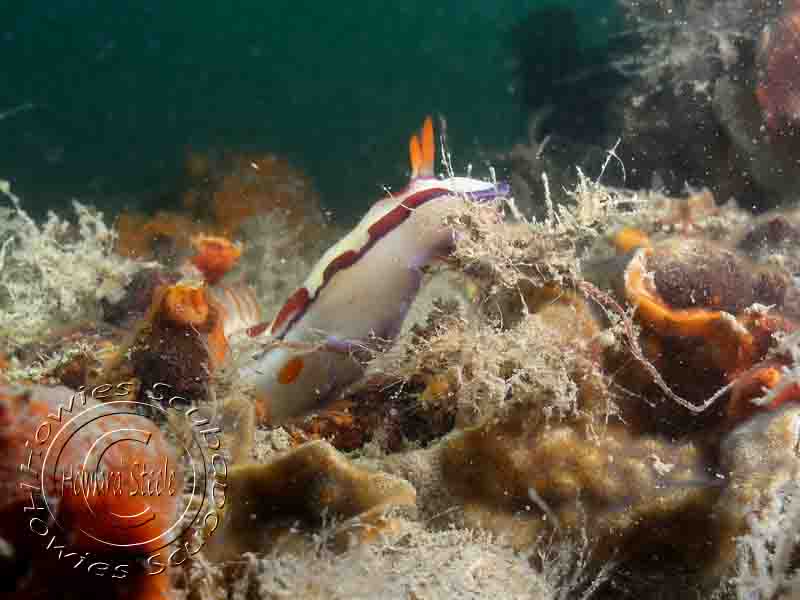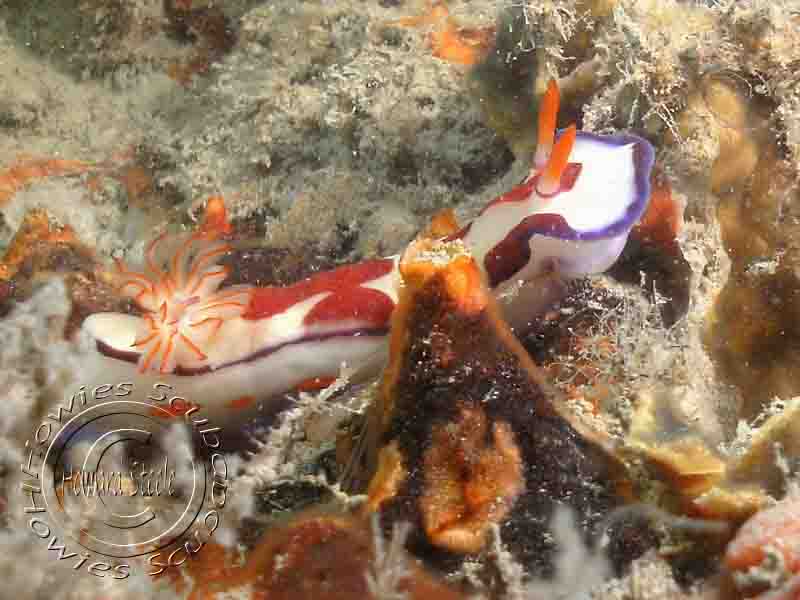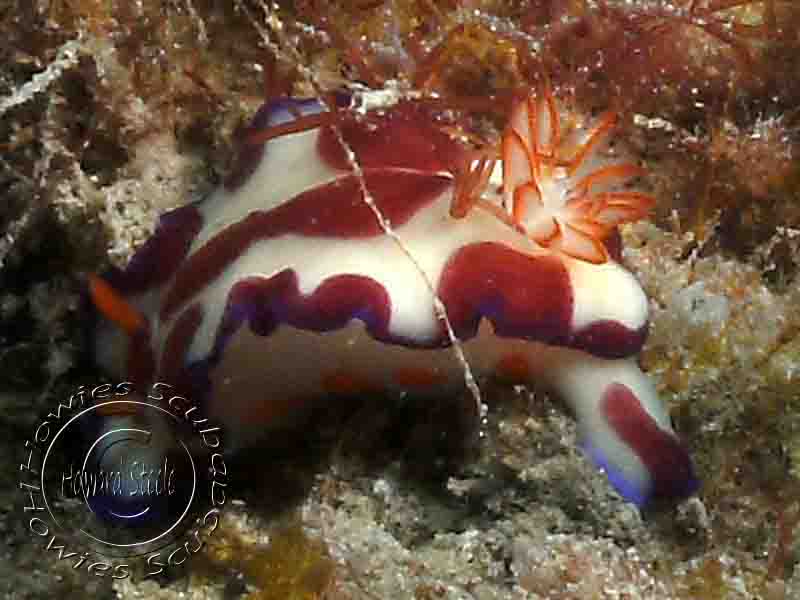 Brown Trapania
(Trapania brunnea)

How tiny are these little guys, photographed at Bulk Jetty. I couldn't believe my eyes when I realised what they were. They were only a few millimetres long.
I wish I would of had a few more minutes to get more photographs of these but unfortunately my buddy had not seen them and had already swam off, I will be definitely keeping an eye open for these in the future.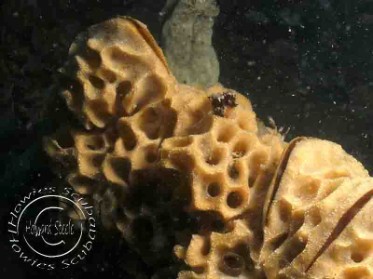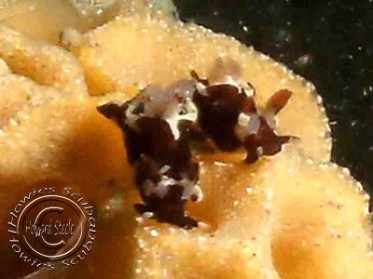 Hedgepeths polycera or dorid
(Polycera hedgpethi)

Photographed at Ammo Jetty.
I have to be honest, I was stumped for a long time on the identification of the this little guy (top 2). That was until Mel Turner submitted a few photographs thinking a new Nudi had been identified, in reality she had identified this wonderful little creature for me.

So Mel missed out on having this one added to Mels' Nudi Corner (see below), however I have included her photographs here as hers are of a far better quality, as always thanks Mel.
Photographed at Kwinana Grain Terminal.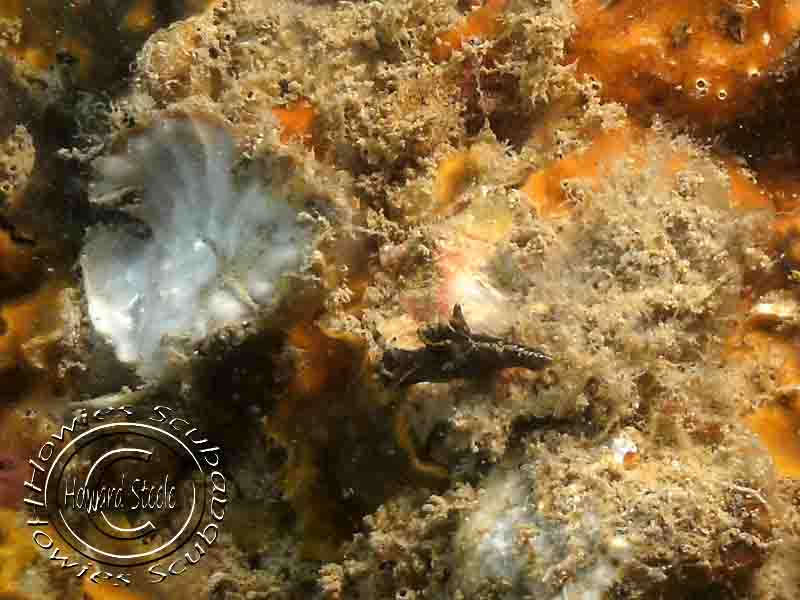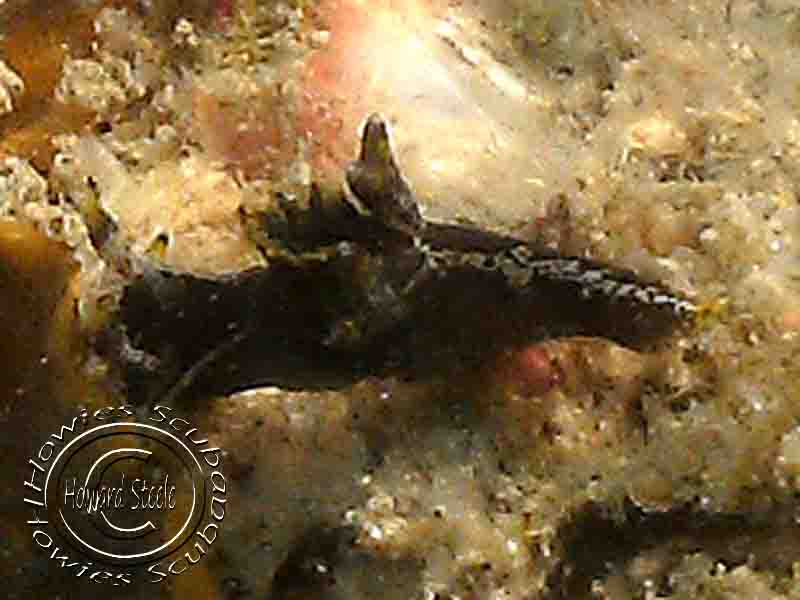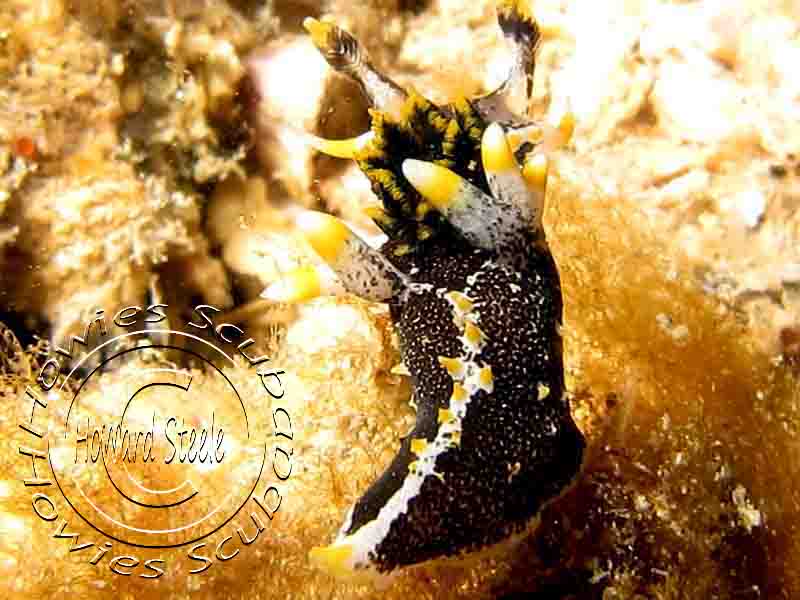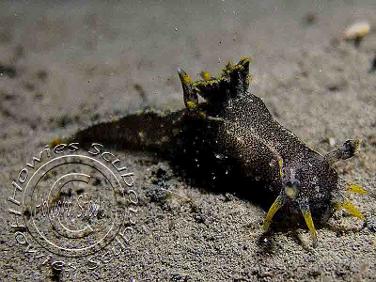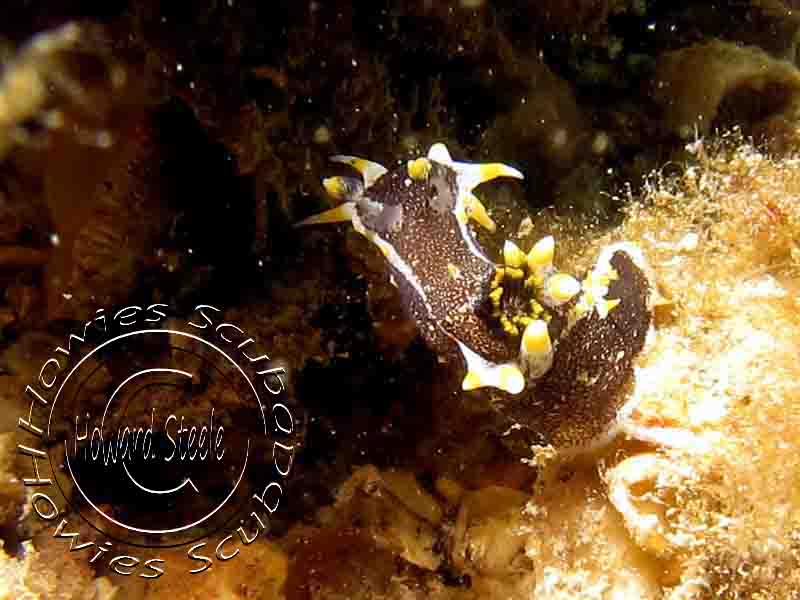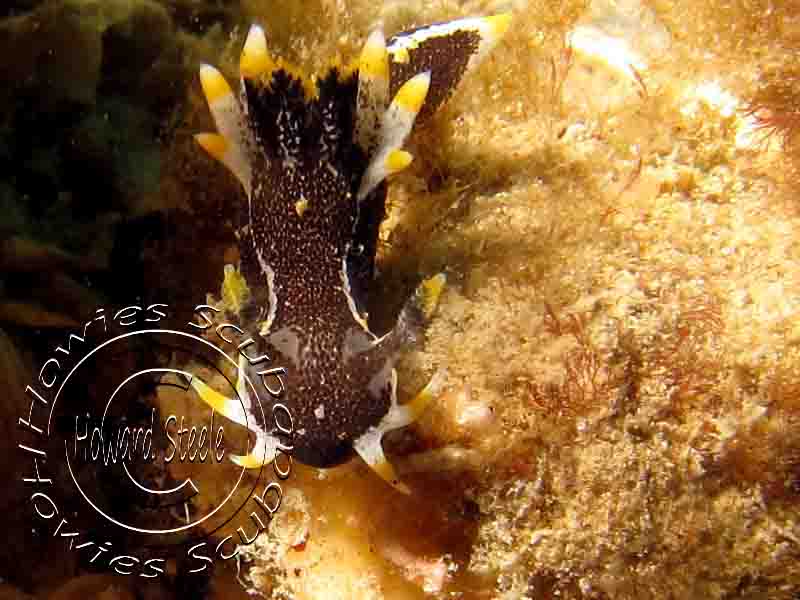 Rough Atagema
(Discodorididae)
Photographed at Ammo Jetty.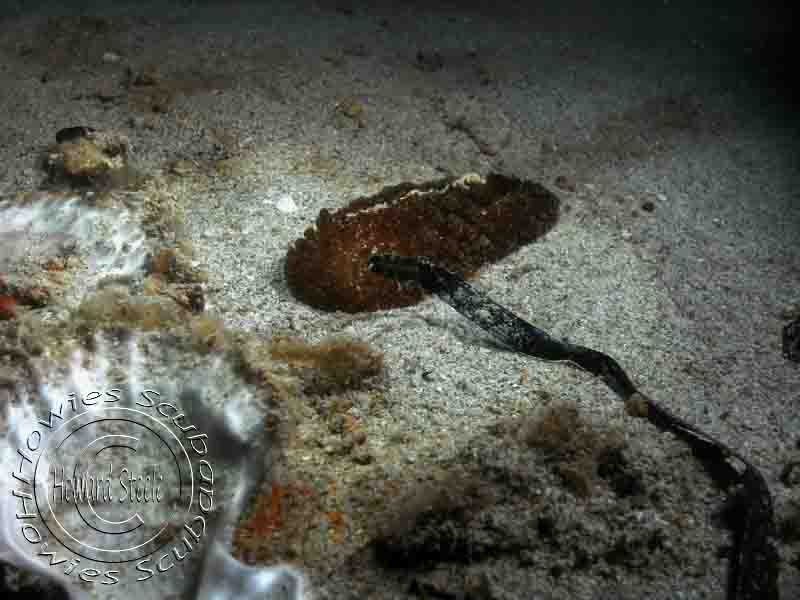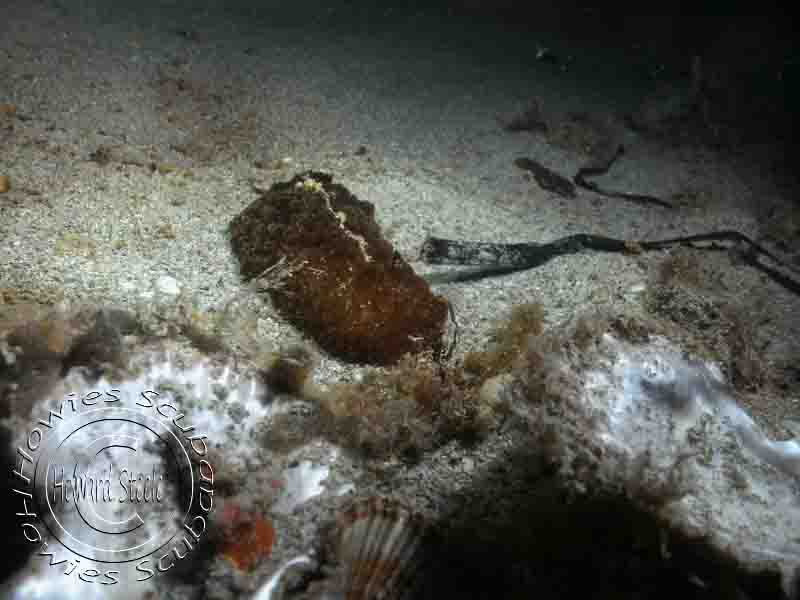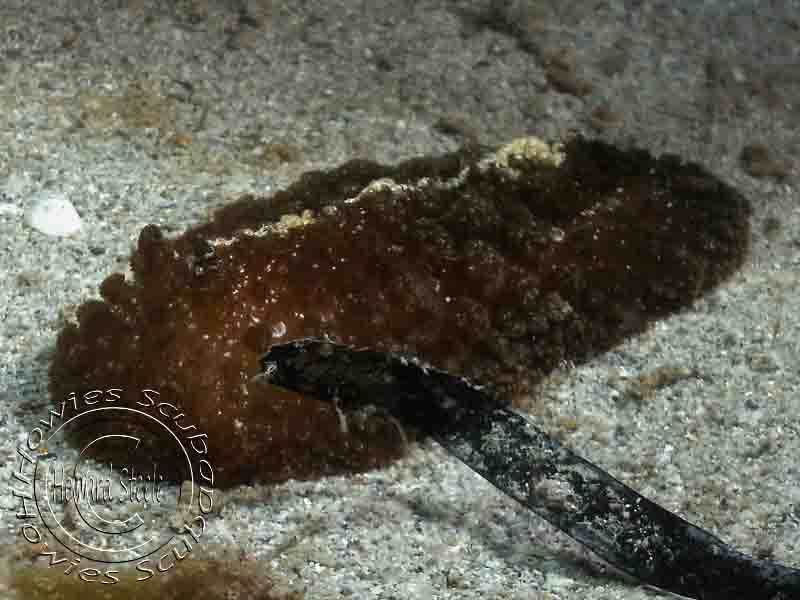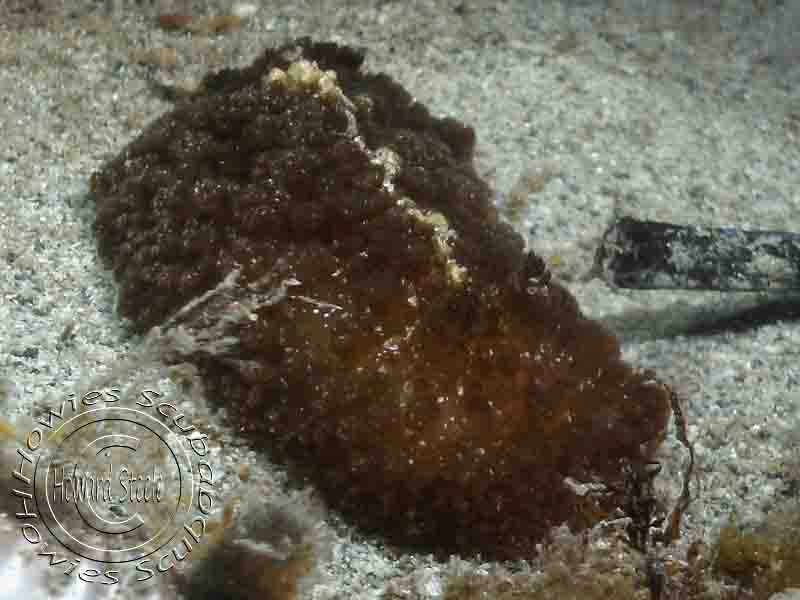 Flabellinidae sp.
or
Teripedidae sp.

These little guys photographed on the very top of the rock groin by the boat ramps at Jervoise Bay.

I struggled to get the camera in close enough so that the strobe would light up the shot. I really should have dismantled and gone close in with a manual white balance.

I have never seen them since, frustrating i have to say.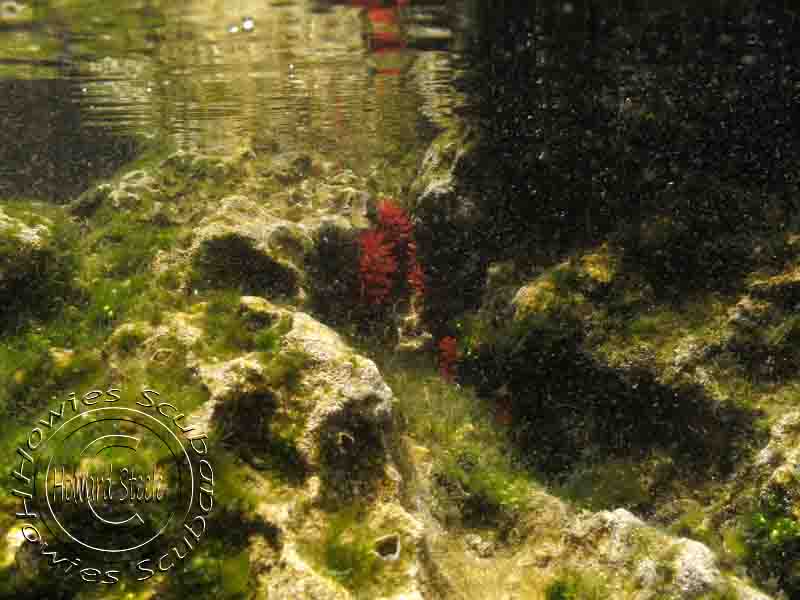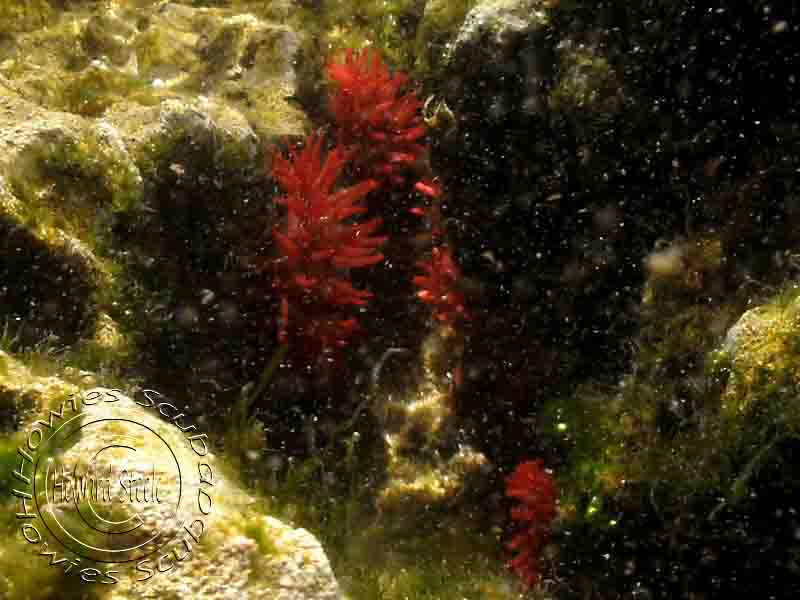 Doubtful Paradoris
(Paradoris dubia)
Photographed at Woodmans Point Groin.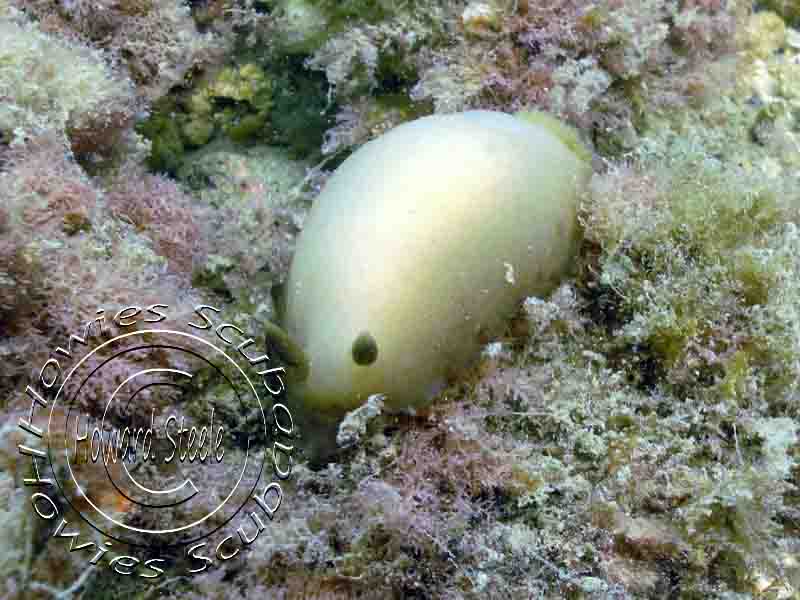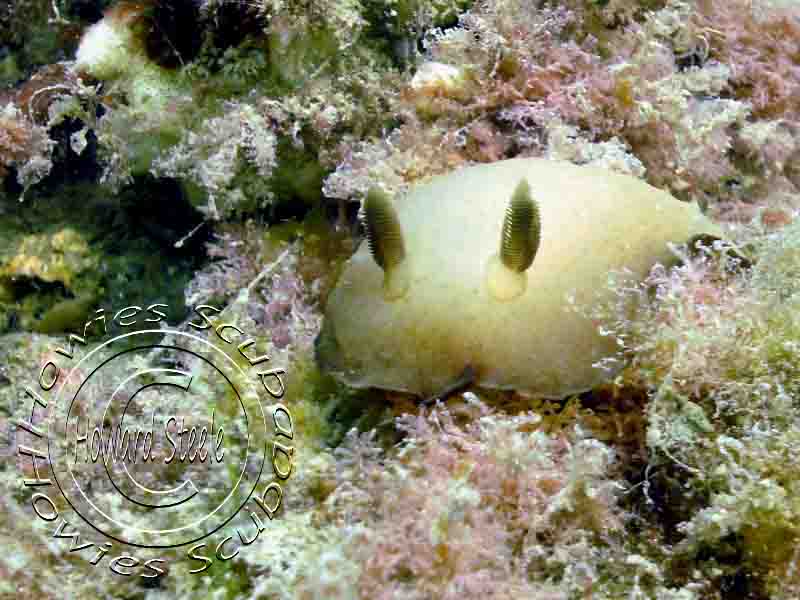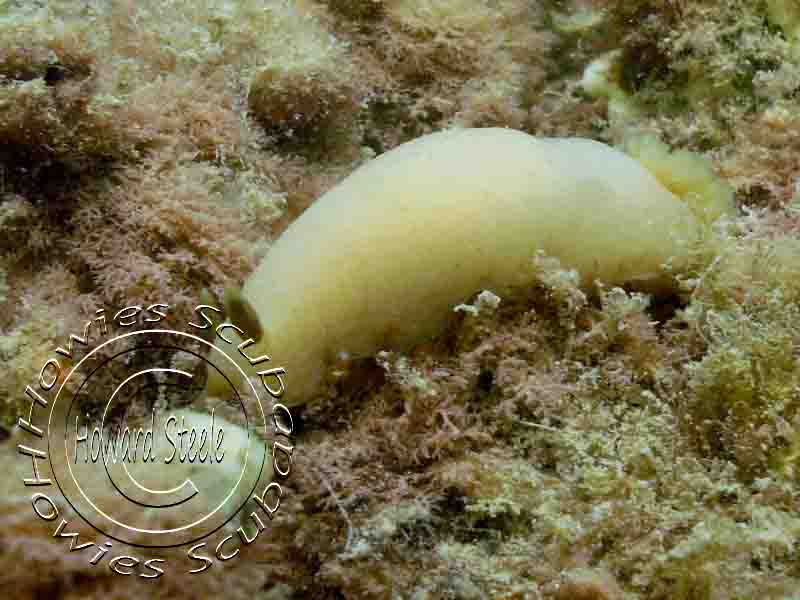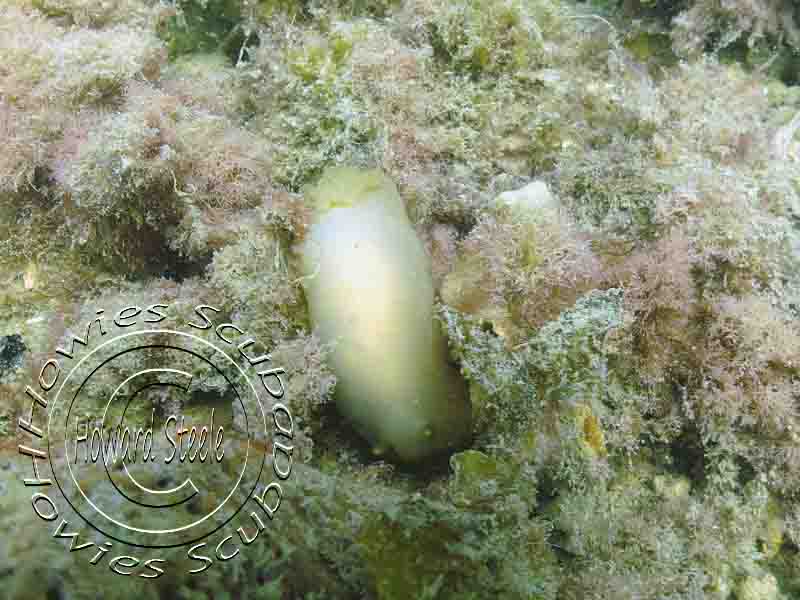 Just wish to take a moment and thank my good dive buddy Mel Turner who is always happy to offer up her Nudi photographs for the website. So in honour of this we will create Mels' very own Nudi corner. There is only one condition for her photographs to be shown here and, that she has to spot and photograph the Nudis before I do......... I throw down the challenge, she knows the rules, they have to be taken along the Perth shoreline other than that happy snapping.

These photographs are simply......



"Stunning"
Photographed at Woodmans Point.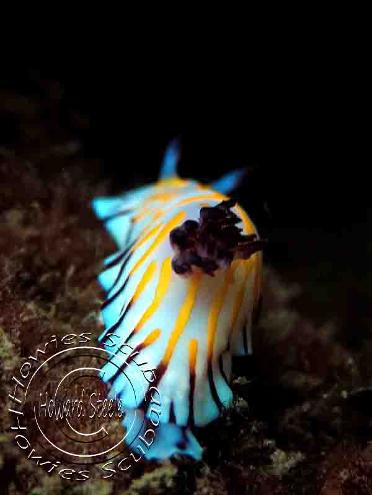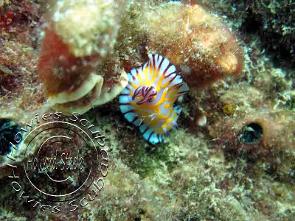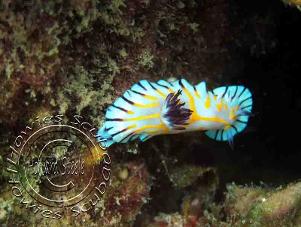 Chromodoris aureopurpurea
Photographed at Woodmans Point.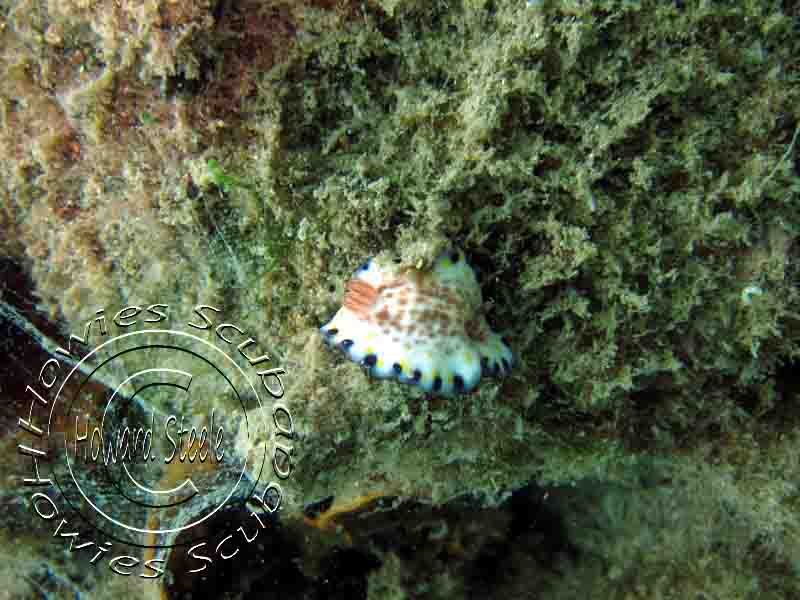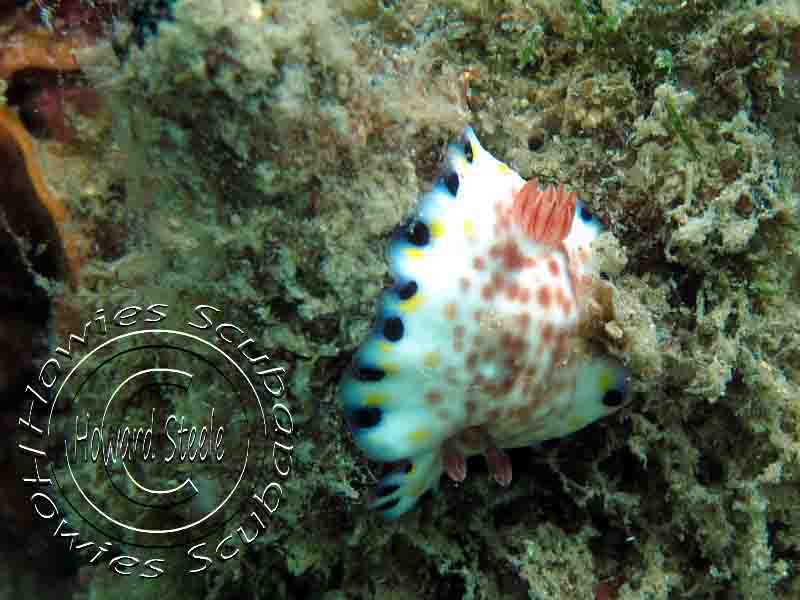 Another little beauty photographed at Woodmans Point, just so you know this is not at the boat ramps or at the jetty in this area, but at the actual Point that makes Woodmans Point, Woodmans Point, just follow the signs for the sailing club and you will see it, you some times get wind surfers down there. Actually Neville Coleman made comment about this being a very nice little site for Nudis.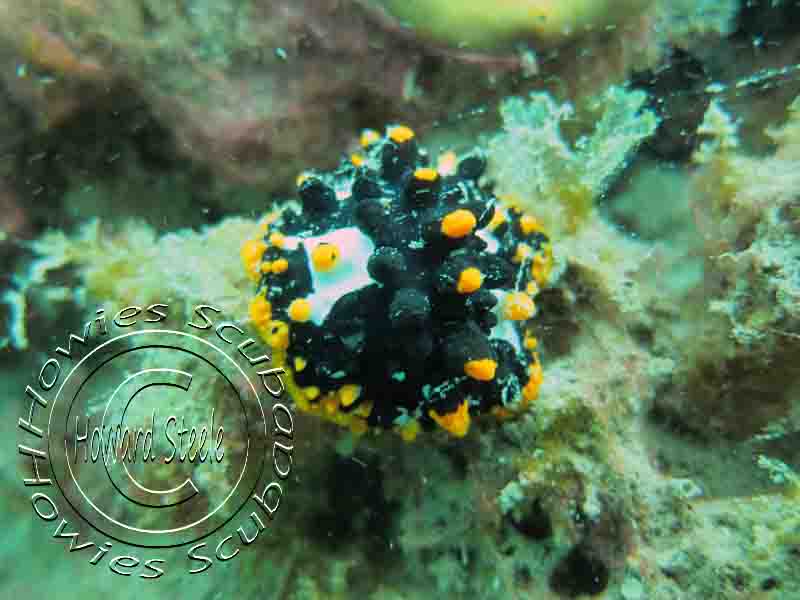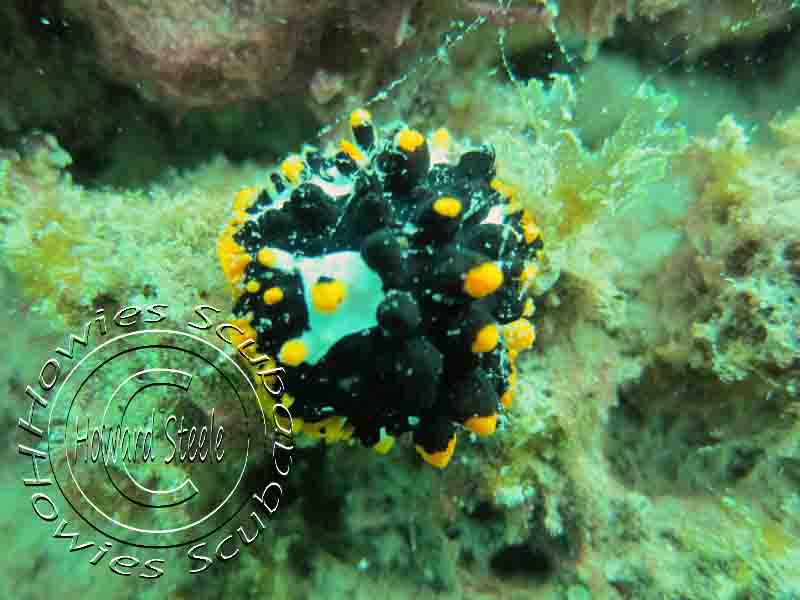 Red-Margined Glossodoris
(Glossodoris rufomarginata)
She does it again, Mel may have missed out earlier on with Hedgepeths polycera, but this one is all hers.

Photographed at Mettams Pool.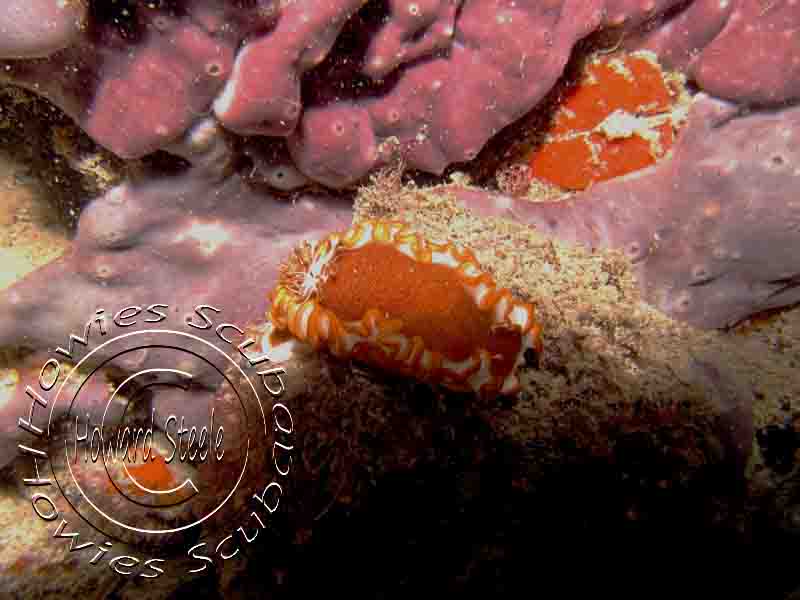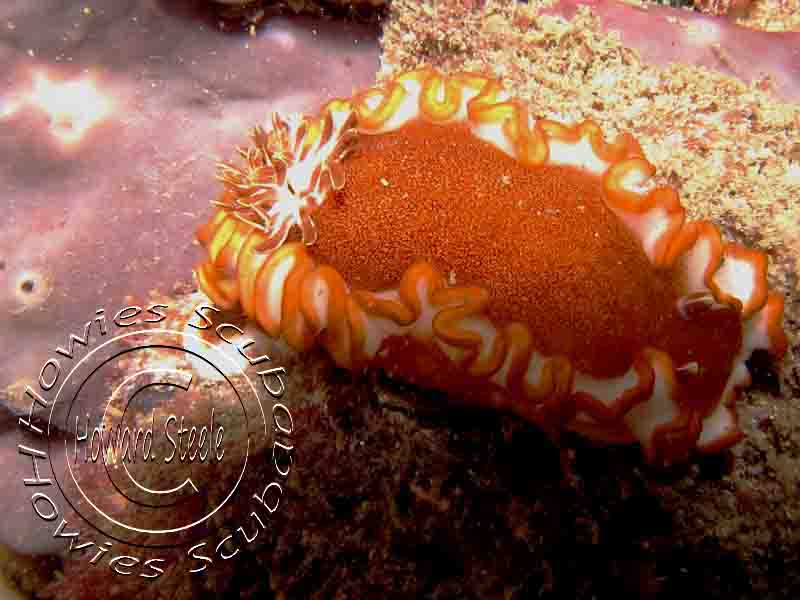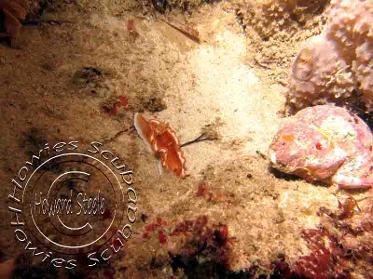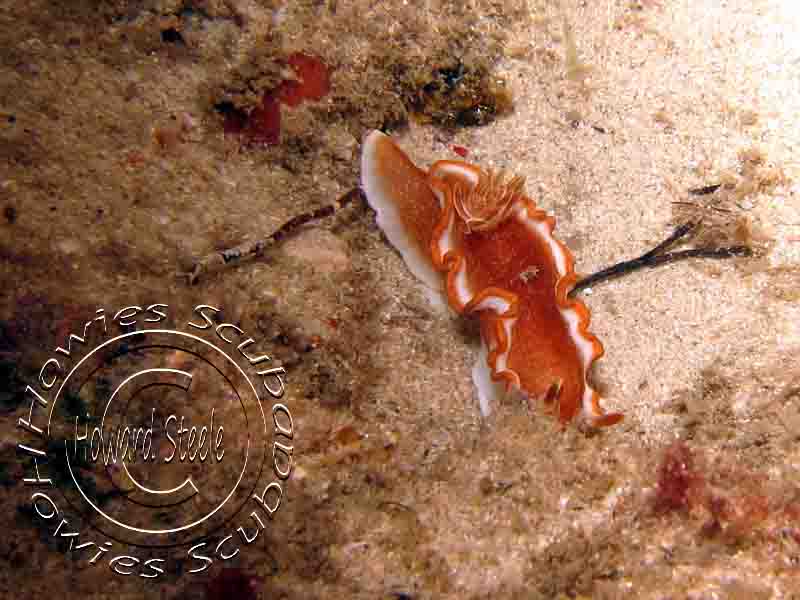 My little contribution for this little chappy, plus possibly just laying an egg string/spiral.

Taken @ BBR.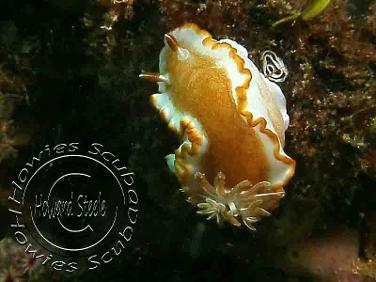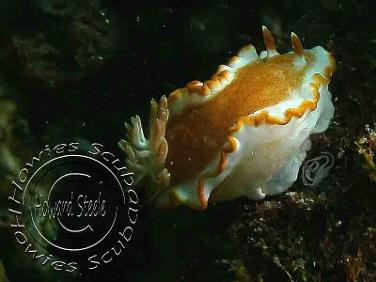 And colour variation.....

This was not actually taken on the shore but just off it at Burns Rocks.

Feel sorry for the one in the middle getting squeezed.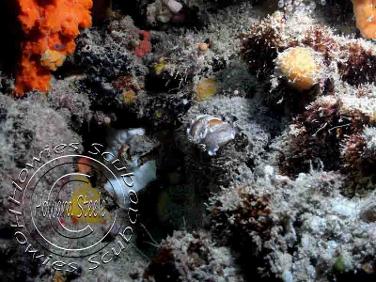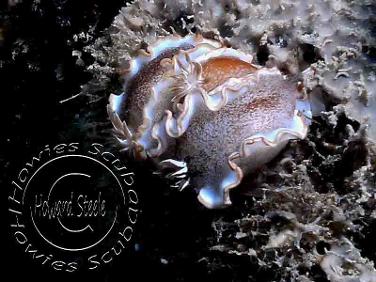 Plocamorpherus ceylonicus
Photographed on a night dive at RWT.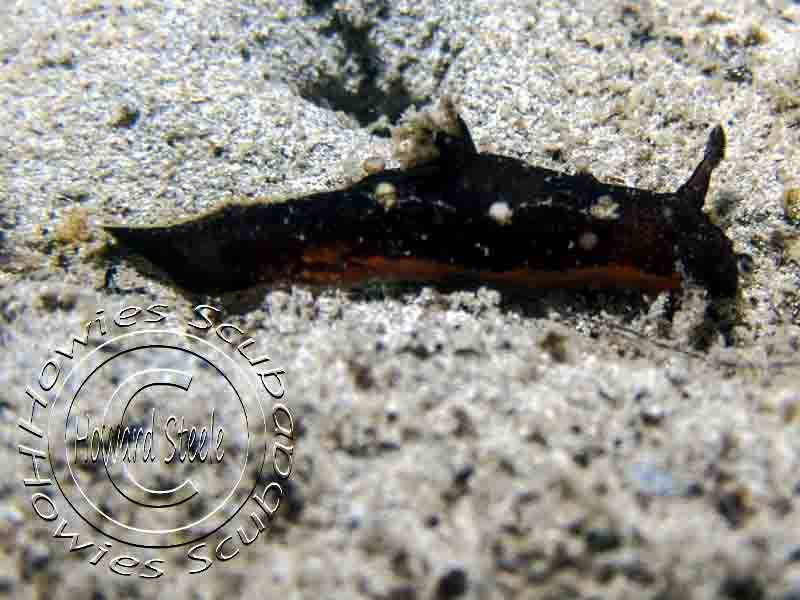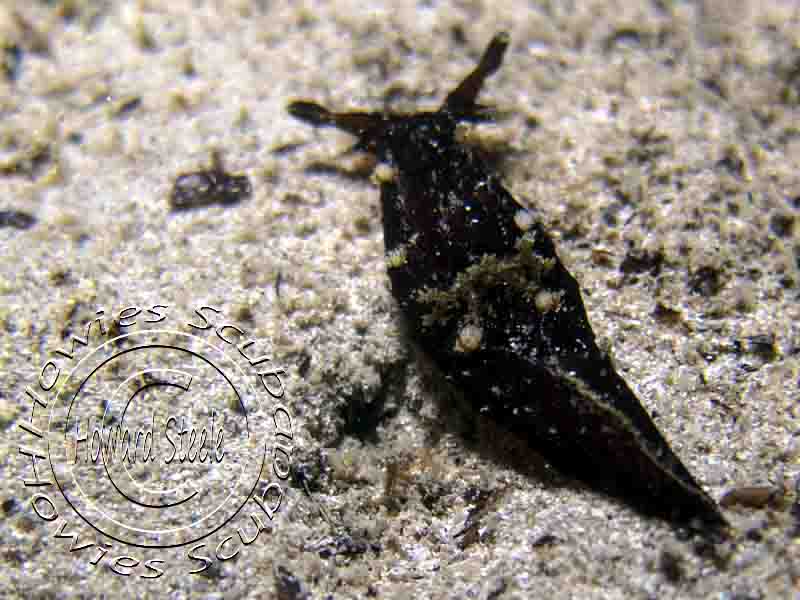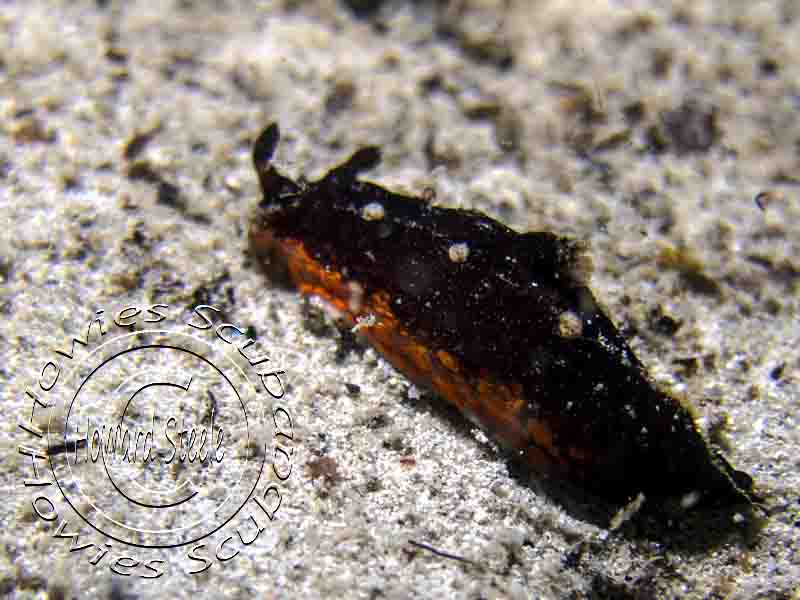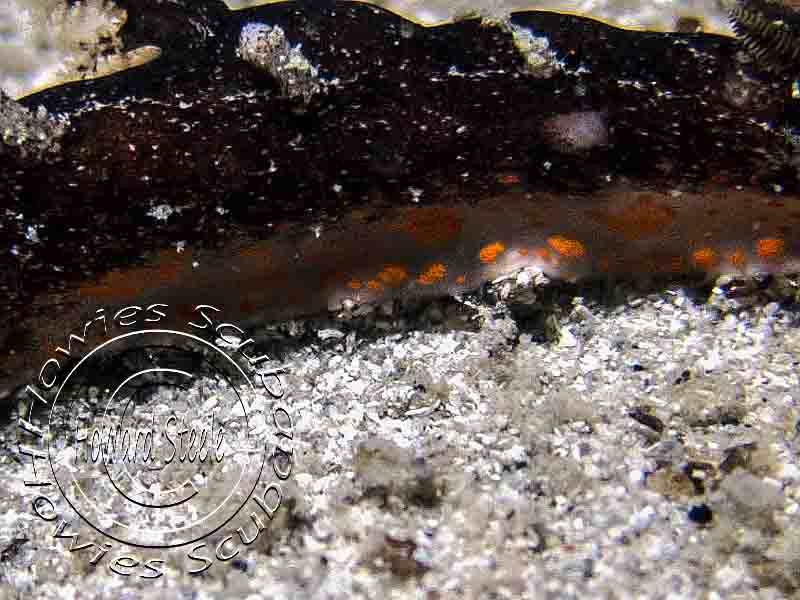 Photographed at Woodmans Point Groin.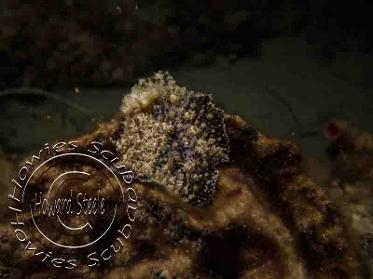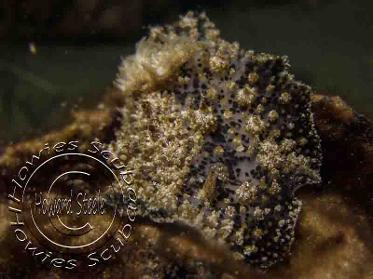 My contribution, taken on a dive at Rocky Bay.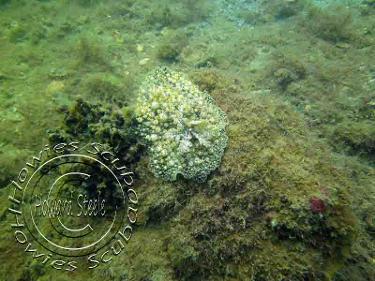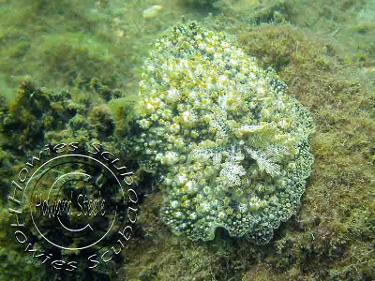 Photographed at Point Peron.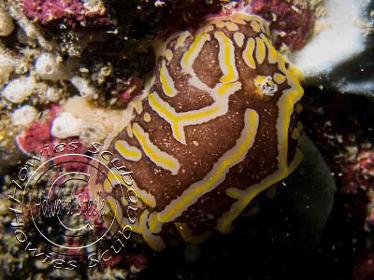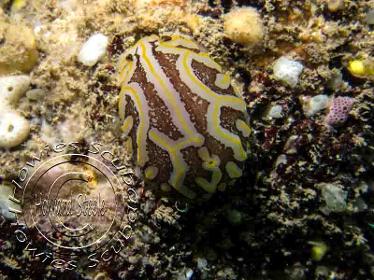 Chromodoris fidelis aka Goniobranchus fidelis
Taken @ Woodmans Point Groin.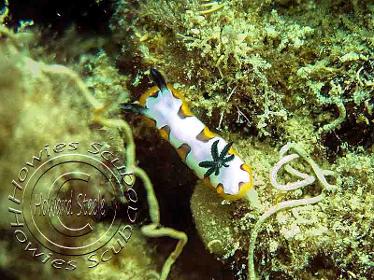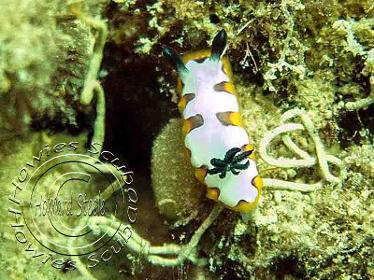 I must be getting soft in my old age.... technically Mel didn't photograph this first, that was done by one of our other diving buddies Makoto Tanaka (the other Mak or MAKII as I like to say).
The point is I guess Mel has photographed this one before I had, so she has to get some credit.
Big thanks to both buddies for donating to the website.

Taken at WPG.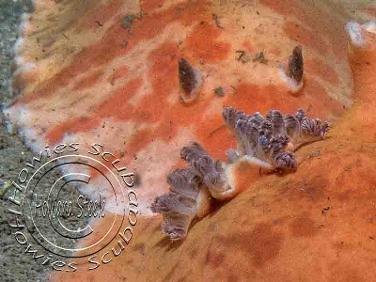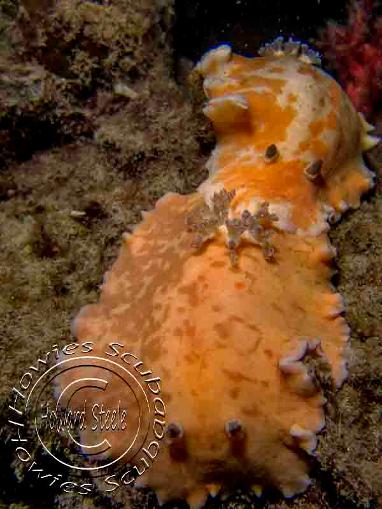 Mel Turners
Alliodoris hedleyi

The girl does it again..... but this time with a little help form Hugh Parker.... thanks Hugh for your contribution to the page.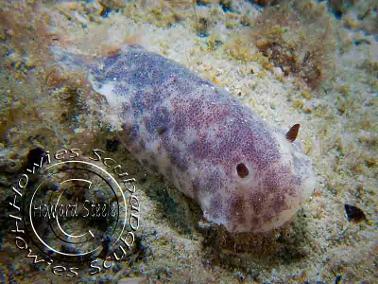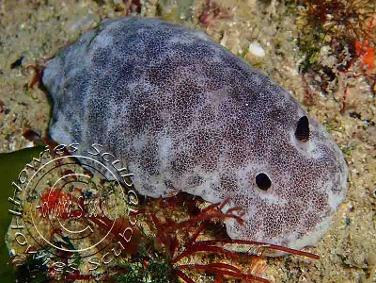 Phyllodesmium cf. poindimiei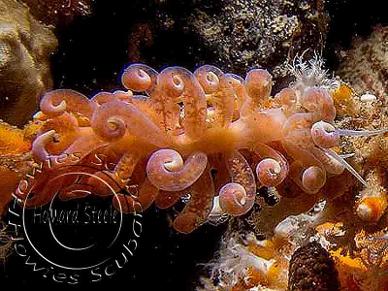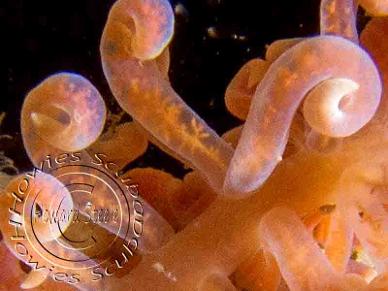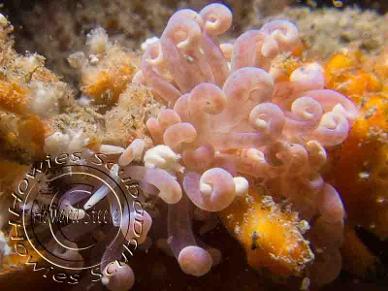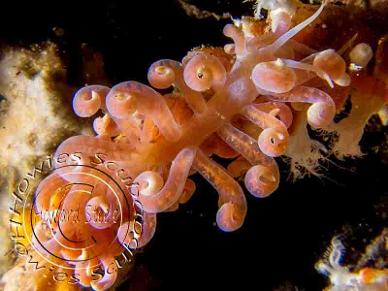 These Nudibranch egg ribbons photographed at Ammo & Robbs Jetty.
If you look closely at the small mussel shell (right) you can see a very tiny pair of eyes at the top right hand corner, a juvenile Occy was hiding in the shell, check out the video for the Gloomy Octopus at Ammo Jetty.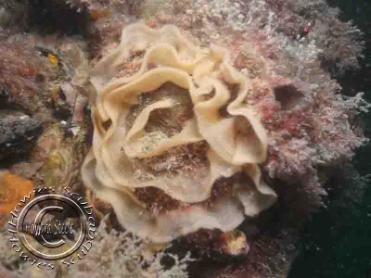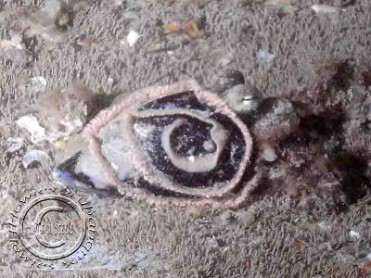 How beautiful are these images which were taken at Boy in a Boat Reef, stunning design and beautiful colouring.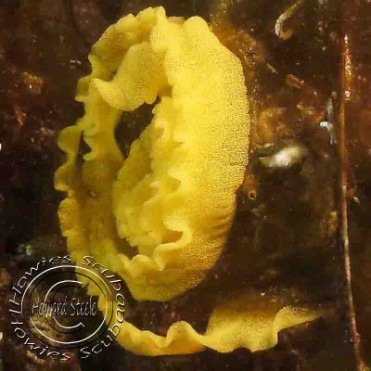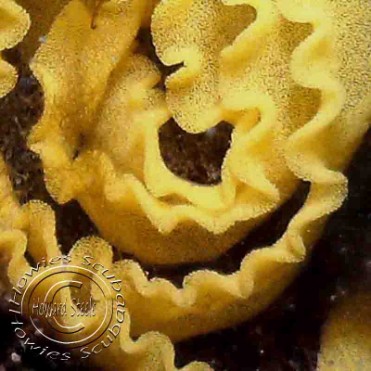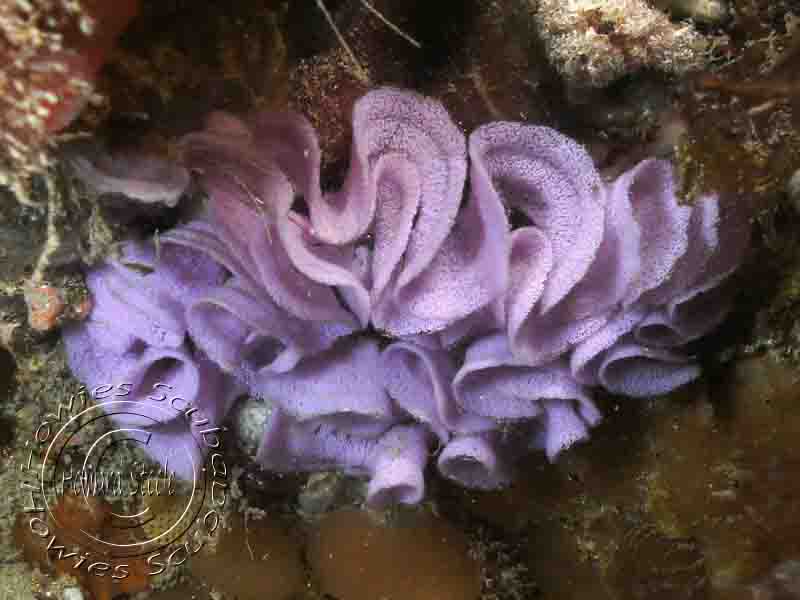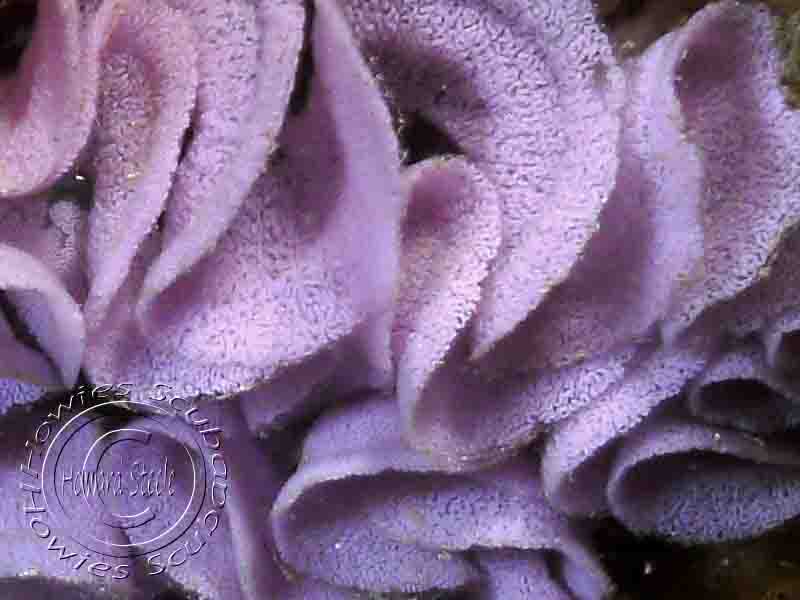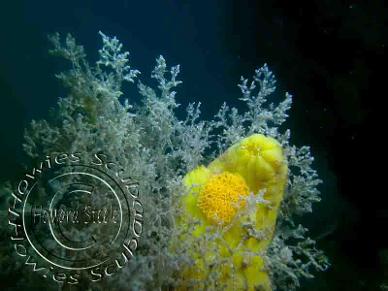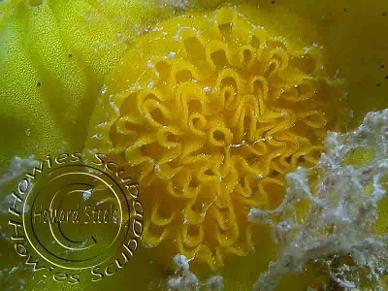 Now these two I am not completely sure of, I have seen them catalogued as Nudi eggs but not from any official source so I am happy to accept alternatives to these.
I have seen Sea Hare Spaghetti Ribbons so the second photograph could belong to the Sea Hare family.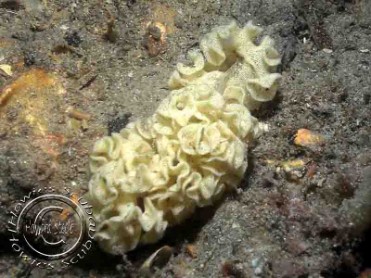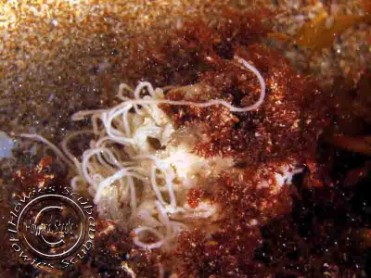 IF YOU'RE NOT GOING DOWN: THEN WHERE THE HELL ARE YOU GOING