Marine Life Identification Perth WA
Shore Diving
Sea anemones are a group of water-dwelling, predatory animals of the order Actiniaria; they are named after the anemone, a terrestrial flower. Sea anemones are classified in the phylum Cnidaria, class Anthozoa, subclass Zoantharia. Anthozoa often have large polyps that allow for digestion of larger prey and also lack a medusa stage. As cnidarians, sea anemones are closely related to corals, jellyfish, tube-dwelling anemones, and Hydra.... (Wikipedia)
---------------------------------------------------------------------------------------------------------------------------------------------------------------------------
Armed Anemone
(Dofleina armata)
These Armed Anemones where taken at The Camilla Wreck and Robbs Jetty. they are common on most of the dive sites.

These photographed in the sea grass area around Robbs Jetty. Brushed the tentacles of this Anemone and was surprised when it recoiled and tried to draw itself into a nice tight ball.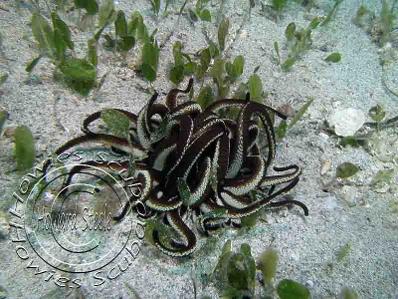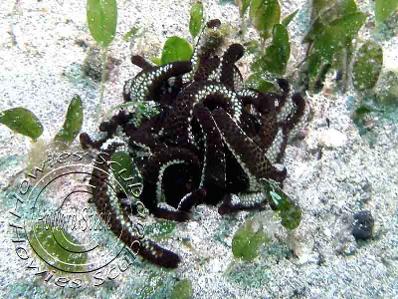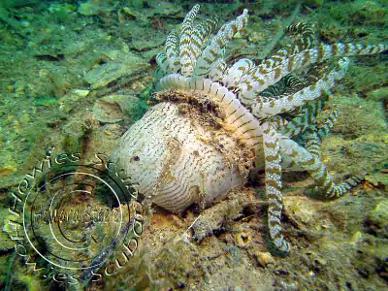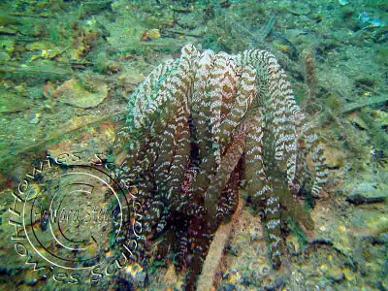 This series of photographs taken on a night dive @ the KGT, this little Pink Swimmer crab, was startled into the devouring tentacles of the Armed Anemone.

I am not 100% sure what this is..... I think it is a developing Armed Anemone...... it is tiny...... Thanks to Mel Turner for this.

Pink Tipped Sand Anemone
(Heteractis Malu)
This first picture (left) was taken at Point Peron, I did not have a clue what these were, I questioned whether they were worms or some type of eggs.
The next three pictures are from Robbs Jetty taken around the sea grass area. I have a little bit of video showing one of these, what I believe to be them feeding, but I am not completely sure, as they bend and flick the tentacles inwards.
Commonsal Shrimps are a common sight on this Anemone, click on top right for a close up.
I have no idea what is going on with this picture on the middle left, this looked like a jelly just sitting on top of the Anemone, any information would be helpful.

I have to say the more time I spend photographing these Anemones, the more their varying textures and colours become more beautiful.

I am unsure if they vary due to their environment, diet or due to varying growth stages.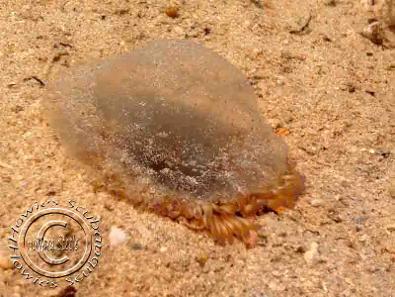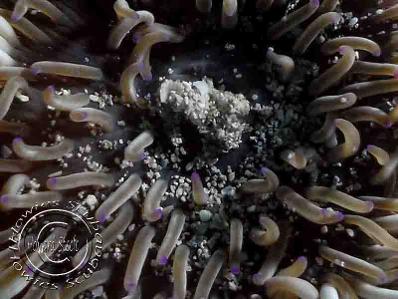 How cute, this is the smallest Tipped Anemone I have come across, I am sure they start off a lot smaller, whether you would notice them or not is another question

Photographed at Kwinana GT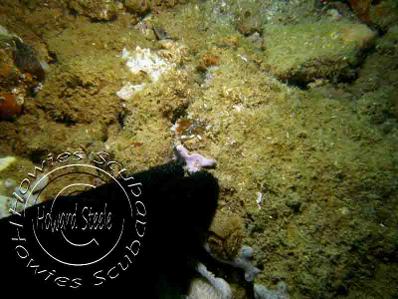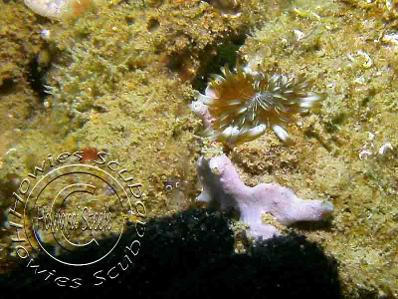 The bottom two photographs in this collection was a great moment at Bulk Jetty. It is very common to see this Anemone part buried in the sand but this one was moving across the sea bed, which in 3 years of diving I have never witnessed.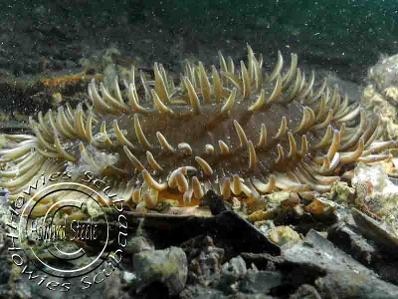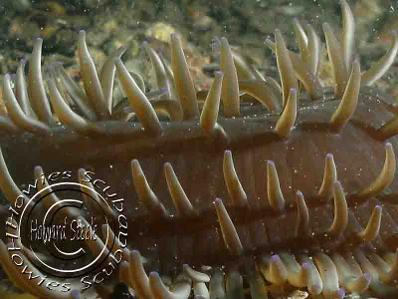 Unearthed and well and truly displaced @ the RWT

Purple Tipped Tube Anemone
(Pachycerianthus)
Photographs taken at Robbs Jetty Rockingham DT, Bulk Jetty, the Coombes Reserve, and Kwinana Grain Jetty.

These are quite common around the sites of Perth, prefer silty sediment.

Green Anemone

(Aulactinia veratra)

These pictures are from Ammo Jetty and Point Peron. They are quite abundant on the jetty pylons at Ammo and in the shallower areas of Point Peron.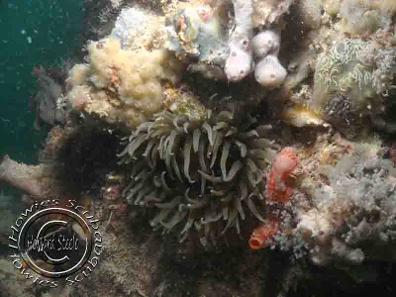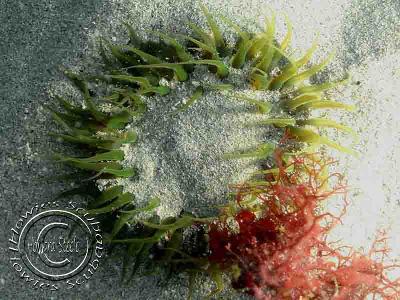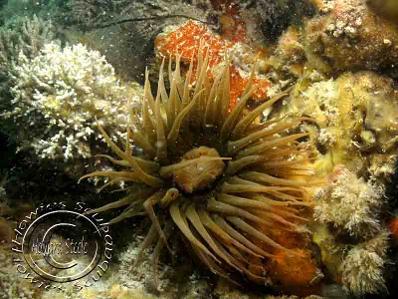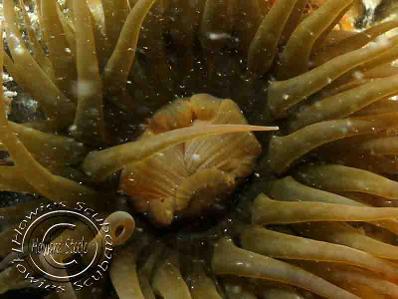 Mel Turners'
Green Anemone
Dining On A Fish

What a wonderful shot captured by one of my good dive buddies Mel Turner.

Either the fish has lost his car keys and has begun to look in all those ridiculous places we look in out of sheer desperation ( its ok you can admit to it...... we've all looked in the freezer as a last resort.....) or this little Green Anemone is having a little snack on this fish, how bizarre.

If memory serves me right Mel said this was taken just on the way out of the dive site at the Kwinana Grain Terminal

Just goes to show you never know what you are going to find on one of your dives.

So keep your wits about you and your camera close to hand and if you find anything interesting or a little weird during one of your shore dives along the Perth coastline why don't you send it to me to be posted on this site.

Just use the email below:

howiesscuba@hotmail.com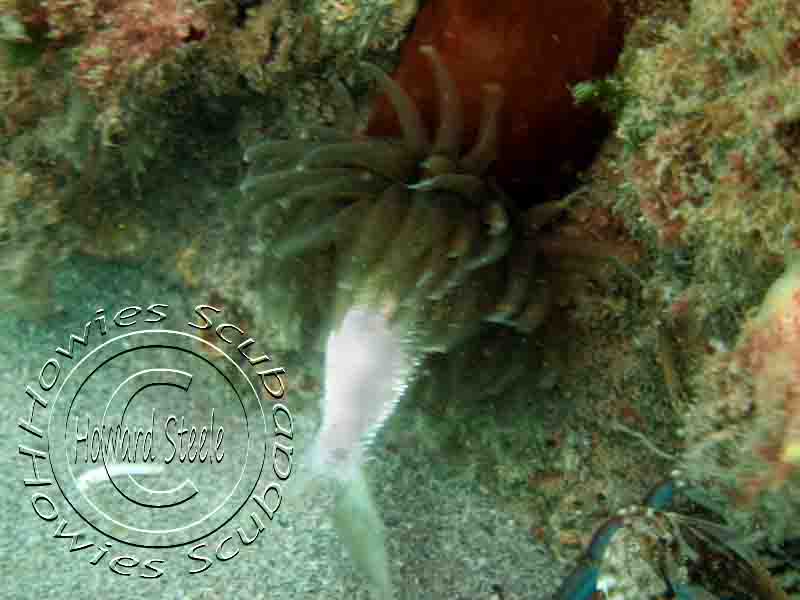 Waratah Anemone

(Actinia Tenebrosa)

These pictures are from Ammo Jetty & Point Peron.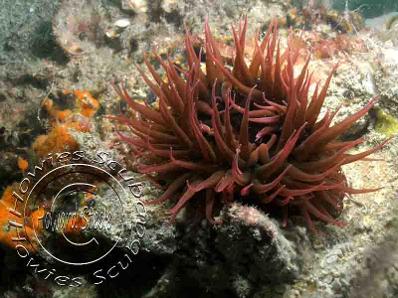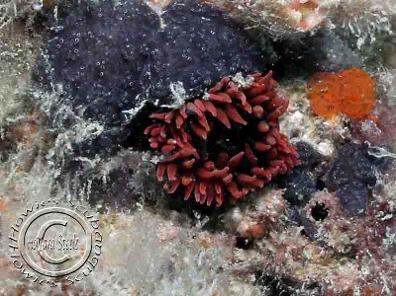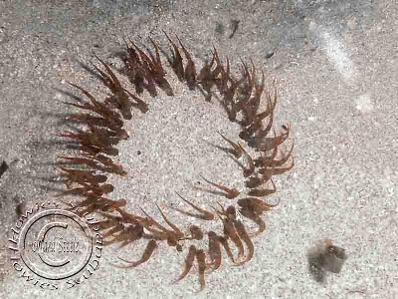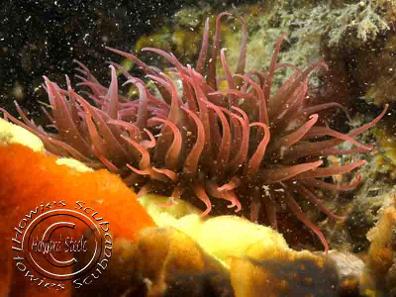 Western Shellgrit Anemone

(Oulactis macmurrchi)
Common on sandy areas, especially around jetties. Photographed at Ammo, Robbs, Bulk and the Kwinana Grain Terminal.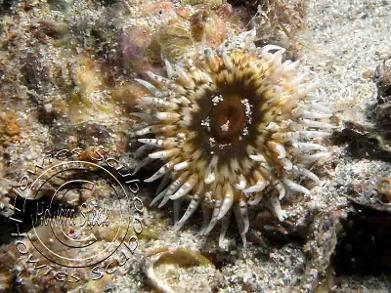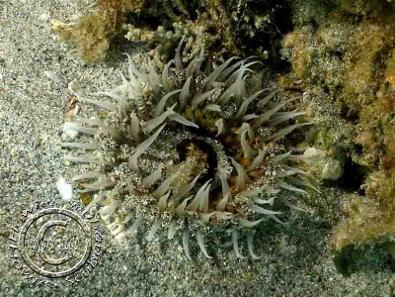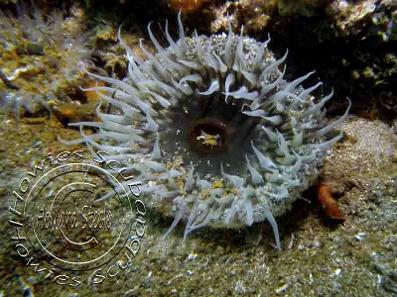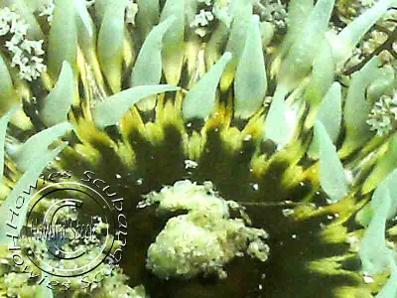 White Anemone

(Actinothoe glandulosa)
This is one of my favourite pictures (left). This was taken at Bulk Jetty, it is a Bi-colour Razor Clam covered in encrusting sponge (possibly snot sponge) and the White Anemone. There is lots of these clams encrusted with different marine life that make for some wonderful pictures.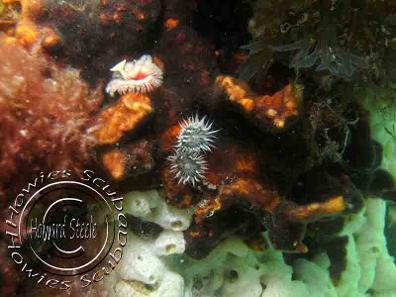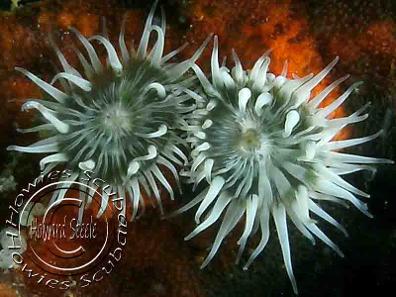 IF YOU'RE NOT GOING DOWN: THEN WHERE THE HELL ARE YOU GOING