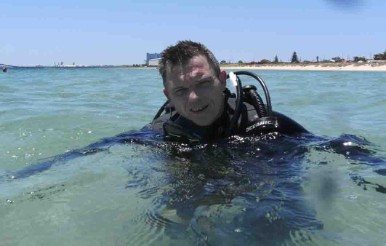 Howard qualified as PADI Open Water Diversin New Zealand in 2009.



I was fortunate enough to learn to dive at Poor Knights Isl in New Zealand with Whangerei Dive HQ. This experience will always be one of my greatest and one of my favourite dive sites.



I currently dive locally in Perth WA to which this site is mainly dedicated.



As all divers know your bread & butter diving is the shore dive, as boat diving regularly can be expensive so, this site will mainly focus on shore dives.



On the commencement of this website I still class myself as novice diver but my aim is to help provide novice divers with as much information as I can.



As I dive more and more and seek out new places to dive I will add this information to this site, so please be patient if a particular site has not been covered, we will get there.
PLEASE REFRESH THIS PAGE
IF FACEBOOK LIKE BUTTON DOES NOT WORK
IF YOU'RE NOT GOING DOWN: THEN WHERE THE HELL ARE YOU GOING